Daily Meditations
Reflections on God's Love in the World.
Another storm is rolling through this morning with hail and high winds. Imagine yourself in a boat in the middle of a lake instead of your safe home when it did.
That's what happened to the disciples as they crossed a lake while Jesus slept, a violent storm came up and they were filled with fear. After waking Jesus, "he said to them, "Why are you afraid, O you of little faith?" Then he rose and rebuked the winds and the sea, and there was a great calm." (Mat 8:26)
We are like that, filled with fear when the uncontrollable happens. We don't turn to God or remember, "The LORD is good, a refuge in times of trouble. He cares for those who trust in him," (Nah 1:7)
In our human nature and fear, we look to ourselves and what we can do about the challenges. We don't look for or even expect miracles. I know myself, when I pray in difficult situations, too often my heart looks for the worldly outcome rather than a miraculous one. I don't expect God to actually step in and change the situation.
You have heard the saying, 'Let go and let God.' God is often waiting to change the situation if we'd just get out of the way. He tells us, "Cast all your anxiety on him because he cares for you." (1Pe 5:7)
I have been wonderfully surprised, when I do turn it over to God and wait for His good timing. God has blessed me with miraculous answers beyond my own expectations.
God has always loved you and is "a refuge for the poor, a refuge for the needy in their distress, a shelter from the storm and a shade from the heat. For the breath of the ruthless is like a storm driving against a wall 5and like the heat of the desert. You silence the uproar of foreigners; as heat is reduced by the shadow of a cloud, so the song of the ruthless is stilled." (Isa 25)
God has loved His people since creation. The Bible shows He is faithful and cares for us.
Paul writes, "6Do not be anxious about anything, but in every situation, by prayer and petition, with thanksgiving, present your requests to God. 7And the peace of God, which transcends all understanding, will guard your hearts and your minds in Christ Jesus." (Phi 4)
Today, let go and let God!
Copyright Rev Cheryl Rondeau-Bassett
Our hearts go out to those who lost loved one in the evacuation from Afghanistan, hurricanes in previously devastated Haiti, the flooding, and devastating fires. It's a time many questions why these things happen and wonder where to go with the fear and uncertainty of the world.
James responds saying, "Draw near to God, and he will draw near to you." (4:8)
Many outrageous things in life have no answers and we are a group of people who like answers. When there are none, Satan quickly enters in creating a feeling of blame and pushing us away from God.
"8"But you, son of man, hear what I say to you. Be not rebellious like that rebellious house; open your mouth and eat what I give you." 9And when I looked, behold, a hand was stretched out to me," (Eze 2:8-9) Referencing the Word of God written on a scroll Ezekiel was to take to the people.
For the Word is the place to find peace when we live in confusion, and comfort when we do not understand, and hope when there seems to be none. Timothy tells us, "1First of all, then, I urge that supplications, prayers, intercessions, and thanksgivings be made for all people," (1Ti 2:1)
When we pray and turn to the Word, the Spirit comes to fill our hearts with the hope we have in Christ and grants us faith to trust in even what is beyond our understanding.
Turning to prayer and the Word, our hearts hear Christ promise and our eyes are opened, for "Jesus said to him, "I am the way, and the truth, and the life. No one comes to the Father except through me." (Joh 14:6)
We pray for those Christians who are in harm's way and those who are our enemies to come to the light and be saved. We pray for safety for our soldiers and God to blind the eyes and ears of those who would do them harm as we read in Kings. And we pray all come to hear the Word and believe, "And there is salvation in no one else, for there is no other name under heaven given among men by which we must be saved." (Act 4:12)
God be merciful to our American soldiers and all those who put their faith in Christ Jesus.
Copyright Rev Cheryl Rondeau-Bassett
I enjoy reading the Proverbs. The word itself means "a brief popular epigram or maxim: ADAGE," as defined by Merriam-Webster. An adage is a saying or motto. Defined by the online biblestudytools.com dictionary it is a dark or puzzling saying, often an expression of apparent truth.
Such as: "To do righteousness and justice is more acceptable to the LORD than sacrifice." (21:3)
OR "Cease straying, my child, from the words of knowledge, in order that you may hear instruction." (19:27)
Or "Whoever wanders from the way of understanding will rest in the assembly of the dead." (21:16)
These verses tell the truth that those who abandoned the Word and teachings of Jesus are on a path to eternal damnation. It is easy to stray in a world where Satan uses God's blessings to twist into deceiving traps. Entrapment is a favorite way Satan confuses people for example using the word if as in Matthew as he tempted Jesus, "3The tempter came and said to him, "If you are the Son of God, command these stones to become loaves of bread. (4) The word causes doubt in the minds of the believer. Of course, Jesus did not fall for this trick, but so often, we do.
Paul writes "You cannot drink the cup of the Lord and the cup of demons. You cannot partake of the table of the Lord and the table of demons." (1Co 10:21) Telling us you must make a choice between the ways of this world and following the Savior.
I find one of the most difficult situations I encounter is to have people choose societies lifestyles and personal satisfactions for their children over their baptismal promises and those they made when baptizing their children. We must pray for them knowing that God hears our prayers.
"My child, keep my words and store up my commandments with you; 2keep my commandments and live, keep my teachings as the apple of your eye; 3bind them on your fingers, write them on the tablet of your heart." (Pro 7:1)
To live in Gods words and store up commandments within, we must know the Word and what those commandments mean. Today, pray for parents and families to bring their children to Sunday and Wednesday schools and confirmation.
Copyright Rev Cheryl Rondeau-Bassett
When I see the raindrops, I think of 'Raindrops on roses… these are my favorite things.' Rain is welcome after days of drought or humidity to freshens the smoke from the air and cleanse the dust off.
Water is referenced from creation to Revelations as a symbol for cleansing, salvation, Spirit, and grace.
In Ephesians, we are told God will cleanse the church, "to make her holy, cleansing her by the washing with water through the word, and to present her to himself as a radiant church, without stain or wrinkle or any other blemish, but holy and blameless." (5:26-27)
The church is the faithful followers of Christ. Before Christ, Ezekiel speaks of cleansing God's chosen people, "I will sprinkle clean water on you, and you will be clean; I will cleanse you from all your impurities and from all your idols. I will give you a new heart and put a new spirit in you; I will remove from you your heart of stone and give you a heart of flesh." (36:25-26)
God created us and loves His creatures even when we sin. He comes to rescue us from ourselves and speaks through His Word to save us. "My people have committed two sins: They have forsaken me, the spring of living water, and have dug their own cisterns, broken cisterns that cannot hold water." (Jer 2:13)
The cistern is broken allowing impurities and idols to seep into the church putting more emphasis on man-made rituals than the Word and self-interest rather than time for worship and learning.
The church needs cleansing from our sins. Jesus came to offer that water of life saying, "Let anyone who is thirsty come to me and drink. Whoever believes in me, as Scripture has said, rivers of living water will flow from within them." (Joh 7:37-38)
We are given this invitation, to come and be filled with the living water, just as the women at the well in John. "Let us draw near to God with a sincere heart and with the full assurance that faith brings, having our hearts sprinkled to cleanse us from a guilty conscience and having our bodies washed with pure water." (Heb 10:22)
Let the raindrops be a reminder of how our favorite thing, how God cleanses us from all sin.
Copyright Rev Cheryl Rondeau-Bassett
When I see a field of sunflowers, I just feel happy. It's as if those happy faces are smiling at me.
Perhaps God feels the same way and enjoys those bright joyful blossoms looking up at Him.
"2Our mouths were filled with laughter, our tongues with songs of joy. Then it was said among the nations, "The LORD has done great things for them." 3The LORD has done great things for us, and we are filled with joy." (Psa 126)
God wants us to be happy. Happy in what He has provided. Happy in the promise of salvation. Happy in our daily life knowing there will be a better life to come as Matthew writes, "3"Blessed are the poor in spirit, for theirs is the kingdom of heaven. 4Blessed are those who mourn, for they will be comforted. 5Blessed are the meek, for they will inherit the earth." (5)
Have you noticed when you feel happy, there are those who almost seem jealous? Or how someone with a negative attitude starts to bring you down? We are told to surround ourselves with happy people who complain less.
Of course, there are chemicals in your brain that make you happy or feel depressed. But other factors can create happiness. According to Tony Robbins in an online article, The Science of Happiness, our giving back to others in community cause us to feel happy because we are social creatures and doing something for others makes those chemicals react to gratefulness, being valued and appreciated.
That may be a scientific finding, but our Creator designed us to be that way as we see in Proverbs: "A cheerful heart is good medicine," (17:22) and "13A happy heart makes the face cheerful, but heartache crushes the spirit. 14The discerning heart seeks knowledge, but the mouth of a fool feeds on folly. 15All the days of the oppressed are wretched, but the cheerful heart has a continual feast." (Pro 15)
God tells us to love and care for our neighbor not just because it is His command, but He knows it will create a feeling of happiness, even when we are experiencing difficult times.
God gave us sunflowers to say, "Make your face shine upon your servant, and teach me your statutes." (Psa 119:135)
and then we will know happiness.
Copyright Rev Cheryl Rondeau-Bassett
The bright full moon filled the sky with a beautiful glow bouncing off clouds to create a reminder how God is always there watching over His children. "5Your steadfast love, O LORD, extends to the heavens, your faithfulness to the clouds. 7How precious is your steadfast love, O God! The children of mankind take refuge in the shadow of your wings." (Psa 36)
The same reminder is of our prayer life, even when we don't see the answer as God always hears us. At times, answer may not be good for us as James speaks of, "You ask and do not receive, because you ask wrongly, to spend it on your passions." (4)
Other times, we pray but doubt God will answer, "6But let him ask in faith, with no doubting, for the one who doubts is like a wave of the sea that is driven and tossed by the wind. 7For that person must not suppose that he will receive anything from the Lord;" (Jam 1)
John also tells us "Until now you have asked nothing in my name. Ask, and you will receive, that your joy may be full." (16:24) Jesus' is our intercessory to God.
I had an experience where I prayed to God, but He delayed the answer. When He did, it far surpassed my pleas and prayers. God is Good, all the time, and it is important to remember His timing is not the same as ours.
Luke tells of a widow who kept coming day after day to a judge asking for justice. The judge finally gave in so she would stop 'beating him down', with continual pleas. "And he told them a parable to the effect that they ought always to pray and not lose heart." (Luk 18:1)
God is always there to hear the prayers of His children because He loves us and loves to have us come to Him. Our prayers should be those with love for others, to do His will, and bring glory to Him as Jesus tells us in John. "13Whatever you ask in my name, this I will do, that the Father may be glorified in the Son. 14If you ask me anything in my name, I will do it." (14)
God is always there to hear our prayer, "Like the moon it shall be established forever, a faithful witness in the skies." (Psa 89:37) Like the moon highlighting clouds around it, God answers prayers, highlighting His love all around you.
Copyright Rev Cheryl Rondeau-Bassett
Bread of Life has been the theme for our worship the past weeks. We started with the feeding of the 5000 and progressed to Simon Peter responding to Jesus question, 'Do you also wish to leave?' wanting to know if they wanted to continue as followers as some who had heard Jesus speak about eating His flesh and drinking His blood were opposed to this and left.
Jesus doesn't make us follow Him. He invites you to follow Him.
The disciples had the benefit of being with Jesus, hearing Him teach and seeing miracles. We have the Word to teach us, miracles all around and Jesus is with us, although He is not visible, He is present in the bread and wine of communion.
But we must choose, just as Simon Peter and the disciples did. Matthew writes about this choice saying, "13"Enter by the narrow gate. For the gate is wide and the way is easy that leads to destruction, and those who enter by it are many. 14For the gate is narrow and the way is hard that leads to life, and those who find it are few." (7)
What is the narrow gate we must pass through?
Following the teachings of Jesus. To love our neighbor. To care for the poor and vulnerable. To gladly hear and learn the Word of God.
But some turn from this to follow other interest or activities. That is their choice to continue through the gate that is wide and easy, a problem of humanity.
"And if it is evil in your eyes to serve the LORD, choose this day whom you will serve, whether the gods your fathers served in the region beyond the River, or the gods of the Amorites in whose land you dwell. But as for me and my house, we will serve the LORD." (Jos 24:15)
I feel sad when people choose to serve the gods of other regions namely the gods of self-interest and self-pleasure, especially when it is a child who is being lead away.
Proverbs teaches, "12Hope deferred makes the heart sick, but a desire fulfilled is a tree of life. 13Whoever despises the word brings destruction on himself, but he who reveres the commandment will be rewarded." (13)
Jesus is the Bread of Life, the Word made flesh. In His words you find forgiveness and life, the choice is yours.
Copyright Rev Cheryl Rondeau-Bassett
At times when you read scripture, it tells one thing and at another, it seems to say something else. This was meant to be as it is a living thing.
"For the word of God is living and active, sharper than any two-edged sword, piercing to the division of soul and of spirit, of joints and of marrow, and discerning the thoughts and intentions of the heart." (Heb 4:12)
The Spirit opens your understanding as you read scriptures. That is the reason it seems to speak into your heart one time when it did not at another, because your mind is opened to receive it at the right time.
"12Now we have received not the spirit of the world, but the Spirit who is from God, that we might understand the things freely given us by God. 13And we impart this in words not taught by human wisdom but taught by the Spirit, interpreting spiritual truths to those who are spiritual." (1Co 2:12-13)
Knowing God's word is one of the most valuable things you can have to live in this world. You were given an example of this importance and strength of knowing in Matthew as Jesus was taken up into the wilderness and tempted by the devil for 40 days. In that time, Jesus used the Word to remain faithful to God and overcome Satan. "But he answered, "It is written, "'Man shall not live by bread alone, but by every word that comes from the mouth of God.'" (Mat 4:4)
In scripture, we are given advise, insight, and all that we need to live in this world. This is the reason young children need to attend Sunday school and confirmation and adults need to continue in Bible study, to know truth and the power it has for our lives.
"28Let the prophet who has a dream tell the dream, but let him who has my word speak my word faithfully. What has straw in common with wheat? declares the LORD. 29Is not my word like fire, declares the LORD, and like a hammer that breaks the rock in pieces?" (Jer 23)
God word inspires you to love and fills you with faith, a faith in the promise of our eternal salvation. "By faith we understand that the universe was created by the word of God, so that what is seen was not made out of things that are visible." (Heb 11:3)
Copyright Rev Cheryl Rondeau-Bassett
Butterflies are one of my favorite creatures. They love flowers and sometimes pause on one long enough to get a picture before they fly away.
Often a flower arrangement has a fake butterfly floating above it. They look so real, it's hard to distinguish a false one with just a glance, like the outdoor lighted butterfly in the picture.
"13For such men are false apostles, deceitful workmen, disguising themselves as apostles of Christ. 14And no wonder, for even Satan disguises himself as an angel of light. 15So it is no surprise if his servants, also, disguise themselves as servants of righteousness. Their end will correspond to their deeds." (2Co 11:13-15)
Those who disguise themselves as followers of Christ in the world use their time to honor entertainers, sports characters, and even their friends with their time and interest. This is a dangerous situation as their focus is on worldly interest rather than Jesus. The path they take easily sways them away.
"21For although they knew God, they did not honor him as God or give thanks to him, but they became futile in their thinking, and their foolish hearts were darkened. 22Claiming to be wise, they became fools," (Rom 1:21-22)
Self-centered makes one unwilling to sacrifice time for worship, Bible study, or Sunday school yet willingly take time for concerts, games, television, or friends. They disguise themselves as followers. Others see this example and feel they can do the same, turning attention to personal satisfaction and away from things that save.
"15Do not love the world or the things in the world. If anyone loves the world, the love of the Father is not in him. 16For all that is in the world--the desires of the flesh and the desires of the eyes and pride of life--is not from the Father but is from the world. 17And the world is passing away along with its desires, but whoever does the will of God abides forever." (1Jo 2:15-17)
Through the years, they have developed butterflies that look so real, it's hard to distinguish a real one from the false. Know Jesus and His teaching, and you will find it easier to distinguish false prophets from the real Word of God.
Copyright Rev Cheryl Rondeau-Bassett
Looking down into a rose, you can see the love God has for us, who are just mere humans in the expanse of all creation. Growing from a bump on a stem to a tightly wrapped bud and opening in delicate layers around its center, it reveals all its loveliness.
The Psalm that comes to mind when I look at a rose like this is Psalm 8:
"1O LORD, our Lord, how majestic is your name in all the earth! You have set your glory above the heavens.
3When I look at your heavens, the work of your fingers, the moon and the stars, which you have set in place,
4what is man that you are mindful of him, and the son of man that you care for him?
5Yet you have made him a little lower than the heavenly beings and crowned him with glory and honor.
6You have given him dominion over the works of your hands; you have put all things under his feet,
7all sheep and oxen, and also the beasts of the field,
8the birds of the heavens, and the fish of the sea, whatever passes along the paths of the seas.
9O LORD, our Lord, how majestic is your name in all the earth!"
That question is something I often dwell on, "What are we that we are just a little lower than the angels?"
Hebrews 2 writes of it as well: "6It has been testified somewhere, "What is man, that you are mindful of him, or the son of man, that you care for him? 7You made him for a little while lower than the angels; you have crowned him with glory and honor, 8putting everything in subjection under his feet."
The way we make war, fight those who disagree with us, and turn our eyes so we don't see those who are hungry, homeless, oppressed, or suffering.
It makes me wonder how we could possibly be so blessed by God in the miraculous way He has knit us together, creating us to be just that one step lower than the angels, and still love us so much that He gave His only Son to die for us to save us, when we turn and damage and destroy so much of His magnificent creation.
We would never continue to work with, support, protect, or care for such a group of creatures as God does.
Praise God for His unconditional love and the mercy He has for us.
Copyright Rev Cheryl Rondeau-Bassett
Each year I pick a flower I have not grown before. The flowering vine this year did not disappoint. The flower is so different, so unique, I'm loving it. It doesn't blossom long so I have to catch it at just the right time and when I do, I feel blessed by the special gift in seeing this lovely bloom.
"Every good and perfect gift is from above, coming down from the Father of the heavenly lights, who does not change like shifting shadows. (Jam 1:17)
Blessings are often things we take for granted. As our window to the world reveals people devastated once more by earthquakes, people running to a plane fleeing, and an army overtaking a government without any resistance, we should stop and thank God for giving us our faith and the gift of Jesus who saves.
The Psalmist writes, "7Though I walk in the midst of trouble, you preserve my life. You stretch out your hand against the anger of my foes; with your right hand you save me. 8The LORD will vindicate me; your love, LORD, endures forever-- do not abandon the works of your hands." (Psa 138)
Our faith is the greatest gift of all, blessing us beyond our understanding, being raised in a family with Christian beliefs, growing up with an opportunity to attend Sunday school and confirmation to learn of Jesus and His love. Through baptism, becoming a Child of God, "We know that anyone born of God does not continue to sin; the One who was born of God keeps them safe, and the evil one cannot harm them." (1Jo 5:18)
We are blessed to choose education, vocation, location, and even our spouse because of God's love. "All these blessings will come on you and accompany you if you obey the LORD your God:" (Deu 28:2)
Today as you pray for the Afghan and Haiti people, take time to look at all the blessings you have been given and offer your thanks and praise to God. Then take a second look for the unexpected gifts that bless your life and offer back to God praise for His goodness and mercy with heartfelt thanks.
"May God give you heaven's dew and earth's richness-- an abundance of grain and new wine." (Gen 27:28) and may God grant you His peace in knowing Christ as your Savior.
Copyright Rev Cheryl Rondeau-Bassett
Like gatekeepers these beautiful geraniums stand at the door to Grace watching and waiting as people come and go.
Gatekeepers were often noted in the Old Testament, serving on each side of the tent as watchmen. As trusted officials and high priest from the Levite family, to protect the Lord's house.
According to the online site Ancient Paths, they were "prayer warriors and intercessors for the people." As priest, they knew the Word of God and were to speak out against the sins of the people. Like a shepherd, his job was to guide those who were lost back on the right path.
Like a prophet, their responsibility was crucial to warn the people, or they would suffer the consequences. "17"Son of man, I have made you a watchman for the people of Israel; so hear the word I speak and give them warning from me. 18When I say to a wicked person, 'You will surely die, ' and you do not warn them or speak out to dissuade them from their evil ways in order to save their life, that wicked person will die for their sin, and I will hold you accountable for their blood. 19But if you do warn the wicked person and they do not turn from their wickedness or from their evil ways, they will die for their sin; but you will have saved yourself." (Eze 3:17-19)
This duty was given to church leaders in the New Testament, "Have confidence in your leaders and submit to their authority, because they keep watch over you as those who must give an account. Do this so that their work will be a joy, not a burden, for that would be of no benefit to you." (Heb 13:17)
All are responsible to speak up when someone sins as Jesus taught and Paul says, "Brothers and sisters, if someone is caught in a sin, you who live by the Spirit should restore that person gently. But watch yourselves, or you also may be tempted." (Gal 6:1)
It is difficult to tell others they sin. But better to take the chance of loosing a friend or family member than for their eternal damnation. Colossians tells us to pray for them, "For he has rescued us from the dominion of darkness and brought us into the kingdom of the Son he loves," (1:13)
Copyright Rev Cheryl Rondeau-Bassett
Is it a hovering spaceship? A stealth fighter jet? I watched this usual cloud go over in the empty sky one day. It reminded me of the many references of signs in the sky in scriptures.
The most known is the rainbow, with its promise in Genesis God will never again flood the earth.
On Pentecost, the disciples quote the prophet Joel about the last day, "19And I will show portents in the heaven above and signs on the earth below, blood, and fire, and smoky mist. 20The sun shall be turned to darkness and the moon to blood, before the coming of the Lord's great and glorious day." (Act 2)
Revelations has several passages to describe signs of the end times such as "a woman clothed with the sun, and the moon under her feet, and on her head a crown of twelve stars;" (12:1) and "a great red dragon having seven heads and ten horns, and on his heads were seven diadems." (12:3).
Luke tells of Jesus teaching at the temple telling his disciples of terrors and great signs from heaven. (21:25)
God gives us signs for different reasons. Signs and wonders are ways He sends us messages or warnings, not to make us live in fear. He loves His people and when in a relationship, you warn them if they may be heading for something harmful.
God used signs throughout time to prepare us for what is to come, like sign of the coming fall. They are reminders to repent and turn back to God for our life on earth is temporary.
Isaiah gives the chosen children of God this promise, "9you whom I took from the ends of the earth, and called from its farthest corners, saying to you, "You are my servant, I have chosen you and not cast you off"; 10do not fear, for I am with you, do not be afraid, for I am your God; I will strengthen you, I will help you, I will uphold you with my victorious right hand." (Isa 41)
At baptism, you became a chosen Child of God and promised eternal life. You have no need to live in fear as Paul writes, "May the God of hope fill you with all joy and peace in believing, so that you may abound in hope by the power of the Holy Spirit." (Rom 15:13)
For those who put their hope in God, shall have eternal salvation.
Copyright Rev Cheryl Rondeau-Bassett
Jesus often goes to a quiet place to pray. Sometimes to a mountain top, sometimes to a garden, and sometimes just away from the crowd. He says in Matthew, "But whenever you pray, go into your room and shut the door and pray to your Father who is in secret; and your Father who sees in secret will reward you." (6:6)
Jesus does not mean we have to hide in a closet to pray but a place where we can be alone with God, in solitude and without distraction.
A garden is often the setting for such a time, as Jesus went to the garden of Gethsemane prior to His arrest to pray.
Gardens are a blessing from God as Moses explained to the people, "10For the land that you are about to enter to occupy is not like the land of Egypt, from which you have come, where you sow your seed and irrigate by foot like a vegetable garden. 11But the land that you are crossing over to occupy is a land of hills and valleys, watered by rain from the sky, 12a land that the LORD your God looks after. The eyes of the LORD your God are always on it, from the beginning of the year to the end of the year." (Deu 11)
There is this beautiful song "In the Garden" inspired by John 20 as Mary, filled with grieve and sadness, walks in the garden after finding the empty tomb. Jesus comes to her, to comfort her showing her He has risen. Jesus says her name and all she can do is voice His name in return. It's a beautiful picture of what our first meeting with Jesus will be like.
God gives us gardens as a place of comfort. To know the enjoyment He wants for us, "For the LORD will comfort Zion; he will comfort all her waste places, and will make her wilderness like Eden, her desert like the garden of the LORD; joy and gladness will be found in her, thanksgiving and the voice of song." (Isa 51:3)
We have a beautiful garden in our courtyard at Grace. It is kept with love and devotion by volunteers. It now has a firepit and benches to relax in peace and quiet for meditation and time to spend with God.
Like Mary, perhaps it will be a place where God will help you look past your circumstances and listen for His voice calling your name. Come to the garden.
Copyright Rev Cheryl Rondeau-Bassett
All around is building going on. First an excavator digs a trench to pour cement footings for a strong foundation. Then several groups of workers come. Some lay drainpipes and plumbing.
There are electricians and groups of concrete workers, framers, siders, roofers, and the finish carpenters.
All have a different job. But all working together to build the same house.
That is how we are to build the house of God as Paul writes, "For we are God's servants, working together; you are God's field, God's building." (1Co 3:9) Each has a different skill or ability. Each works on a particular area. All work for the same thing, to build up the church for the glory of God.
Proverbs tells us, "By wisdom a house is built, and by understanding it is established;" (24:3)
The buildings have a blueprint of the overall plan. Then each crew receives a detailed print of their specific work. Some crews complete their work before the next can start. Others work right alongside each other.
As we work to build God's house, we have a blueprint of what the final house will be in over 100 references in the Bible to heaven, our final dwelling.
The work begins for each group to build their part as Paul continues, "10According to the grace of God given to me, like a skilled master builder I laid a foundation, and someone else is building on it. Each builder must choose with care how to build on it. 11For no one can lay any foundation other than the one that has been laid; that foundation is Jesus Christ. 12Now if anyone builds on the foundation with gold, silver, precious stones, wood, hay, straw-- 13 the work of each builder will become visible, for the Day will disclose it, because it will be revealed with fire, and the fire will test what sort of work each has done." (1Co 3)
Our work is to proclaim the Word of God to care for the sick and vulnerable, feed the hungry and cloth the naked. It needs workers who have the strength to hold the hands of those passing from this world to the next, seek the lost, and others to encourage and pray.
The foundation has been laid. We are to build on that for the final building.
Copyright Rev Cheryl Rondeau-Bassett
Today… What comes to mind when you hear that word? A list of things to do? Thoughts it's Friday. The blessing of God in the gift He has given.
"For he says, "At an acceptable time I have listened to you, and on a day of salvation I have helped you." See, now is the acceptable time; see, now is the day of salvation!" (2Co 6:2)
Paul is speaking to the Corinthians to separate themselves from unbelievers, to hear the good news of Christ, and accept the grace of God in this day. Not put it off until tomorrow to hear the saving grace of God as they may not have another chance.
Hebrews speaks of this saying, "6Since therefore it remains open for some to enter it, and those who formerly received the good news failed to enter because of disobedience, 7again he sets a certain day-- "today"-- saying through David much later, in the words already quoted, "Today, if you hear his voice, do not harden your hearts." (4)
Some may read that and feel that is harsh. I read those words and feel the love of Jesus because He does not want any to be lost. Just as He told the story of one lost sheep the Shepherd went to find, leaving the 99 who were already saved. Jesus cares so deeply for each of us, He does all He can to find us and bring us back to the fold.
This warning is given throughout scriptures. "For he is our God, and we are the people of his pasture, and the sheep of his hand. O that today you would listen to his voice!" (Psa 95:7)
And Proverbs teaches the results of those who refuse saying, "24Because I have called and you refused, have stretched out my hand and no one heeded, 25and because you have ignored all my counsel and would have none of my reproof, 26I also will laugh at your calamity; I will mock when panic strikes you, 27when panic strikes you like a storm, and your calamity comes like a whirlwind, when distress and anguish come upon you. 28Then they will call upon me, but I will not answer; they will seek me diligently, but will not find me." (1)
Are we so used to the loving forgiveness of Jesus we fail to hear the warnings of God, and listen today? Today is the time to hear the word and accept it.
Copyright Rev Cheryl Rondeau-Bassett
Each week we pray for people at church. I'm sure you have a list you pray for as well. Intercessory prayer is powerful.
Paul offered a beautiful prayer for the faithful in Colossians that they "10may live a life worthy of the Lord and please him in every way: bearing fruit in every good work, growing in the knowledge of God, 11being strengthened with all power according to his glorious might so that you may have great endurance and patience, 12and giving joyful thanks to the Father, who has qualified you to share in the inheritance of his holy people in the kingdom of light. 13For he has rescued us from the dominion of darkness and brought us into the kingdom of the Son he loves, 14in whom we have redemption, the forgiveness of sins." (Col 1)
As Holy people, rescued from the dominion of darkness, we are to "Carry each other's burdens, and in this way you will fulfill the law of Christ." (Gal 6:2)
Paul writes we are to pray continually, in the Spirit, for our enemies, for all our needs, and without babbling on like pagans. "Do not be anxious about anything, but in every situation, by prayer and petition, with thanksgiving, present your requests to God." (Phi 4:6)
Others are saved through our prayers, "for I know that through your prayers and God's provision of the Spirit of Jesus Christ what has happened to me will turn out for my deliverance." (Phi 1:19)
And even when we hurt, feel lost, or angry with God and do not know what to pray, "26the Spirit helps us in our weakness. We do not know what we ought to pray for, but the Spirit himself intercedes for us through wordless groans. 27And he who searches our hearts knows the mind of the Spirit, because the Spirit intercedes for God's people in accordance with the will of God." (Rom 8:26-27)
Prayer is so important, Jesus in His love for you just before being arrested, prayed for you to endure in faith, "9I pray for them. I am not praying for the world, but for those you have given me, for they are yours." (Joh 17:9)
Live in the kingdom of light, taking time to pray in all things and for others.
Copyright Rev Cheryl Rondeau-Bassett
Driving through the hills I unexpectedly came to a detour. Unexpectedly as no signs announced it and a company pointed me down a gravel road.
We come to unexpected detours in our lives. Detours taking us down unfamiliar roads, across rough and twisted paths until we are directed back on track. Along the way are unexpected beauty and hidden treasures you would never have been aware of.
James tells us, "13Now listen, you who say, "Today or tomorrow we will go to this or that city, spend a year there, carry on business and make money." 14Why, you do not even know what will happen tomorrow. What is your life? You are a mist that appears for a little while and then vanishes. 15Instead, you ought to say, "If it is the Lord's will, we will live and do this or that." 16As it is, you boast in your arrogant schemes. All such boasting is evil. 17If anyone, then, knows the good they ought to do and doesn't do it, it is sin for them." (4)
God has a plan for each of us but we want to plan our lives, set goals to achieve a standard of living. Encouraged to prepare for the future through education and training.
Then things happen, and our plans vanish. We find we are on a bumpy gravel road through unfamiliar territory. The education and training we obtained are useless. The goals we set become unobtainable.
When you find yourself at a detour, you can travel down if, or turn around and go back. But if you go back, you may never make it to the destination you were heading for.
Perhaps that is exactly what God has in mind, to save you from your human desires and put you on the right path for salvation.
Paul writes to the Ephesians, "22You were taught, with regard to your former way of life, to put off your old self, which is being corrupted by its deceitful desires; 23to be made new in the attitude of your minds; 24and to put on the new self, created to be like God in true righteousness and holiness." (4)
When you come to a detour, do not turn back. "5Trust in the LORD with all your heart and lean not on your own understanding; 6in all your ways submit to him, and he will make your paths straight." (Pro 3)
Copyright Rev Cheryl Rondeau-Bassett
"5On the glorious splendor of your majesty, and on your wondrous works, I will meditate. 6The might of your awesome deeds shall be proclaimed, and I will declare your greatness. 7They shall celebrate the fame of your abundant goodness, and shall sing aloud of your righteousness." (Psa 145)
When we think of the splendor and majesty of God we often think huge mountains and vast oceans. But God's goodness and grandeur can also be seen in the small things, like a coneflower… on it I will Meditate.
Meditate for a moment on how they are made. From just a tiny seed, they grow sturdy stems, and gently open from a small spec of a bud to a full bloom. Each petal individually wraps around the other and each stigma reaches to the sun offering up its pollen.
Flowers add beauty to our world for enjoyment. They provide food for butterflies and bees who make honey for our food. The seeds produce food for birds during the winter. And flowers like these purple coneflower at times provide natural healing used by herbalists to ward off colds or keep a healthy immune system.
In God's goodness, He gave humankind everything needed to live a perfect life. "17Every generous act of giving, with every perfect gift, is from above, coming down from the Father of lights, with whom there is no variation or shadow due to change." (Jam 1:17)
Our lives are busy making a living and enjoying life. It's true what they say, we need to "stop and smell the roses". To take time to meditate of how amazing the little things are, the intricate pieces knit together flawlessly, it's as amazing as any majestic mountain.
This goodness of God, the care and intricate details of each specific measures taken shows His love for us as we in 1 Chronicles "O give thanks to the LORD, for he is good; for his steadfast love endures forever." (1Ch 16:34)
If He created these beautiful flowers for us with so many good uses, just think how much He has created for us in our heavenly home.
"O how abundant is your goodness that you have laid up for those who fear you, and accomplished for those who take refuge in you, in the sight of everyone!" (Psa 31:19)
Copyright Rev Cheryl Rondeau-Bassett

Remember the June dryness? It has changed with showers in time to save corn that was curling and needed moisture to soybeans and pasture grass. "LORD, you were favorable to your land;" (Psa 85:1) Everything is once again green and lush with creeks and streams were running full.
Hebrews says, "Ground that drinks up the rain falling on it repeatedly, and that produces a crop useful to those for whom it is cultivated, receives a blessing from God." (6:7)
Rain is often used as a symbol of blessing in scriptures. According to the online Bible Dictionary - Easton's bible Dictionary, there are three Hebrew words used for rain depending on the seasons they represent. Yoreh (or moreh) is the early rain in Israel that starts around October and rains heavy for a couple of months. Melqosh or later spring rain of March and April helps ripen the grain. Geshem or winter rain is from December to March. April until October, there is no rain and just clear skies.
Understand the types of rain in the middle east helps recognize the meaning when rain is used in scriptures.
The heavy pouring rain reminds me how it cleanses my sins as the pouring rains flooded the earth to cleanse it as Psalms says "2Wash me thoroughly from my iniquity, and cleanse me from my sin. 3For I know my transgressions, and my sin is ever before me." (51)
It is also used to describe how difficult it is to wait for prayers to be answered as Hosea writes, "Let us know, let us press on to know the LORD; his appearing is as sure as the dawn; he will come to us like the showers, like the spring rains that water the earth." (6:3)
Just as we waited for rains in June, we wait for prayers to be answered realizing we have no control of when. But we can look back and know the rain does eventually come.
James writes of this "7Be patient, therefore, beloved, until the coming of the Lord. The farmer waits for the precious crop from the earth, being patient with it until it receives the early and the late rains. 8You also must be patient. Strengthen your hearts, for the coming of the Lord is near." (5)
Using familiar descriptions, the words of scripture strengthens your heart.
Copyright Rev Cheryl Rondeau-Bassett
"13But we do not want you to be uninformed, brothers and sisters, about those who have died, so that you may not grieve as others do who have no hope. 14For since we believe that Jesus died and rose again, even so, through Jesus, God will bring with him those who have died. 15For this we declare to you by the word of the Lord, that we who are alive, who are left until the coming of the Lord, will by no means precede those who have died. 16For the Lord himself, with a cry of command, with the archangel's call and with the sound of God's trumpet, will descend from heaven, and the dead in Christ will rise first. 17Then we who are alive, who are left, will be caught up in the clouds together with them to meet the Lord in the air; and so we will be with the Lord forever. 18Therefore encourage one another with these words." (1Th 4)
On this day, as many other days, this passage gives me comfort and hope. Not because I am a pastor, but because like so many, I have lost a son.
Death is so final. There are days you wish you could have one more hour, one more conversation to say how much you love them.
We live in regret, a human emotion of sorrow that does not go away after a couple of months or even years. Today my son would be 39. I've missed him every day for 6 years. That won't change. But I don't grieve like those who have no hope.
For we are promised a reunion, "For now we see in a mirror, dimly, but then we will see face to face. Now I know only in part; then I will know fully, even as I have been fully known." (1Co 13:12)
He was my son, but belonged to God, "3As I live, says the Lord GOD... 4Know that all lives are mine; the life of the parent as well as the life of the child is mine: it is only the person who sins that shall die." (Eze 18)
At his death, I know Jesus came to take him to a place He had prepared for him. (Joh 14) And Jesus says, "28Do not be astonished at this; for the hour is coming when all who are in their graves will hear his voice 29and will come out-- those who have done good, to the resurrection of life, and those who have done evil, to the resurrection of condemnation." (Joh 5)
Praise be to God.
Copyright Rev Cheryl Rondeau-Bassett
Tomatoes of all sizes are ripening. I like gardening whether flowers or vegetables. I enjoy planting, seeing things grow, and the results of my efforts. For me, I find that satisfying. Maybe that's just my upbringing but it's a good feeling.
In creation, we were made to work with our hands. "15 The LORD God took the man and put him in the garden of Eden to till it and keep it." (Gen 2:15)
Adam and Eve probably had that same good feeling in the garden as they planted, watch things grow and had the satisfaction of eating what they had worked hard for. It just seems natural. In fact, God created us with a chemical called dopamine that is released when we get something we want, according to an online article The Science of Accomplishing Your Goals by Ralph Ryback, MD at psychologytoday.com.
The psalmist knew it was good for us writing, "Let the favor of the Lord our God be upon us, and prosper for us the work of our hands-- O prosper the work of our hands!" (90:17)
God prospers our work in more than an abundance of produce, but we prosper from comfort and enjoyment in what we do. The satisfaction of a job well done and happiness when we set a goal and accomplished it sparks that dopamine.
Solomon also reflects on the work of our hands saying, "All this I laid to heart, examining it all, how the righteous and the wise and their works are in the hand of God; whether it is love or hate one does not know. Everything that confronts them, 2is vanity," (Ecc 9:1)
He teaches the wisdom of life is to work now as once we die, it will be too late concluding the reward for the righteous comes after death, but not for the wicked, "Whatever your hand finds to do, do with your might; for there is no work or thought or knowledge or wisdom in Sheol, to which you are going." (9:10) Sheol is the place of the dead.
Paul gives the same advice to the Colossians, "23Whatever your task, put yourselves into it, as done for the Lord and not for your masters, 24since you know that from the Lord you will receive the inheritance as your reward; you serve the Lord Christ." (3)
Enjoy your work as you work for your enjoyment.
Copyright Rev Cheryl Rondeau-Bassett
Roses are my favorite. I tell my family not to buy them but buy the plant and I'll have roses all summer.
A rose is a symbol of love and purity as in Song of Solomon "1I am a rose of Sharon, a lily of the valleys. 2As a lily among brambles, so is my love among maidens." (2)
It later became a powerful symbol of loved wrapped in humility representing the blood and suffering of Jesus, who loved us so much He died for us.
According to Sam Ellis online article "What Does a Rose Symbolized in the Bible? at Catholics & Bible," the fragrance of rose is a symbol that God's angels are in the vicinity."
"3Another angel with a golden censer came and stood at the altar; he was given a great quantity of incense to offer with the prayers of all the saints on the golden altar that is before the throne. 4And the smoke of the incense, with the prayers of the saints, rose before God from the hand of the angel." (Rev 8:3-4)
A red rose symbolizes passion and unwavering commitment. It also represents the martyrdom of the disciples who suffered for their faith.
Paul writes to the Philippians, "20It is my eager expectation and hope that I will not be put to shame in any way, but that by my speaking with all boldness, Christ will be exalted now as always in my body, whether by life or by death. 21For to me, living is Christ and dying is gain." (1)
The calyx, or outer green curl around the rose, Ellis says, has the same meaning as the chalice used for the Christian Eucharist. The sepals, the small green petal leaves of the bud to protect the flower symbolize "the acceptance of divine grace poured freely from heaven" in the body and blood of Jesus. John writes, "And the Word became flesh and lived among us, and we have seen his glory, the glory as of a father's only son, full of grace and truth." (1:14)
The rose of Sharon came to mean Christ and the church. "looking to Jesus the pioneer and perfecter of our faith, who for the sake of the joy that was set before him endured the cross, disregarding its shame, and has taken his seat at the right hand of the throne of God." (Heb 12:2)
Let each roses remind you of Christ love for you.
Copyright Rev Cheryl Rondeau-Bassett
When spring comes, we are so excited to get out and do things, go places, and enjoy activities we've been waiting for all winter. Then as summer days dwindle down, the garden is in full throttle, the energy level seems to diminish. In the cooling days of fall, tiredness from trying to get it all done is matched by the sadness of seeing activities end and thoughts of staying inside.
The same happens over our lifetime. When we are young, in the springtime of our life, we are excited to get out and do, go, and enjoy what we've waited for. Through the summer we keep busy pursuing daily needs and storing up the harvest, as our energy levels diminish with the endeavors. In the fall of our lives, we may look back with sadness and tiredness over the years that have gone by too fast and all that has been left undone.
Jesus says, "28"Come to me, all you that are weary and are carrying heavy burdens, and I will give you rest. 29Take my yoke upon you, and learn from me; for I am gentle and humble in heart, and you will find rest for your souls." (Mat 11)
The heavy burdens we carry in our passing years sometimes come from unresolved conflicts or unfulfilled dreams. Over time, disagreement and disappointment cause stress and anxiety. Losing someone you love often results in the loss of hopes and dreams for the future, causing depression and feelings of being exhaustion. Rejection and abuse can cause physical and emotional pain and suffering.
All these burdens can result in being tired and weary in the fall of your life. God wants you to let go of them and tells you, "I will satisfy the weary, and all who are faint I will replenish." (Jer 31:25)
For those who give their burdens up to God, let go of pain and suffering of this world, will feel their heavy burdens lift and the soul replenished. The work is not easy, but God promises to be your strength as the Psalmist says, "My flesh and my heart may fail, but God is the strength of my heart and my portion forever." (Psa 73:26)
If you are burdened today by anything in the past, give it up to God and let it go. In doing so, you will find rest for your soul.
"This is the day that the LORD has made; let us rejoice and be glad in it." (Psa 118:24)
Many people have heard or know this verse. It comes to mind when sunrays stream in all directions above the morning horizon and the sky lights up in an amazing array of glorious colors.
The breathtaking beauty reminds us how awesome God is and that "22The steadfast love of the LORD never ceases, his mercies never come to an end; 23they are new every morning; great is your faithfulness." (Lam 3)
But on those cloudy overcast days when the dawn is not so beautiful, it's not as easy to praise God. Without a breathtaking glorious sunrise, we often look and move on, not considering the day is just as promising as spectacular dawns.
It's like that in our lives. When all goes well and we are receiving good things, it's easy to praise God. During troubled time when we struggle or experience difficult events, we walk away from the problems without praising God and even angry with Him. No one praises God for enduring illness or trying times.
Paul reminds us, "17For this slight momentary affliction is preparing us for an eternal weight of glory beyond all measure, 18because we look not at what can be seen but at what cannot be seen; for what can be seen is temporary, but what cannot be seen is eternal." (2Co 4:17-18)
During those dark and troubles days in our lives, God is still with us. In trying times, we find how little control we have it draws is closer to God. In our powerlessness, we realize all that we have is given to us because of His grace and mercy. It is "Then your light shall break forth like the dawn, and your healing shall spring up quickly;" (Isa 58:8)
So when dark days comes and troubles confront you, continue to praise our awesome God. As you endure and draw closer to Him, your faith grows stronger. As faith grows, you come to understand, this world is just our temporary home. So "1Arise, shine; for your light has come, and the glory of the LORD has risen upon you. 2For darkness shall cover the earth, and thick darkness the peoples; but the LORD will arise upon you, and his glory will appear over you." (Isa 60)
Copyright Rev Cheryl Rondeau-Bassett
It's hard to look at Black-Eyed Susan and not smile. They are so bright and lovely, as if they are smiling up at you. They just make you happy to look at them.
God wants us to be happy and find joy in this world. Paul tells us, "May the God of hope fill you with all joy and peace in believing, so that you may abound in hope by the power of the Holy Spirit." (Rom 15:13)
For those who have hope find joy and peace in their daily work as they trust in God and do His will. We were created to be busy. God gave us work to do, to care for the earth as good stewards, care for the creatures, and care for one another. Those who are not busy, "…learn to be idle, gadding about from house to house; and they are not merely idle, but also gossips and busybodies, saying what they should not say." (1Ti 5:13)
I find a great deal of satisfaction in the work I do and my accomplishments. When we toil at something, and stand back to see it as a job well done, it is satisfying as we read in Ecclesiastes, "18This is what I have observed to be good: that it is appropriate for a person to eat, to drink and to find satisfaction in their toilsome labor under the sun during the few days of life God has given them--for this is their lot. 19Moreover, when God gives someone wealth and possessions, and the ability to enjoy them, to accept their lot and be happy in their toil--this is a gift of God. 20They seldom reflect on the days of their life, because God keeps them occupied with gladness of heart." (5)
The beauty of flowers, the sweet sounds of nature, the splendor of creation are all blessings we have been given by God to relax and surround ourselves in happiness. It is a pleasant reminder of the beauty and sweetness we will be rewarded with in our new life in heaven. "9Therefore my heart is glad, and my soul rejoices; my body also rests secure. 10For you do not give me up to Sheol, or let your faithful one see the Pit. 11You show me the path of life. In your presence there is fullness of joy; in your right hand are pleasures forevermore." (Psa 16)
Today, find satisfaction in your toil and be happy, enjoying the gift of beauty all around.
Copyright Rev Cheryl Rondeau-Bassett
Another week, another month. Time goes so fast. Jesus took time each day to meditate and pray, "In the morning, while it was still very dark, he got up and went out to a deserted place, and there he prayed." (Mar 1:35)
As a kid, I would think about what I had to do during the day and plan it out. Later I would make prioritize lists each day and get as much done as I could. Now I have tasks on my computer and check them off as completed. Those not done turn red for the next day.
I wonder if Jesus took the time to do the same when He went out to pray. Luke writes prior to choosing the disciples, "12Now during those days he went out to the mountain to pray; and he spent the night in prayer to God. 13And when day came, he called his disciples and chose twelve of them, whom he also named apostles:" (6)
Taking time to be alone in your thoughts provides an opportunity to hear God in your decisions. That doesn't happen literally, but we hear God in a feeling we have that directs us, an awareness of an issue, or the recognition of something on the list to be addressed or left. Organization time is a way for God to lead and guide our lives to do His will.
Jesus also prayed for us in as Luke tells us, "31"Simon, Simon, listen! Satan has demanded to sift all of you like wheat, 32but I have prayed for you that your own faith may not fail; and you, when once you have turned back, strengthen your brothers." (Luk 22)
Prior to His arrest, Jesus prayed for His disciples and us saying, "And now I am no longer in the world, but they are in the world, and I am coming to you. Holy Father, protect them in your name that you have given me, so that they may be one, as we are one." (Joh 17:11) The beautiful prayer goes on asking God sanctify them and they live with Him in glory.
Paul writes Jesus still prays for us, "34Who is to condemn? It is Christ Jesus, who died, yes, who was raised, who is at the right hand of God, who indeed intercedes for us. 35Who will separate us from the love of Christ?" (Rom 8)
As you spend time in prayer and by yourself, take time to hear Jesus prayer for you and allow time for His daily guidance.
Copyright Rev Cheryl Rondeau-Bassett
"Jesus said to them, "I am the bread of life. Whoever comes to me will never be hungry, and whoever believes in me will never be thirsty." (Joh 6:35)
In the middle of Pentecost, we focus on Jesus as the bread of life in our worship services. We need bread to sustain us in our daily living but often we forget how much we need to hear the Word of God to sustain us in our faith. Just as bread only last for a day, hearing the word proclaimed in worship feeds us for the week and reading scripture provides encouragement to get through each day.
"It is written, 'One does not live by bread alone, but by every word that comes from the mouth of God.'" (Mat 4:4)
Martin Luther said we need to hear the word as: "Christ's mercy not only provides release from your sins but also gives you the one who makes no demands on you whatsoever…relieving your conscience to make you new by inserting you into a new relationship."
Bread is an image that is easy to relate to for feeding us physically and spiritually. The bread we receive in Holy Communion is the bread of Jesus himself. Bread has been used as a sacrifice since the time of Aaron as God told him,
"5You shall take choice flour, and bake twelve loaves of it; two-tenths of an ephah shall be in each loaf. 6You shall place them in two rows, six in a row, on the table of pure gold. 7You shall put pure frankincense with each row, to be a token offering for the bread, as an offering by fire to the LORD." (Lev 24)
As a sacrament, the bread reminds us of the true bodily sacrifice of Jesus for our sake who gives life to all believers. A sacrament needed more than just at Easter and Christmas, but as "often as you do this, for the remembrance of me."
With the words of forgiveness and the body and blood of our dear Savior Jesus, we are strengthened and can live in peace knowing we are saved, a feeling we receive even when we cannot understand how it all works.
Jesus said, "I am the living bread that came down from heaven. Whoever eats of this bread will live forever; and the bread that I will give for the life of the world is my flesh." (Joh 6:51)
Hunger no more. Take time to hear the word.
Copyright Rev Cheryl Rondeau-Bassett
"1Make a joyful noise to the LORD, all the earth. 2Worship the LORD with gladness; come into his presence with singing." (Psa 100)
Before the sun is even awake, the birds find their most beautiful songs to sing. The sound is so happy as they give it their all in the stillness of the morning.
Maybe they know the psalm and worshiping the Creator with gladness for another day with an abundance of food and water.
I don't know anyone who speaks bird, but they give us a wonderful example of offering thanks and praise with gladness making a joyful noise in the presence of our Lord at the break of day.
The Matthew Henry Commentary tells us in Ezra, after Israel had returned to Jerusalem, possibly from Babylon, "newly come from under correction for their irreligion," in the second year as they began the process of rebuilding the temple out of the rubble, "11they sang responsively, praising and giving thanks to the LORD, "For he is good, for his steadfast love endures forever toward Israel." And all the people responded with a great shout when they praised the LORD, because the foundation of the house of the LORD was laid." (3)
The commentary explains this concert of music was "not to please the ear but assist the singing of that everlasting hymn which will never be out of date, and to which our tongues should never be out of tune."
They learned importance of giving thanks in the wilderness and retaught many times during their continued troubles. Isaiah writes, "4And you will say in that day: Give thanks to the LORD, call on his name; make known his deeds among the nations; proclaim that his name is exalted. 5Sing praises to the LORD, for he has done gloriously; let this be known in all the earth." (12)
As a nation, we forget to give thanks to God and make known His deeds. David knew the importance of public worship as a nation setting an example into motion, "11Seek the LORD and his strength, seek his presence continually. 12Remember the wonderful works he has done, his miracles, and the judgments he uttered, (1Ch 16)
Let us not forget as a nation to thank God for His blessing upon us.
Copyright Rev Cheryl Rondeau-Bassett
"15When she got up to glean, Boaz instructed his young men, "Let her glean even among the standing sheaves, and do not reproach her. 16You must also pull out some handfuls for her from the bundles, and leave them for her to glean, and do not rebuke her." (Ruth 2)
The story of Boaz and Ruth is a beautiful story of gift, deliverance, promise, and the love of God for all people.
As a widow and foreigner, Ruth was loyal to her mother-in-law, who had no one to care for her as she too was a widow. When Naomi returns to her homeland, Ruth goes with her. As they are poor, she goes to the field to gather wheat that falls out of the harvest bundle as they glean the field. This was allowed by Mosaic law to care for the poor.
The kind Boaz sees this loyalty even though she is a foreigner and without Ruth knowing, rewards her by having the workers leave more for her to gather. Long story short, they marry and have a child, "named Obed; he became the father of Jesse, the father of David." (Rut 4:17)
Ruth is blessed by being a relative to a future king of Israel and of the linage to the Messiah.
This teaches God loves all people, especially the least of these, as the story emphasizes Ruth is a Moabite, a group of people the Israelites think are inferior.
Deliverance came to Ruth because of her actions to care for her mother-in-law having Naomi's God as her God. God rewarded her with this gift of ancestry, taking her out of hopelessness to something glorious. God's promise to care for all who are faithful was answered.
Our lives are like that, God has a plan for each of us and promises to care for all our needs when we put our trust in Him and are obedient, caring for others even before our own needs, "23 Whatever your task, put yourselves into it, as done for the Lord and not for your masters, 24since you know that from the Lord you will receive the inheritance as your reward; you serve the Lord Christ." (Col 3) and "and your Father who sees in secret will reward you. (Mat 6:4 NRS)
Take some time to read the story of Ruth as there is much we can learn. To be kind and compassionate to those who are less fortunate is just the beginning.
Copyright Rev Cheryl Rondeau-Bassett
The past days have been challenging with high temperatures and humidity. Rains brought moisture to green up the crops and grasses. God is good.
"17yet he has not left himself without a witness in doing good-- giving you rains from heaven and fruitful seasons, and filling you with food and your hearts with joy." (Act 14:17)
The rains brough happiness after that long hot month of June and now as heat and humidity subsides, joy in pleasant temperatures. Even in days of beautiful perfect weather, James tells us "Every generous act of giving, with every perfect gift, is from above, coming down from the Father of lights, with whom there is no variation or shadow due to change." (Jam 1:17)
When you think about every generous act given each day, how amazing is God that He should treat us as good as He does in all we obtain for a good living and happy life forgetting all is a gift from God.
Our ability to learn and grasp information we need to understand our work. Our interest and abilities for the vocation we have are all gifts God gave us. Many have had negative life experiences but looking back can see are gifts from God as they made your faith stronger, and put you on a path closer to His will giving you a pleasant gift of peace.
The Psalmist writes, "4Sing praises to the LORD, O you his faithful ones, and give thanks to his holy name. 5For his anger is but for a moment; his favor is for a lifetime. Weeping may linger for the night, but joy comes with the morning." (Psa 30)
The struggle through drought is difficult as there is nothing you can do to make it rain. The effort it takes to bear intense heat and humidity is challenging when it lasts for days as there is no thermostat to turn it off. That is how life can be at times making us realize God is in control and we must just wait on His timing.
Then when the rains come or the winds blow away the heat and humidity, let us rejoice and remember, "…the LORD God is a sun and shield; he bestows favor and honor. No good thing does the LORD withhold from those who walk uprightly." (Psa 84:11)
God is good and every perfect gift is from above in His more perfect timing.
Copyright Rev Cheryl Rondeau-Bassett
I read an interesting article online from Christianity.com entitled What Is the Significance of Trees in the Bible? Why Did Jesus Die on a Tree? Written by Matthew Sleeth in April 2019.
I was familiar with the prophecy from Deuteronomy, "you shall bury him that same day, for anyone hung on a tree is under God's curse." (21:23)
But there were several other comments I thought interesting referencing trees. We forget they are the oldest living thing on earth. In fact, you can find trees in Palestine and the Holy Lands Jesus sat under because trees can live for thousands of years. We forget that in our short lives. Sleeth says, "God wants us to see the forest and the trees."
The Garden of Gethsemane by the Mount of Olives is filled with many olive tree and when I stood there I wondered, which one did He pray by thinking of that painful prayer. The setting was so striking. There were trees all around that garden with a ravine between it and the path soldiers would walk down to cross over from Jerusalem in clear sight of any in the garden. Jesus could easily have fled but didn't.
The most interesting note Sleeth wrote was to ask why God used a tree. To which he said, "…that Jesus never took; he only gave." Comparing Him to a tree which gives "life and beauty; shade and rest; cleans the air and holds back erosion. Trees offer shelter, food and protection."
How ironic, the giver of life placed upon a giver of life.
You may do the same thing I do when I sit under a tree in the summer and look up at the leaves as the sun glistens through. I think about the beauty and majesty of creation. How awesome the creator is to design something as amazing as a tree that gives shade from the sun with all its leaves that then fall off to provide extra sunlight in winter.
Paul write in Romans "19For what can be known about God is plain to them, because God has shown it to them. 20Ever since the creation of the world his eternal power and divine nature, invisible though they are, have been understood and seen through the things he has made. So they are without excuse;" (1)
How could anyone look at nature or look at a tree, and not know God our Creator?
Copyright Rev Cheryl Rondeau-Bassett
The grapes are beginning to ripen. As they grow, you hardly notice them in among the leaves. As long as they remain attached to the vine, the bunches grows together giving each little grape room to expand and ripen to full maturity.
Leaves provide protection from the hot summer sun and other elements until late summer when they begin to wither and fall, and the turkeys notice the tasty treats.
Jesus used the example of grape vines to explain our relationship with Him and calling for as His follower saying, "4Abide in me as I abide in you. Just as the branch cannot bear fruit by itself unless it abides in the vine, neither can you unless you abide in me. 5I am the vine, you are the branches. Those who abide in me and I in them bear much fruit, because apart from me you can do nothing." (Joh 15)
We are the branches the bunches grow on, the fruit that becomes good as it ripens little by little when remaining attached to the vine.
Paul tells us is "22the fruit of the Spirit is love, joy, peace, patience, kindness, generosity, faithfulness, 23gentleness, and self-control. There is no law against such things." (Gal 5)
As you watch a child grow you notice they don't automatically possess all these good fruits right away. They need to be taught little by little until they to reach full maturity. That does not happen when they physically reach adulthood but continues throughout life.
"13They are planted in the house of the LORD; they flourish in the courts of our God. 14In old age they still produce fruit; they are always green and full of sap, 15showing that the LORD is upright; he is my rock, and there is no unrighteousness in him." (Psa 92)
Jesus said they bears much fruit, not just some for a while. He didn't put a stopping point on the vine to produce fruit. It doesn't retire or take a few years off to do something else. It doesn't stop because it's already produced bushels of fruit. It bears much fruit.
As long as the branches abide in the vine, and clusters bloom, Jesus says, it produces good fruit.
Copyright Rev Cheryl Rondeau-Bassett
Smoke from the many fires in western states certainly gives a strange look to the sun and sky. People once looked to the sky and nature for clues on what was to come.
We look west for storm clouds that might bring rain or a thunderstorm, at the moon for rings around it for humidity. And those age old saying, 'Red skies at night, sailors delight; red skies in morn'n sailors take warning,' meaning the night sky is foretelling a storm the next day while sailors are at sea.
Matthew writes of the afternoon our Lord was on the cross, "From noon on, darkness came over the whole land until three in the afternoon." (Mat 27:45) The sky was filled with a sign, the darkness of death.
If we could turn our tv station to signs of what is to come, would we take notice? Would people see the signs and turn back to God?
The prophet Joel wrote, "30I will show portents in the heavens and on the earth, blood and fire and columns of smoke. 31The sun shall be turned to darkness, and the moon to blood, before the great and terrible day of the LORD comes." (Joe 2:30-31) People who knew scripture were especially concerned on a dark day when an eclipse occurred.
Jesus responds to His disciples of what is to come saying, "25"There will be signs in the sun, the moon, and the stars, and on the earth distress among nations confused by the roaring of the sea and the waves. 26People will faint from fear and foreboding of what is coming upon the world, for the powers of the heavens will be shaken." (Luk 21)
One problem with forecast and sky predictions is they easily can be misread. Another is if they are overstated or don't happen, eventually the warnings are ignored and faith in them dwindles.
Many predictions of scripture have been fulfilled and those which are not will be, for God is trustworthy and true. "Those who know your name trust in you, for you, LORD, have never forsaken those who seek you." (Psa 9:10)
Jesus prayed for us in John is to know the truth, "Sanctify them in the truth; your word is truth." (17:17) To know the truth is to take time to know the Word and study it, young and old.
Copyright Rev Cheryl Rondeau-Bassett
The water in my swimming pool is so crystal clear, it reminded me of this passage in Revelations, "1Then the angel showed me the river of the water of life, bright as crystal, flowing from the throne of God and of the Lamb." (22)
I can't imagine what it will be like to see that water if this is how clear a swimming pool is. The feel of the water is like silk on a hot day, and it refreshes.
God commanded water cleansing in Exodus. In biblical times, a mikveh was a ritual bathing pools for cleansing. It had to be filled with "living" water (water flowing directly into it from a river, spring or collected rainwater.
The use of ordinary elements like water are used throughout scripture to help us understanding the word of God.
In Psalm, thanks and praise are given to God for His blessings provided using water to describe His creative powers: "33He turns rivers into a desert, springs of water into thirsty ground, 34a fruitful land into a salty waste, because of the wickedness of its inhabitants. 35He turns a desert into pools of water, a parched land into springs of water." (107)
Jesus used water to heal telling the blind man to "Go, wash in the pool of Siloam." Then he went and washed and came back able to see." (Joh 9:7)
And at the well, He offered the Samaritan woman 'living water' that would spring up into everlasting life. John 4:13-14.
Water is used in baptism as a cleansing from sin. "And baptism, which this prefigured, now saves you-- not as a removal of dirt from the body, but as an appeal to God for a good conscience, through the resurrection of Jesus Christ," (1Pe 3:21)
In baptismal waters, we receive forgiveness of sins to stand right before God. All washed in these waters, believe in the words and promises of God, are redeemed from death and may have eternal life as Paul tells us, "4But when the goodness and loving kindness of God our Savior appeared, 5he saved us, not because of any works of righteousness that we had done, but according to his mercy, through the water of rebirth and renewal by the Holy Spirit." (Tit 3)
The crystal water of life is more than anything we can envision and will be beautiful.
Copyright Rev Cheryl Rondeau-Bassett
"1Those conflicts and disputes among you, where do they come from? Do they not come from your cravings that are at war within you? 2You want something and do not have it; so you commit murder. And you covet something and cannot obtain it; so you engage in disputes and conflicts. You do not have, because you do not ask." (Jam 4)
There is so much conflict today. People refuse to listen to another's opinion. Individuals demand things their way. Families split because of hurt long ago. Leaders reject compromise. So many disputes over the simplest issues that cause the great harm of painful suffering and hate.
A Levitical law written for good living said, "17You shall not hate in your heart anyone of your kin; you shall reprove your neighbor, or you will incur guilt yourself. 18You shall not take vengeance or bear a grudge against any of your people, but you shall love your neighbor as yourself: I am the LORD." (19)
The New Testament continues that saying, "20Those who say, "I love God," and hate their brothers or sisters, are liars; for those who do not love a brother or sister whom they have seen, cannot love God whom they have not seen. 21The commandment we have from him is this: those who love God must love their brothers and sisters also." (1Jo 4:20-21)
It's easy to hold a grudge when you've been hurt. I've done it myself not speaking to that person again and staying away.
That kind of action only hurt me. I am glad the Spirit moved me to forgive and let go. It wasn't easy. It took prayer many times. Satan was at work in me.
Paul gives this guidance, "12As God's chosen ones, holy and beloved, clothe yourselves with compassion, kindness, humility, meekness, and patience. 13Bear with one another and, if anyone has a complaint against another, forgive each other; just as the Lord has forgiven you, so you also must forgive. 14Above all, clothe yourselves with love, which binds everything together in perfect harmony." (Col 3:12-14)
If you have been hurt or hold a grudge, pray to let it go and forgive for Jesus said, "Blessed are the peacemakers, for they will be called children of God. (Mat 5:9)
Copyright Rev Cheryl Rondeau-Bassett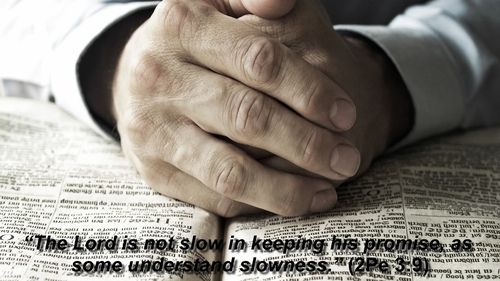 "And I will do whatever you ask in my name, so that the Father may be glorified in the Son." (Joh 14:13)
One of the most difficult things in a Christian life is to pray for something with an urgent need and see it go unanswered. Praying to find employment when there is a layoff; for someone who is ill to recover; to protect someone from imminent danger; or even to turn the heart of a loved one back to God with no results challenges our faith.
We are taught to "Ask and you will receive, and your joy will be complete." (Joh 16:24)
What joy is there when prayers go unanswered? We understand it's not the right time as God's timing is perfect and all is for an eternal purpose so we must trust in Him.
It also must be for a good thing. "If you, then, though you are evil, know how to give good gifts to your children, how much more will your Father in heaven give good gifts to those who ask him!" (Mat 7:11)
But how can praying for healing or protection or someone to come to faith not be a good thing? When those prayers go unanswered, it can cause the person praying to give up hope and even turn from God.
We question if we are being punished, "For the LORD God is a sun and shield; he bestows favor and honor. No good thing does the LORD withhold from those whose walk is blameless." (Psa 84:11)
Thinking I'm not good enough or living right is the reason are thoughts that come from Satan who wants you to doubt God and lose faith. For God "wants all people to be saved and to come to a knowledge of the truth." (1Ti 2:4) but "The Lord is not slow in keeping his promise, as some understand slowness. Instead he is patient with you, not wanting anyone to perish, but everyone to come to repentance." (2Pe 3:9)
When prayers seem not to be answered, we must continue in trust, "Now faith is the assurance of things hoped for, the conviction of things not seen." (Heb 11:1) The answer will come in the right time, the right way, and with the right outcome not just for our eternal salvation but for the salvation of the world.
Continue to pray and trust in God and His ways and remember someday all things will be revealed to us.
Copyright Rev Cheryl Rondeau-Bassett


A few years ago I had the opportunity to go to Israel with a Luther Seminar Group. It was the peak of summer, very hot and humid.
Much of the land in the south is dessert but unlike sand as we think of, it's dry and barren from the heat. In spring it's covered with flowers and grasses for a short time but then fades as the burning sun bakes the plants leaving bare, cracked ground.
Isaiah writes, "6A voice says, "Cry out!" And I said, "What shall I cry?" All people are grass, their constancy is like the flower of the field. 7The grass withers, the flower fades, when the breath of the LORD blows upon it; surely the people are grass. 8The grass withers, the flower fades; but the word of our God will stand forever." (40)
Much of scripture is written using what is familiar in nature and our world for us to better understand the words. Here, Isaiah is telling the people the time has come to be prepared and repent as John the Baptist later speaks of. Seeing the completely barren land once lush and full of blooms now completely desolate gives us a better picture of Isaiah's warning to repent.
Previously Isaiah wrote, "24Therefore, as the tongue of fire devours the stubble, and as dry grass sinks down in the flame, so their root will become rotten, and their blossom go up like dust; for they have rejected the instruction of the LORD of hosts, and have despised the word of the Holy One of Israel." (5)
The description gives us a good idea of what it will be like for those who reject God. It is as clear today reading it as it was for those who heard it passed down from generation to generation.
The good news is that God knew our human sinful nature and sent Jesus to earth to do what we could not, dying on the cross to redeem all who believed in His death and resurrection for our salvation.
We do not have to face the tongue of fire or be destroyed like dust blown in the wind "For by grace you have been saved through faith, and this is not your own doing; it is the gift of God—" (Eph 2:8)
And we know for certain, the Word of God will stand forever. Look how long it already has. Thanks be to God.
Copyright Rev Cheryl Rondeau-Bassett
"147I rise before dawn and cry for help; I put my hope in your words. 148My eyes are awake before each watch of the night, that I may meditate on your promise. 149In your steadfast love hear my voice; O LORD, in your justice preserve my life." (Psa 119)
There is a coolness in the air just before dawn. Often it is the coldest time of the day. Sometimes I feel as if I am holding my breath in the stillness and anticipation of a new day.
Then the first beam of sunlight breaks through, the day begins, and it is time to be about my work.
"11you know what time it is, how it is now the moment for you to wake from sleep. For salvation is nearer to us now than when we became believers; 12the night is far gone, the day is near. Let us then lay aside the works of darkness and put on the armor of light;" (Rom 13)
The people who live close to the many fires burning in the west surely are up before dawn crying for help, awake before each watch of the night, holding their breath as they look for any spark that must be extinguished.
It's tragic.
We've heard stories of the dirty thirties, but a drought of such magnitude is generally something that happens in Africa or Australia. Weather extremes affect the entire world as we watch from a distance, praying we are spared, promising we will do better if God just gets us through this one thing.
"145With my whole heart I cry; answer me, O LORD. I will keep your statutes. 146I cry to you; save me, that I may observe your decrees." (Psa 119)
We bargain with God to save us from tragedy as we take our eyes off the cross and on ourselves, our personal needs and wants. God wants us to focus on Him even in times of tragedy when we do not understand why it is happening.
"151Yet you are near, O LORD, and all your commandments are true. 152Long ago I learned from your decrees that you have established them forever." (Psa 119)
The decree to remember is God will not forsake you through the darkest valley or most devastating tragedies. Do not forsake Him but put aside the works of darkness.
"Blessed be the Lord, who daily bears our burden, The God who is our salvation. Selah." (Psa 68: 19)
Copyright Rev Cheryl Rondeau-Bassett
I didn't plant this lily in the middle of my hostas but one day there they were. I imagine the squirrel digging bulbs out of my flower bed planted it, so it decided to bloom where it was planted.
Paul writes, "However that may be, let each of you lead the life that the Lord has assigned, to which God called you. This is my rule in all the churches." (1Co 7:17) and "In whatever condition you were called, brothers and sisters, there remain with God." (7:24)
Most of us make plans in high school on what we'll do after graduation, the school we'll go to, the job we plan for, and the even the spouse we want.
Things often do not work the way we plan. College life is difficult to adjust to. Marriage doesn't last. Doors of our career choice close. Changes occur and our path takes several turns. One day we find ourselves planted in a place we could never have imagined.
With all the twist and turns of life, we can become very fearful and not take a chance on new things. But that is not how God wants us to react.
We read in Jeremiah "7Blessed are those who trust in the LORD, whose trust is the LORD. 8They shall be like a tree planted by water, sending out its roots by the stream. It shall not fear when heat comes, and its leaves shall stay green; in the year of drought it is not anxious, and it does not cease to bear fruit." (17)
Sometimes we think a calling from God comes first and we follow, feeling drawn. But God's plan is more like the lily, something comes along and moves you. Pulls you to a place you had no idea you'd be, then comes back and pulls you along again.
The journey is full of events that change your thoughts, people who influence you, and new challenges you never would have imagined, all to mold you into the person God would have you be, to serve His purpose for you.
Paul experienced that on the road to Damascus. He learned to be thankful in all things and later wrote, "We know that all things work together for good for those who love God, who are called according to his purpose." (Rom 8:28) and "29for the gifts and the calling of God are irrevocable." (Rom 11)
Today, bloom where you are planted.
Copyright Rev Cheryl Rondeau-Bassett
The celebration is over. The gathering ended. The joy and delight were like flowing waters and could not be stopped, much like the Word of God.
I've heard faithful worshiper say if I don't go to church on Sunday, I feel something is missing all week. Of course there IS, it's the Word. "1As a deer longs for flowing streams, so my soul longs for you, O God. 2My soul thirsts for God, for the living God." (Psa 42)
Just as we miss people, we miss the Word of God when we are away from it. It's not always obvious, but we were created with a desire for it and a feeling of emptiness without it.
"O God, you are my God, I seek you, my soul thirsts for you; my flesh faints for you, as in a dry and weary land where there is no water." (Psa 63:1)
I remember a time I was struggling with my faith and fallen away from church. I felt empty, hopeless, and depressed. I am not sure what sparked me to pick up my Bible, but the Spirit led me to the Psalms. The words seemed to speak to me with the emotions I was feeling.
The more I read the more I was filled with hope and strength to keep going. Slowly depression lifted as the trickle of faith returned in stories I had learned as a youngster.
Jesus said this would happens in Matthew, "Blessed are those who hunger and thirst for righteousness, for they will be filled." (5:6)
At our celebration, many had not been back to worship since COVID and said it felt good to be there. There are still many who have not returned because it's become a habit. Like flowing water that does not stop, the thirst for the Word continues.
Jesus said, "and let the one who believes in me drink. As the scripture has said, 'Out of the believer's heart shall flow rivers of living water.'" (Joh 7:38)
Just as you long for the Word when you are without it, you want to share it when your heart is filled with the Spirit.
So let the rivers of living water flow from you this week and invite others to return to worship, and those who have never attended to… "Come." And let everyone who hears say, "Come." And let everyone who is thirsty come. Let anyone who wishes take the water of life as a gift." (Rev 22:17)
Copyright Rev Cheryl Rondeau-Bassett
A cornerstone is literally the stone at the corner of a building and traditionally the first stone laid; a foundation, mainstay, bedrock.
For Christians, Jesus is our cornerstone through His death and resurrection we believe we too shall be raised, death is not the end, but we will live with Christ in heaven.
We are celebrating the 100th anniversary of our cornerstone laid in 1920 and dedication of the sanctuary in 1921. A building is just a building. It is nothing without the people.
Our sanctuary is a place people have come together to worship God, to baptize our babied, marry our children, and bury our loved ones.
Together, we are the body of Christ built on one cornerstone.
Paul writes "19So then you are no longer strangers and aliens, but you are citizens with the saints and also members of the household of God, 20built upon the foundation of the apostles and prophets, with Christ Jesus himself as the cornerstone." (Eph 2)
Historical buildings hold great value. You could say, 'They don't make them like they used to' and you would be right.
But there are memories and emotional ties of family events for first communion, confirmation, Sunday school programs and candlelight Christmas services.
We felt God was with us at our happiest time and holding us in times of deep sadness. People for 100 years felt the same way connecting us through that same cornerstone.
But lately, this important mainstay of life has been rejected.
Peter speaks of this rejections, "6For it stands in scripture: "See, I am laying in Zion a stone, a cornerstone chosen and precious; and whoever believes in him will not be put to shame." 7To you then who believe, he is precious; but for those who do not believe, "The stone that the builders rejected has become the very head of the corner," 8and "A stone that makes them stumble, and a rock that makes them fall." They stumble because they disobey the word, as they were destined to do." (2)
Today, we rededicate our sanctuary to the mission and ministry of Christ at Grace Lutheran. Today, rededicate yourself as well.
Copyright Rev Cheryl Rondeau-Bassett
Sometimes there is an opening in the cloud where the sun shines through in the most majestic of ways giving off those bright beams that radiate into the heavens. It makes me feel as if God is peaking down on us, His eye so bright it emanates celestial sight.
God doesn't need to look through the clouds or even an opening in the sky for "The eyes of the LORD are in every place, keeping watch on the evil and the good." (Pro 15:3)
Keeping watch on evil and good.
We forget God is omniscient and omnipresent. He sees and knows everything we say and do.
If we were to remember that, would we treat people differently, or change the way we live our lives?
Instead of thinking only the major things we've done will be called up when we stand in judgement, or there will just be an percentage account of the good and bad we've done, would we feel differently knowing those eyes see us every second?
"10For "Those who desire life and desire to see good days, let them keep their tongues from evil and their lips from speaking deceit; 11let them turn away from evil and do good; let them seek peace and pursue it. 12For the eyes of the Lord are on the righteous, and his ears are open to their prayer." (1Pe 3:10-12)
People and businesses put up security lights and camera to deter evildoers from entering a building or stealing. If we stop and realize God's security lights and camera are on us all the time, would that deter us?
God has told us they are as written in Psalm, "14Depart from evil, and do good; seek peace, and pursue it. 15The eyes of the LORD are on the righteous, and his ears are open to their cry. 16The face of the LORD is against evildoers, to cut off the remembrance of them from the earth." (34)
And Paul writes "For the eyes of the LORD range throughout the entire earth, to strengthen those whose heart is true to him. You have done foolishly in this; for from now on you will have wars." (2Ch 16:9)
We have wars, fighting, disagreement, and conflict. Let us remember, God sees all and will cut off evildoers. But there is no reason to fear God watching when what we do is seek peace and doing good, for His ears are open to their prayers.
Copyright Rev Cheryl Rondeau-Bassett
The smoke from fires burning in the west gave the sky a hazy glow one morning making it look almost like a cover enclosing us. It gave me a strange feeling of concern looking at the gloomy color above.
Isaiah had a similar experience writing, "See, the Name of the LORD comes from afar, with burning anger and dense clouds of smoke; his lips are full of wrath, and his tongue is a consuming fire." (30:27)
It made me question if this is a sign, for God certainly has reason to be angry with this sinful world.
As the sun's radiant beams shone through, it filled me with a sense of calm that God is watching over me. Our fears are calmed in Psalm 23, "4Even though I walk through the darkest valley, I will fear no evil, for you are with me; your rod and your staff, they comfort me."
There is much in the world today to cause us to question the end times: wars, rumors of wars; famines and earthquakes; and many will turn from the faith and betray and hate each other. (Matt 24:6-10)
We are not the first to think these signs are the end times. We must remember no one knows the time but we are to be ready for even if the world does not end tomorrow, our world could when it is our time. That is why we live each day as if it is the last, doing God's will and living for Him above all things.
Remember Isaiah's words of comfort, "1But now, this is what the LORD says-- he who created you, Jacob, he who formed you, Israel: "Do not fear, for I have redeemed you; I have summoned you by name; you are mine. 2When you pass through the waters, I will be with you; and when you pass through the rivers, they will not sweep over you. When you walk through the fire, you will not be burned; the flames will not set you ablaze." (43)
God will protect you through all things. He has saved you by sending His Son to die for you so no matter how sinful the world gets, and you fall into temptation right along with it, you are forgiven and will be taken to live with Him in a better place.
"You let people ride over our heads; we went through fire and water, but you brought us to a place of abundance." (Psalm 66:12)
Be at Peace, for God is with you.
Copyright Rev Cheryl Rondeau-Bassett
I had to take a second look at this rose bush with two colors coming out of it. I'm not sure how that happened but perhaps one was accidently grafted onto the other. Or maybe in the mixing of colors to add that pink tint to the edge of the yellow rose, some roses diversified in an opposite fashion with pink roses and yellow tints.
Either way together they are beautiful roses, all in one.
Jesus said, "19And for their sakes I sanctify myself, so that they also may be sanctified in truth. 20"I ask not only on behalf of these, but also on behalf of those who will believe in me through their word, 21that they may all be one. As you, Father, are in me and I am in you, may they also be in us, so that the world may believe that you have sent me. 22The glory that you have given me I have given them, so that they may be one, as we are one, (Joh 17)
Jesus wanted us all to be one, even if we have different colored skin, personalities, backgrounds, or ideas. Our differences are what makes us better, stronger, and more innovative. Luke writes in Acts, "From one man he made all the nations, that they should inhabit the whole earth; and he marked out their appointed times in history and the boundaries of their lands." (17:26)
Our differences were created by God for many purposes but throughout history what one group has invented, another has improved on and what one culture has developed, another has complimented. Doctors learn new techniques from other doctors and when one technology is invented, another designs additional features to improve it.
We are made to work together. To use our diversity to come together for the good of all.
Paul reminds us of that in Galatians "28There is neither Jew nor Gentile, neither slave nor free, nor is there male and female, for you are all one in Christ Jesus. 29If you belong to Christ, then you are Abraham's seed, and heirs according to the promise." (Gal 3:28-29)
And if you belong to Christ, then you are a child of God, unique and yet brought together in one body, the community of the saints.
After all, there is nothing wrong with two different colors of roses living on the same rose bush.
Copyright Rev Cheryl Rondeau-Bassett
This little dove did not seem afraid of me as I stood watching it eat. The other birds are quite wasteful as they scratch and spill a great deal of bird seed from the feeders above. Sometimes doves will not fly because their young are close trying to distract you from them. It's a natural instinct for the mother to protect her young.
God created it that way and gave us this direction, "6If you come across a bird's nest beside the road, either in a tree or on the ground, and the mother is sitting on the young or on the eggs, do not take the mother with the young. 7You may take the young, but be sure to let the mother go, so that it may go well with you and you may have a long life." (Deu 22)
I thought that interesting so I looked in Matthew Henry's Commentary for what this passage meant as it seemed like it would be an easy catch for a hungry person. It tells us we learn about compassion.
This is a mother protecting her young and she would have flown away if she had not cared more for them than herself. It says with that knowledge, it should "keep us from doing a hard or unkind thing to those whom we have at our mercy."
What a simple lesson to learn from God creation.
The verse continues by including part of the fifth commandment, that it 'may be well with you.' This is explained as respect and honor to God through obedience when we let go of one bird 'in the hand – which is worth two in the bush.' That seems like an insignificant thing but letting go of one sure meal is an act to trust God will provide when you show compassion and kindness.
As James writes, "10As an example of suffering and patience, beloved, take the prophets who spoke in the name of the Lord. 11Indeed we call blessed those who showed endurance. You have heard of the endurance of Job, and you have seen the purpose of the Lord, how the Lord is compassionate and merciful." (5)
The doves do me a great favor eating the seeds others spill. They have such a soft feel and trusting gaze as they look at you, almost as if they know the laws of Deuteronomy, to be compassionate and kind to those more vulnerable.
If only we would.
Copyright Rev Cheryl Rondeau-Bassett
While podding peas I noticed several in various growth stages. Some in the pod were full and ripe while others small and immature.
It reminded me how humans grow in faith. Some find it at a young age. Others not until they are in the final years.
The same can be said for how you come to truly know and accept Jesus as your Savior. For some that happens suddenly, in an ah-ha experience, while others build a relationship gradually over years.
It doesn't matter when you come to faith or how quickly it happens. What matters is that you do. Paul writes in Romans, "17So faith comes from what is heard, and what is heard comes through the word of Christ. 18But I ask, have they not heard? Indeed they have; for "Their voice has gone out to all the earth, and their words to the ends of the world." (10)
Children in Sunday school all hearing the same stories but not all come to faith together. Those who attend worship regularly hear the same word but do not grow to the same level of maturity at the same time.
Our ears must be opened to hear the word, but our hearts must desire to be enlightened as Ephesians 1 says, "17I pray that the God of our Lord Jesus Christ, the Father of glory, may give you a spirit of wisdom and revelation as you come to know him, 18so that, with the eyes of your heart enlightened, you may know what is the hope to which he has called you, what are the riches of his glorious inheritance among the saints,"
The spirit of wisdom and revelation are gifts we receive from God to open our hearts and minds to Christ Jesus and faith in His promises. "12Now we have received not the spirit of the world, but the Spirit that is from God, so that we may understand the gifts bestowed on us by God. 13And we speak of these things in words not taught by human wisdom but taught by the Spirit, interpreting spiritual things to those who are spiritual." (1Co 2)
If you have recently come to faith, don't worry your knowledge is not as another believer, give it time, understanding will come as God opens your eyes to His words as Psalm tells us, "The unfolding of your words gives light; it imparts understanding." (119:130)
Copyright Rev Cheryl Rondeau-Bassett
There's this little trail that goes over the hill I often drive past traveling through the hills. It makes me wonder what is on the other side. It's a desolate field trail that is fun to ride horse down thinking there could be wildlife, lakes, or more road to follow. You never know what you will find there but often it beings great joy and reward.
Jesus had many experiences crossing seas or walking through lands of the region not knowing what might be on the other side as we read in Mark, "35On that day, when evening had come, he said to them, "Let us go across to the other side." (4)
He didn't hesitate to obey what God had called Him to do; to teach, heal, and cast out demons, or even to give up His life on the cross for our salvation. As He went, His disciples questioned what He was about to do, where He would go, and why He would go to unknown places without a sign it was safe.
"12 And he sighed deeply in his spirit and said, "Why does this generation ask for a sign? Truly I tell you, no sign will be given to this generation." 13And he left them, and getting into the boat again, he went across to the other side." (Mar 8)
Jesus put His trust in God's calling each time without questions or signs. Psalm tells us, "My times are in your hand; deliver me from the hand of my enemies and persecutors," (31:15)
Our hesitation to do God will often comes from lack of confidence and trust in God's faithfulness. "19Like a bad tooth or a lame foot is trust in a faithless person in time of trouble." (Pro 25:19)
Often what we find over the hill are blessings we have yet to see, work that God has waiting for us to do, and joys yet to be discovered.
Today, do not fear what is behind the door or over the next hill that holds you back from doing God's work, but "Commit your way to the LORD; trust in him, and he will act." (Psa 37:5)
Copyright Rev Cheryl Rondeau-Bassett
There were some worms left after my daughter was fishing, so I let them go back to the earth with a promised they'd be there another day. They seemed happy to go and they didn't take long to disappear as they returned to the earth.
Most have heard the words of Genesis 3 at a funeral or Ash Wednesday, "19By the sweat of your face you shall eat bread until you return to the ground, for out of it you were taken; you are dust, and to dust you shall return."
Most of us try not to think about these words.
But God gives them to us for good reason, to remember whose we are and where we come from. We owe Him our life and all that we have for He created us.
Job reflected on this with his friends saying, "12It is unthinkable that God would do wrong, that the Almighty would pervert justice. 13Who appointed him over the earth? Who put him in charge of the whole world? 14If it were his intention and he withdrew his spirit and breath, 15all humanity would perish together and mankind would return to the dust." (34)
Later when God responds to Job, he understands that God is God, and we are not. We would not have had to experience death, but humankind has a sinful nature and do not obey His commands. Our punishment is to return to where our creator took us from, the dust of the earth.
But that is not where we will stay as that is only our earthly bodies. For those who believe in Christ crucified for the forgiveness of our sins, we will rise just as He did and receive a heavenly body.
"46 But it is not the spiritual that is first, but the physical, and then the spiritual.47The first man was from the earth, a man of dust; the second man is from heaven. 48As was the man of dust, so are those who are of the dust; and as is the man of heaven, so are those who are of heaven. 49Just as we have borne the image of the man of dust, we will also bear the image of the man of heaven. 50What I am saying, brothers and sisters, is this: flesh and blood cannot inherit the kingdom of God, nor does the perishable inherit the imperishable." (1Co 15)
We are God's creation, and to Him we will return.
Copyright Rev Cheryl Rondeau-Bassett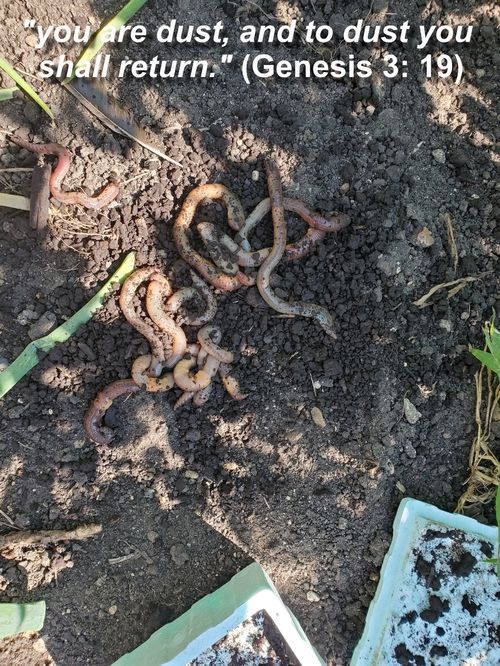 It will be several weeks until the grapes are ripe. With it so dry this year, I checked to see how the bunches were developing.
Grapes are often used to symbolize the children of God or God's people in scripture. The grapevine denotes prosperity and the blessing of God in relationship to Him as we read in John,
""I am the true vine, and my Father is the gardener. 2He cuts off every branch in me that bears no fruit, while every branch that does bear fruit he prunes so that it will be even more fruitful. 3You are already clean because of the word I have spoken to you. 4Remain in me, as I also remain in you. No branch can bear fruit by itself; it must remain in the vine. Neither can you bear fruit unless you remain in me. 5"I am the vine; you are the branches. If you remain in me and I in you, you will bear much fruit; apart from me you can do nothing." (15)
At times there will be some less developed grapes that will take longer to fully ripen. When that happens, I wonder, do I pick all of them just as they are or leave some for later.
We read "21When you harvest the grapes in your vineyard, do not go over the vines again. Leave what remains for the foreigner, the fatherless and the widow. 22Remember that you were slaves in Egypt. That is why I command you to do this." (Deu 24)
This is to provide for those who are most vulnerable by giving them the opportunity to gather their own food, it is less embarrassing than to beg and allows them some feeling of respect.
People fall into hard times, we don't always know why, but God still provides for them. At times when people struggle, they come to realize this, and turn their hearts to God.
It's a lesson we may have forgotten as we strive so hard to get every last grape from the vine without a thought of those who are in need and may come later for what remains.
That is a question of Jeremiah saying, "I had planted you like a choice vine of sound and reliable stock. How then did you turn against me into a corrupt, wild vine? (2:21)
How do we stay in the vine and bear much fruit, allowing others the opportunity gather respectfully, what God has provided for them?
Copyright Rev Cheryl Rondeau-Bassett
An engineer would look at my waterfall and laugh at the defects in structural design. But it works. Water runs off the top to the second disc and flows down. I placed a few rocks on some of the disc to help the water flow in the right direction.
To defend myself, I didn't have special training, so the foundation was just placed on the ground, which moves as it decides, especially in the winter if there is moisture beneath the soil. One leg sunk, so it has a little leaning problem. (Maybe I'm related to the designers of the Leaning Tower of Pisa)
Nevertheless, because I like waterfalls, I built it with my little knowledge of physics and simple understanding of gravity: water flows downhill.
Every year I think I'm going to fix the foundational problem but, in the meantime, I have enjoyed my waterfall with its flaws for thirty years or more.
Too often we are afraid to do something we would like because we feel we don't have the knowledge or understanding to do it right. That is the same when it comes to inviting others to worship or telling someone about the love of Christ.
We are told "10Each of you should use whatever gift you have received to serve others, as faithful stewards of God's grace in its various forms. 11If anyone speaks, they should do so as one who speaks the very words of God. If anyone serves, they should do so with the strength God provides, so that in all things God may be praised through Jesus Christ. To him be the glory and the power for ever and ever. Amen." (1Pe 4)
I would not have had the enjoyment of this leaning waterfall all these years if I would have been afraid to built it for lack of knowledge.
There are those who will not know God's love or what Christ has done for them if you are afraid to invite them to hear it or speak up and tell them.
Unlike building a waterfall with little knowledge, God promises to be your strength and fill you with his Spirit to do so, "6For this reason I remind you to fan into flame the gift of God, which is in you through the laying on of my hands. 7For the Spirit God gave us does not make us timid, but gives us power, love and self-discipline. (2Ti 1)
Copyright Rev Cheryl Rondeau-Bassett
"The LORD God took the man and put him in the Garden of Eden to work it and take care of it." (Gen 2:15)
Since creation, God has given us a call to work, not just for what we can earn but to be caretakers and good stewards of the earth. He knew those with idle hands get into trouble and easily led away from God.
Just as we give chores to our children to learn responsibility, we as adults learn to be accountable to the calling we have from God. That calling is for everyone and in every vocation, not just preaching.
Paul writes to the Thessalonians, "10 For even when we were with you, we gave you this rule: "The one who is unwilling to work shall not eat." 11We hear that some among you are idle and disruptive. They are not busy; they are busybodies. 12 Such people we command and urge in the Lord Jesus Christ to settle down and earn the food they eat. 13And as for you, brothers and sisters, never tire of doing what is good." (3)
It is good to share what we have and give food to those who are in need when it is necessary. But as scriptures tell us, those who are able should work. I was discussing with an elderly man recently an article he was reading about Shanghai, China with a population of over 24 million people. He wondered how they could produce enough food for that many people and how did they keep everyone busy. I told him when I was in China several years ago, everyone worked who could so there were people out on the streets and sidewalks whose job it was to just sweep the street to keep them busy.
I like to work. I get great pleasure in the accomplishment of it when I'm done. We are to take a Sabbath from our work, but all should find productive work to do and "23Whatever you do, work at it with all your heart, as working for the Lord, not for human masters, 24since you know that you will receive an inheritance from the Lord as a reward. It is the Lord Christ you are serving." (Col 3)
[Note: The cat just didn't seem interested in hunting for birds but playing as I was getting a picture.]
Copyright Rev Cheryl Rondeau-Bassett
There is a detour where I live so I drive back and forth through the Coteau Des Prairie to get to Grace. In the summer, the drive is quite lovely with wildlife and picturesque scenery. Off the beat and track, where no one goes, hidden away from our eyes, there are many of God's creatures living quietly and content. Only God see.
"Nothing in all creation is hidden from God's sight. Everything is uncovered and laid bare before the eyes of him to whom we must give account." (Heb 4:13)
Ever tell a little white lie, or take something not yours, or maybe cheat on a answer to a test and think oh well no one will know.
But God does know as Mark tells us, "For whatever is hidden is meant to be disclosed, and whatever is concealed is meant to be brought out into the open." (4:22)
Our sin is still sin even when others do not know about it, there is no hiding the truth from God. Even our thoughts are not hidden, when we wish evil upon another person.
God know everything about us, even the number of hairs on our heads as we read in Luke, "7Indeed, the very hairs of your head are all numbered. Don't be afraid; you are worth more than many sparrows. 8"I tell you, whoever publicly acknowledges me before others, the Son of Man will also acknowledge before the angels of God. 9But whoever disowns me before others will be disowned before the angels of God." (12)
When we acknowledge God, we acknowledge our sin. Not to acknowledge our sin, even the ones hidden away, is to not acknowledge God and reject Him.
You may have un-Christ like thoughts pop in your head. Stress weigh you down and, in your anger, or frustration, shout horrible things you don't mean. You may think no one cares and been involved in something you regret.
We all sin.
"8If we claim to be without sin, we deceive ourselves and the truth is not in us. 9If we confess our sins, he is faithful and just and will forgive us our sins and purify us from all unrighteousness." (1John 1)
Nothing is hidden from God, not even in the far corners of your thoughts. Confess your sins to Him.
"Whoever conceals their sins does not prosper, but the one who confesses and renounces them finds mercy." (Pro 28:13)
Copyright Rev Cheryl Rondeau-Bassett
13 "When I shut up the heavens so that there is no rain, or command locusts to devour the land or send a plague among my people,
14 if my people, who are called by my name, will humble themselves and pray and seek my face and turn from their wicked ways, then I will hear from heaven, and I will forgive their sin and will heal their land." (2Ch 7)
Rain came in the night after the driest June on record going back to 1946 with only .46 precipitation.
Rain in scriptures is a sign of blessing and this absolutely is. The hope it gives that curling corn may be saved, soybeans grow, and pasture grasses be revived is a blessing, a saving grace.
We live in hope.
And hope does not fail as Paul writes to the Romans, "May the God of hope fill you with all joy and peace as you trust in him, so that you may overflow with hope by the power of the Holy Spirit." (15)
There are several ways we live in hope. Sometimes it is like a child looking forward to Christmas, hoping for a special present they want, not a need or to make an improvement for someone.
Others might hope for the best as in a positive attitude about the future and good things that make life pleasant.
A spiritual hope is the hope we have in God and His promises. We live in that hope because we have faith in a loving God. A God who has shown His love for us through sending His son to die on the cross, raising that son to eternal life and promising the same resurrection for us.
Isaiah tells us "You heavens above, rain down my righteousness; let the clouds shower it down. Let the earth open wide, let salvation spring up, let righteousness flourish with it; I, the LORD, have created it." (45:8)
Making us right before God, being forgiven by Christ actions on the cross, so that we can stand in judgement sins forgiven is our hope.
Hosea instructs us to "Sow righteousness for yourselves, reap the fruit of unfailing love, and break up your unplowed ground; for it is time to seek the LORD, until he comes and showers his righteousness on you." (10:12)
Our hope in Christ shows our faith. Our faith comes when we seek the Lord. It is our saving grace.
Copyright Rev Cheryl Rondeau-Bassett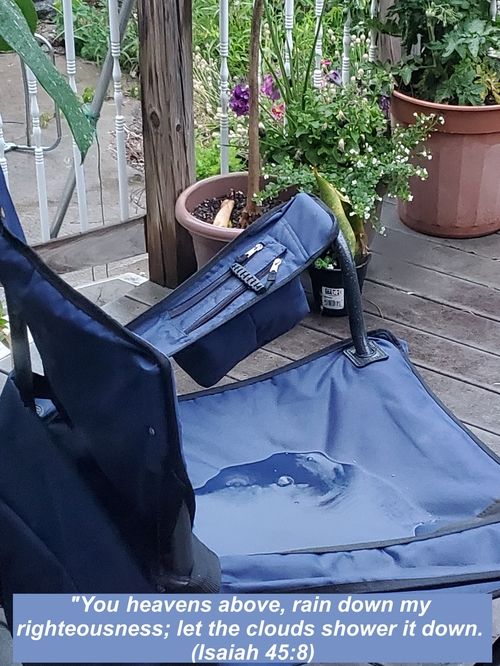 5 This is what the LORD says: "Cursed is the one who trusts in man, who draws strength from mere flesh and whose heart turns away from the LORD.
6 That person will be like a bush in the wastelands; they will not see prosperity when it comes. They will dwell in the parched places of the desert, in a salt land where no one lives.
7 "But blessed is the one who trusts in the LORD, whose confidence is in him.
8 They will be like a tree planted by the water that sends out its roots by the stream. It does not fear when heat comes; its leaves are always green. It has no worries in a year of drought and never fails to bear fruit." (Jer 17)
The days of intense heat continue as the drought bears on this summer. Rain showers have been spotty where some have received moisture and others not. Drought is difficult for farmers and ranchers as they watch crops dry up with heads of empty grain, corn leaves curling and grass wither in the heat.
Water can be hauled to cows i when stock damns dry up but that doesn't make the grass grow. Man learns he can do a lot of things, but God is still in control and trust in Him and Him alone is needed to get through the 'worries in a year of drought' as Proverbs writes, "5Trust in the LORD with all your heart and lean not on your own understanding; 6in all your ways submit to him, and he will make your paths straight. 7Do not be wise in your own eyes; fear the LORD and shun evil." (3)
This trust is more than just going to church and hearing His word. It is faith that God loves you and cares for you even in times of struggle. To serve God even in the midst of uncertainty. To continue loving neighbor, sharing what you have, and being and active member of the body of Christ.
And be in prayer, "4I sought the LORD, and he answered me; he delivered me from all my fears. 5Those who look to him are radiant; their faces are never covered with shame." (Psa 34)
In prayer, not only do you lift your request to God and God hears but the Spirit fills you with comfort and reassure you of God's grace giving you comfort and peace.
Be like a tree planted in water, put your trust in God.
Copyright Rev Cheryl Rondeau-Bassett
Today we celebrate our freedom.
That is something Christ wants for us as Paul writes, "It is for freedom that Christ has set us free. Stand firm, then, and do not let yourselves be burdened again by a yoke of slavery." (Gal 5:1)
When I look at a cloud, I feel to be free is as a cloud floating through the air. Nothing in your way. No one stopping you as you go along. No strings attached, just doing whatever a cloud wants.
But freedom comes with responsibilities to other people. Jesus wanted that for us in our lives, to be free to love all people as we would love ourselves. We would never want ourselves to go hungry, be without shelter, or treated unfairly.
Isaiah describes how it is when someone lives that way, "I will ascend above the tops of the clouds; I will make myself like the Most High." (Isa 14:14) as one who has taken freedom to mean they can put themselves above others, and even above God. So, our freedom really is in how much we limit ourselves so others flourish.
Paul wrote to the Galatians, "13You, my brothers and sisters, were called to be free. But do not use your freedom to indulge the flesh; rather, serve one another humbly in love. 14For the entire law is fulfilled in keeping this one command: "Love your neighbor as yourself." (5)
And to the Romans he wrote, "7Give to everyone what you owe them: If you owe taxes, pay taxes; if revenue, then revenue; if respect, then respect; if honor, then honor. 8Let no debt remain outstanding, except the continuing debt to love one another, for whoever loves others has fulfilled the law." (13)
Maybe floating clouds are not the best description of freedom, even though there seems to nothing holding them back, they are also without love.
Ecclesiastes tells us, "4Whoever watches the wind will not plant; whoever looks at the clouds will not reap. 5As you do not know the path of the wind, or how the body is formed in a mother's womb, so you cannot understand the work of God, the Maker of all things." (11)
Perhaps the freedom we seek is beyond our human understanding, for it comes in giving of ourselves to others, rather than floating with no strings attached.
Copyright Rev Cheryl Rondeau-Bassett
Fresh peas by the 4th of July are always a favorite. It's a sign of things to come and the growing season is now turning to harvest.
Planting and harvest are often mentioned in scriptures. It's something most can understand and relate to. Things that are planted take root, grow, and produce.
A seed will grow to be of that which is planted as it was designed to do. "11Then God said, "Let the land produce vegetation: seed-bearing plants and trees on the land that bear fruit with seed in it, according to their various kinds." And it was so. 12The land produced vegetation: plants bearing seed according to their kinds and trees bearing fruit with seed in it according to their kinds. And God saw that it was good." (Gen 1)
But the end results depend on what happens during that growing. Has it gotten enough water or too much; did the days during the growing season have enough sunshine and warmth; was their proper nutrients for the plants to grow?
We have some control over these things but not all. We can't control if the plant will sprout, how sturdy the plant will stand, how many flowers the plant will have to become peas, the number of peas in a pod or how evenly they will grow.
Jeremiah says, "13They have sown wheat and have reaped thorns, they have tired themselves out but profit nothing. They shall be ashamed of their harvests because of the fierce anger of the LORD." (Jer 12:13)
So it is with our humankind. Sin has come into the world and as best we can provide all the right ingredients, Satan can influence the growing.
Proverbs tells us, "16Whoever wanders from the way of understanding will rest in the assembly of the dead." (21) Those influences are all around us and lead many astray.
We are a chosen people, blessed to be called the children of God. Through faith in Christ Jesus and our trust in Him, we have the strength to turn from the evils of this world and focus on God and His will for us. For this we give our thanks.
"11For as the earth brings forth its shoots, and as a garden causes what is sown in it to spring up, so the Lord GOD will cause righteousness and praise to spring up before all the nations." (Isa 61)
Copyright Rev Cheryl Rondeau-Bassett
Many begin a long weekend today to celebrate the Independence weekend gathering with friends and family. Following the long pandemic lock-down, seeing family is especially joyful after such a long time away from them.
God wanted family to be together saying in Proverbs, "7The fear of the LORD is the beginning of knowledge; fools despise wisdom and instruction. 8Hear, my child, your father's instruction, and do not reject your mother's teaching; 9for they are a fair garland for your head, and pendants for your neck." (1)
And "A wise child makes a glad father, but the foolish despise their mothers." (15:20)
Families are the people who love you unconditionally. Parents have lived through experiences that are similar and their advice can save many a young person from the pain and agony of making mistakes. It's a loving thing to do when done in love and without self-centeredness. "And, fathers, do not provoke your children to anger, but bring them up in the discipline and instruction of the Lord." (Eph 6:4)
A large family was a necessity to support the family unit and care for the elderly, so it was seen as a blessing as we read in Psalm, "3Sons are indeed a heritage from the LORD, the fruit of the womb a reward. 4Like arrows in the hand of a warrior are the sons of one's youth. 5Happy is the man who has his quiver full of them." (127)
With a large family to help grow and prosper the unit, all benefited with material goods and safety in numbers.
It also meant responsibility was placed upon the parents and elderly to teach children God's ways and to obey His laws, "17But the steadfast love of the LORD is from everlasting to everlasting on those who fear him, and his righteousness to children's children, 18 to those who keep his covenant and remember to do his commandments." (Psa 103)
When God created the world and everything in it, He created families and what they would mean to humankind. Birds flock together and some animals group in herds and clans, but only humans have relationships that love.
While you spend time with your families, thank God for the blessings they are and your time together… and enjoy.
Copyright Rev Cheryl Rondeau-Bassett
July 1 Meditation
I've always thought of July 1 as Law Day. It's the day many of the new state laws go into effect. Some are minor changes to clarify or improve a law and others, not so much. At least they don't seem like such an important law when they don't involve me directly. Of course, for the person the new law impacts, it is important.
God gave Moses laws on Mount Sinai for the people to live together in peace and safety, to reveal God to the people and their need for a Savior. "9The LORD will establish you as his holy people, as he has sworn to you, if you keep the commandments of the LORD your God and walk in his ways." (Deu 28)
State and Federal laws are also given for the good of the people and to be obeyed to live in peace, safety, and fairness. We do not receive rewards for keeping the law but there is punishment if we do not.
In Mark, when asked which of the 613 laws and the commandments were the most important, Jesus responded "30you shall love the Lord your God with all your heart, and with all your soul, and with all your mind, and with all your strength.' 31The second is this, 'You shall love your neighbor as yourself.' There is no other commandment greater than these." (12)
The law is important to be obeyed, and so is God's law as Paul says, "7What then should we say? That the law is sin? By no means! Yet, if it had not been for the law, I would not have known sin. I would not have known what it is to covet if the law had not said, "You shall not covet." 8But sin, seizing an opportunity in the commandment, produced in me all kinds of covetousness. Apart from the law sin lies dead." (Rom 7)
We sin. But through sin, we know our helplessness and need for a Savior.
Paul explains… "20For "no human being will be justified in his sight" by deeds prescribed by the law, for through the law comes the knowledge of sin. (Rom 3:20)
Fortunately, unlike civic laws, our punishment has already been paid by Jesus on the cross in our place so we may receive an undeserved reward, eternal life with our Savior, because of our love for Christ and what He has done for us.
Thanks be to God for His mercy.
Copyright Rev Cheryl Rondeau-Bassett
In this world of extreme hostility and propaganda it's difficult to know truth. You need to investigate who is behind information, what they stand for, check facts to see if true, and then do the same with the other side of the issue.
The writer of Proverbs must have had similar experiences writing, "7"Two things I ask of you, LORD; do not refuse me before I die: 8Keep falsehood and lies far from me; give me neither poverty nor riches, but give me only my daily bread. 9Otherwise, I may have too much and disown you and say, 'Who is the LORD?' Or I may become poor and steal, and so dishonor the name of my God." (30)
Of course, to do so takes a lot of time and digging so most of us don't. In fact, many people I know just don't listen to news or what leaders have to say because they believe them all to be false and telling lies.
Some shake their heads when they hear this and wonder why people have gotten filled with so much apathy and indifference, just as Satan would like to have it. He twists the words and encourages confusion.
"Conflicts and rebellions have their source in Satan, the author of confusion in both the physical and spiritual worlds. Physical evils in nature and among mankind are among Satan's works that Jesus came to overcome and destroy." (taken from The Miracles of Jesus Christ: Stilling a Storm by Martin G. Collins, Forerunner, "Bible Study," July-August 2009 at: bibletools.org/index.cfm/fuseaction/library. sr/CT/BS/k/1461/miracles-jesus-christ-stilling-storm.htm)
What is behind lies and falsehood. Proverbs references poverty and riches going on to say "15"The leech has two daughters. 'Give! Give!' they cry. "There are three things that are never satisfied, four that never say, 'Enough!': 16 the grave, the barren womb, land, which is never satisfied with water, and fire, which never says, 'Enough!'"
We are to live as Christ, not in conflict or confusion, not in opposition or apathy, but to live as Christ taught through His Words and examples found in scriptures. Not just to know the stories but live to serve others through loving acts of generosity and acceptance without fear of poverty or a desire for riches.
Copyright Rev Cheryl Rondeau-Bassett
God's will.
How often do you think about God's will for your life?
We think on what we will do today or next weekend and plan out steps to achieve something such as retirement, building a new house, or even career advancement. But we don't actually wait to discover God's will.
We pray 'thy will be done' then go about our life without considering what God has planned wanting God to find favor so our plans succeed.
Paul writes to the Ephesians, "15Be very careful, then, how you live--not as unwise but as wise, 16making the most of every opportunity, because the days are evil. 17Therefore do not be foolish, but understand what the Lord's will is." (5)
Understanding the Lord's will comes from spending time with God in His Word, prayer, Bible study, and being involved in your community of faith where you may hear God speaking to you through them. Many times another person says: 'you are so gifted in that, or you have a real talent," when working together that we don't think are special or a gift.
"11Therefore encourage one another and build each other up, just as in fact you are doing. 12Now we ask you, brothers and sisters, to acknowledge those who work hard among you, who care for you in the Lord and who admonish you. 13Hold them in the highest regard in love because of their work. Live in peace with each other." (1Th 5)
When we seek God's will we discipline ourselves to a life God has intended for our good. Through prayer and small group study, our understanding of God's ways is brought to light and we learn to trust in Him. "If any of you lacks wisdom, you should ask God, who gives generously to all without finding fault, and it will be given to you." (Jam 1:5)
When you ask, listen for His answer which is not always direct but comes through enlightenment from other believers, scripture and of meditation.
Copyright Rev Cheryl Rondeau-Bassett
Clouds have been especially expressive the last days with big white fluffs set off by blue skies and ever moving changing thunderheads rolling past reaching miles above.
Clouds have different meanings in scripture. In Revelations it is a sign of Jesus second coming. According to the BibleStudyTools.com clouds are a covering and "used as a symbol of the Divine presence,"
"12"Is not God in the heights of heaven? And see how lofty are the highest stars! 13Yet you say, 'What does God know? Does he judge through such darkness? 14Thick clouds veil him, so he does not see us as he goes about in the vaulted heavens.'" (Job 22)
Clouds symbolize something temporary. "Terrors overwhelm me; my dignity is driven away as by the wind, my safety vanishes like a cloud." (Job 30:15)
In 2 Peter 2:16-17 a false prophet is described as "springs without water and mists driven by a storm." And old age ailments are like a "clouds return after the rain." (Eccl 12:2)
Long before science identified dust particles in the atmosphere, Nahum described clouds as, "His way is in the whirlwind and the storm, and clouds are the dust of his feet." (1:3) according to Biblehub.com meaning it is "like the dust raised when He is walking, our Lord is so large and grand."
On mornings where thick fog spreads across low land and covers the sky, as the sun highlights the ragged cloud bank, it's almost like God is ashamed, "He covers the face of the full moon, spreading his clouds over it." (Job 26:9)
I'm sure there is good reason for our Lord to cover His face and not look upon us in our sinful ways here on earth. But we can be assured that when we return to God and seek forgiveness, He promises to forgive us. "Let the wicked forsake their ways and the unrighteous their thoughts. Let them turn to the LORD, and he will have mercy on them, and to our God, for he will freely pardon." (Isa 55:7)
No matter how you look at the clouds, as beautiful jewels in the sky, or divine presence, the clouds remind me of a loving creator to have faith in even hidden behind those fluffy images for "Who can understand how he spreads out the clouds, how he thunders from his pavilion?" (Job 36:29)
Copyright Rev Cheryl Rondeau-Bassett
The stained-glass window in the back of the sanctuary reads, "Praise ye the Lord." (Psa 135:1) You see it as you leave reminding you to praise God always, not just during worship.
Unfortunately, humans must be reminded of that. We, above all creatures of the earth, should automatically have that desire in response to the many blessings we have received.
Reading through scriptures, the Exodus from Egypt is just one example among many exiles stories where God carried the people safely through to freedom, teaching them the importance of praising God for the many gifts He grants to us.
Examples of healing, exorcisms and raising people from the dead are found in the gospels giving us an understand of the power and authority God gave to Jesus to save those who believe.
And the greatest gift of course is sending His one and only Son to earth to suffer and die for us, so He may raise us from the dead when we pass from this earth. That is something we should praise God for each and every day.
Doing so is more than praying, singing and being a good neighbor. In Psalm we read "I will give thanks to you, LORD, with all my heart; I will tell of all your wonderful deeds." (Psa 9:1)
Proclaiming the gospel as well as, "15…in your hearts revere Christ as Lord. Always be prepared to give an answer to everyone who asks you to give the reason for the hope that you have. But do this with gentleness and respect, 16keeping a clear conscience, so that those who speak maliciously against your good behavior in Christ may be ashamed of their slander.17For it is better, if it is God's will, to suffer for doing good than for doing evil." (1Pe 3)
And even when we have trials, "3… but we also glory in our sufferings, because we know that suffering produces perseverance; 4perseverance, character; and character, hope. 5And hope does not put us to shame, because God's love has been poured out into our hearts through the Holy Spirit, who has been given to us." (Rom 5)
Our praise response then is to live by the fruits of the Spirit as told in Galatians 5 "25Since we live by the Spirit, let us keep in step with the Spirit" praising God in all we do and say, in worship and out.
Copyright Rev Cheryl Rondeau-Bassett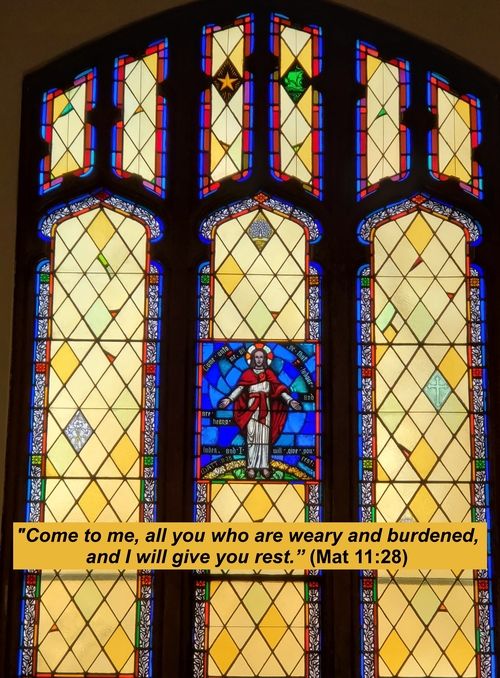 One of the beautiful stained-glass windows at Grace has, "Come to me, all you who are weary and burdened, and I will give you rest." (Mat 11:28)
There are many who carry heavy burdens today. One is the burden of drought. The uncontrollable fact crops and pastures have had little rain in a large part of our country. When the moisture that normally produces rain comes rolling across the prairie it evaporates in the dry air.
Matthew continues with, "29Take my yoke upon you and learn from me, for I am gentle and humble in heart, and you will find rest for your souls. 30For my yoke is easy and my burden is light."
Jesus is saying to take this heavy burden and share it with Him. When men first plowed the earth, they learned to used a 'beast of burden' to help pull the heavy weight of a plow across the land. Later they trained two oxen to pull the weight by using a yoke. The yoke went across the necks of the oxen keeping them together but also for the weight to be shared, so it wasn't so much for just one oxen to pull.
That's what Jesus wants for you, when you are tired and weary from working the land and doing everything you can to save your crops and livestock. Or when you are tired and weary from caring for a sick family member and feel overwhelmed by their pain and suffer that you have no control over. Or when the burden of a struggling business is wearing you down with no relieve in sight to transform the outcome.
That's when Jesus wants you to remember "30Even youths grow tired and weary, and young men stumble and fall; 31but those who hope in the LORD will renew their strength. They will soar on wings like eagles; they will run and not grow weary, they will walk and not be faint." (Isa 40)
Even when you are not faced with suffering, loss, or hardship, you get tired and weary of doing good for others and feel you are used and unappreciated. Paul writes, "9Let us not become weary in doing good, for at the proper time we will reap a harvest if we do not give up." (Gal 6)
So today, if you are tired and weary, share it with our Lord, who wants to help you carry that heavy load, and put your trust in Him.
Copyright Rev Cheryl Rondeau-Bassett
"Surely your goodness and love will follow me all the days of my life, and I will dwell in the house of the LORD forever." (Psa 23:6)
What is God's goodness?
We think of goodness as someone being kind and caring to us. But God's goodness goes beyond kindness or caring as James tells us, "17Every good and perfect gift is from above, coming down from the Father of the heavenly lights, who does not change like shifting shadows. 18He chose to give us birth through the word of truth, that we might be a kind of firstfruits of all he created." (1)
When you look around and see every good and perfect gift, you are looking at God's goodness. Providing a family here on earth that loves you and is there for you is a good and perfect gift from God to know His goodness.
Giving you precious fertile soil to grow flowers, gardens, crops and pastures for livestock is a perfect gift for you to be busy with while you have breath of life within you providing you with the food you need to sustain as well as beauty to enjoy.
The gift of life to a Christian family that raised you to know the love of God through His Son Jesus rather than never to have known faith is also through the goodness of God.
In Psalms we are told, "7They celebrate your abundant goodness and joyfully sing of your righteousness. 8The LORD is gracious and compassionate, slow to anger and rich in love. 9The LORD is good to all; he has compassion on all he has made." (145)
His compassion is a major gift we often overlook as we are sinners and can not be free of sin in this world no matter how hard we try. He could be angry with us and turn His back from us because we fail so often, hearing the twisting conniving words of Satan in our ear instead of God. But He shows us mercy raising Jesus from the dead to overcame death once and for all so that we could have His goodness poured out on us through eternal salvation.
"For from him and through him and for him are all things. To him be the glory forever! Amen." (Rom 11:36)
Let us give thanks and praise to God.
Copyright Rev Cheryl Rondeau-Bassett
What a wonderful time together at the Mother Daughter Dinner and Style Show last evening. Oh how we have missed being together as Paul with the Romans, "11I long to see you so that I may impart to you some spiritual gift to make you strong-- 12that is, that you and I may be mutually encouraged by each other's faith." (1)
Being together was fun, but it was also encouraging in the good feeling of sharing this happy time together. "How good and pleasant it is when God's people live together in unity!" (Psa 133:1)
In the last few years church attendance have declined. People put activities first before fellowship with other Christians. This has caused a loss of fellowship and the good feeling we get from being together as God people, caring and sharing for one another. As those feelings have dwindled, the joy we have as the body of Christ has dwindled.
Paul writes, "24And let us consider how we may spur one another on toward love and good deeds, 25not giving up meeting together, as some are in the habit of doing, but encouraging one another--and all the more as you see the Day approaching." (Heb 10)
Our joy in being together was evident last night. It's time to renew that important part of our Christian faith and revive our spirits united in love, "So when you are assembled and I am with you in spirit, and the power of our Lord Jesus is present," (1Co 5:4)
Jesus wants us to be happy and share in the many blessings we have in life on earth. After loving God above all things, the commandment is to love our neighbor as ourselves. It is in our relationships and togetherness we find real happiness as Paul tells you, "My goal is that they may be encouraged in heart and united in love, so that they may have the full riches of complete understanding, in order that they may know the mystery of God, namely, Christ," (Col 2:2)
We were created to be in fellowship with one another. "But may the righteous be glad and rejoice before God; may they be happy and joyful." (Psa 68:3)
Coming together for a special evening was evidence of the joy we find with such fellowship. Let us continue this and praise God for time together.
Copyright Rev Cheryl Rondeau-Bassett
"You prepare a table before me in the presence of my enemies. You anoint my head with oil; my cup overflows." (Psa 23:5)
At Grace we are preparing for a Mother Daughter dinner with a style show of wedding dresses over the years. To make it a festive atmosphere, volunteers decorated the twenty-one tables with various themes, all beautiful and unique. No one was interested in the menu, only the fun time together preparing for the banquet. It was a delightful feeling of joy and happiness as everyone was cheerful and helping one another with the decorations and settings.
It made me stop and think about what the banquet table will be like in heaven that our heavenly Father prepares for me to sit with my beloveds who have already gone to their heavenly home.
Isaiah writes, "6On this mountain the LORD Almighty will prepare a feast of rich food for all peoples, a banquet of aged wine-- the best of meats and the finest of wines." (25)
It doesn't matter what the food will be as we will have more than just good food and material things. We will be together in a happy place with those we love, enjoying our time together.
Scripture describes the heavenly banquet table as one of abundance. There will be unlimited "love, joy, peace, forbearance, kindness, goodness, faithfulness, gentleness and self-control." (Gal 5:22-23) It will be an atmosphere of cheerfulness and sharing with one another.
Jesus tells a story about who to invite in Luke 14 asking the poor, crippled, lame, and blind to share in your bounty for they are unable to repay you. "When one of those at the table with him heard this, he said to Jesus, "Blessed is the one who will eat at the feast in the kingdom of God." (Luk 14:15)
Sharing what we have shows our trust in God to provide for us in our daily needs as prayed in the Lord's Prayer. Sharing our abundance shows we do not put things before God as Proverbs tells us, "The generous will themselves be blessed, for they share their food with the poor." (22:9)
Just as we are blessed in sharing our time and resources with fellow Christians, we are helping to prepare the banquet table of our Lord and Savior.
Copyright Rev Cheryl Rondeau-Bassett
A rose by any name would smell as sweet. That of course was written by William Shakespeare in Romeo and Juliet as Juliet tells Romeo she loves him for who he is, not his name, meaning a name does not affect what we really are.
Jesus taught how we are loved for who we are; not our name, color of our skin, nationality, cultural background, or any particular identities. We are creatures created by God and love as we are made. It is written in Acts 10: "34Then Peter began to speak: "I now realize how true it is that God does not show favoritism 35but accepts from every nation the one who fears him and does what is right."
This is for our benefit as all are loved and all who believe are saved. This will be seen on judgment day as Paul tells us "11For God does not show favoritism. 12All who sin apart from the law will also perish apart from the law, and all who sin under the law will be judged by the law." (Rom 2)
Our names, our successes, our status in life will not save us. Not even the beautiful and famous will be given partiality as God warned in Deuteronomy "For the LORD your God is God of gods and Lord of lords, the great God, mighty and awesome, who shows no partiality and accepts no bribes." (10:17) and "Anyone who does wrong will be repaid for their wrongs, and there is no favoritism." (Col 3:25)
Humans are always trying to get around this by validating their goodness or comparing our sin as not as bad as 'so and so.' But the truth is, the Creator of all things loves all as Paul writes to the Romans, "14What then shall we say? Is God unjust? Not at all! 15For he says to Moses, "I will have mercy on whom I have mercy, and I will have compassion on whom I have compassion." 16It does not, therefore, depend on human desire or effort, but on God's mercy." (9)
God does have mercy. Knowing we are sinful beings, sent His Son Jesus into this world to take our sins to the cross, to die for our forgiveness, and rose Him from the dead, conquering death for all people so that all who believe this will have eternal salvation, no favorites. For this we give our thanks and praise to God.
Copyright Rev Cheryl Rondeau-Bassett
I have several bird feeders. I fill them and in no time at all they are empty. One day I came home to find the large feeder unhooked and on the ground. Then I discovered this little guy hanging on the other feeders.
The squirrel had hung on the feeder, digging out the feed as it swung around long enough it unscrewed from the hanger and fell.
Jesus tells us "10The thief comes only to steal and kill and destroy; I have come that they may have life, and have it to the full." (Joh 10:10)
Like a thief, Satan comes to nibble away at our beliefs and Godly values filling us with excuses of why it's ok to sin. He hangs on the words and spins them, twisting them around and round until you drop away from the true Word of God.
The thief, the squirrel and Satan, is very cleaver, working every angle possible until he has succeeded in getting what he wants. Jesus says, "43But understand this: If the owner of the house had known at what time of night the thief was coming, he would have kept watch and would not have let his house be broken into." (Mat 24:43)
Unfortunately, I wasn't aware of the squirrel for several days before he completely loosed the feeder and it fell. It is often the way Satan works, attacking when you are unaware in ways you do not see as dangerous. His first attack was on Adam and Eve, twisting the words of God and he continues that tactic and many others to turn you away from faith.
That is why we must continue to be faithful, remaining steadfast to hearing the word and study as we are told, "4But you, brothers and sisters, are not in darkness so that this day should surprise you like a thief. 5You are all children of the light and children of the day. We do not belong to the night or to the darkness." (1Th 5)
And Revelations tells us, "2Wake up! Strengthen what remains and is about to die, for I have found your deeds unfinished in the sight of my God. 3Remember, therefore, what you have received and heard; hold it fast, and repent. But if you do not wake up, I will come like a thief, and you will not know at what time I will come to you." (3)
Hold fast to what you have received and heard in God's Word.
Copyright Rev Cheryl Rondeau-Bassett
There underneath the ferns are my lily of the valley hidden away. The perfectly shaped little bell flowers are so tiny and delicate. Beautiful to look at but seeing them is difficult as they are hidden under their leaves making you look for them.
Jesus told His disciples, "For there is nothing hidden that will not be disclosed, and nothing concealed that will not be known or brought out into the open." (Luk 8:17)
But like the tiny lily of the valley, at times you have to take the time to look for what God is doing. For those who do look for the hidden things of God, He says, "Seek the LORD, all you humble of the land, you who do what he commands. Seek righteousness, seek humility; perhaps you will be sheltered on the day of the LORD's anger." (Zep 2:3)
When Abraham was called to leave his family and journey to a land that God would show him, he had to have faith. He was not told where he would be going or what would be the purpose of his calling when he started out. But he had faith and trust in God to reveal all things to him.
In his journey, he took time to seek the Lord for guidance and listening, he obeyed. Proverbs tells us, "I love those who love me, and those who seek me find me." (8:17)
Like Abraham, we must have faith and trust God to reveal all things according to His will. Even when things were hidden and Abraham did not understand fully, he knew God was watching over him and sought the Lord to lead him until he would receive understanding.
"29But if from there you seek the LORD your God, you will find him if you seek him with all your heart and with all your soul. 30When you are in distress and all these things have happened to you, then in later days you will return to the LORD your God and obey him. 31For the LORD your God is a merciful God; he will not abandon or destroy you or forget the covenant with your ancestors, which he confirmed to them by oath." (Deu 4)
Today, seek the Lord, for when you do, "9it will be given to you; seek and you will find; knock and the door will be opened to you. 10For everyone who asks receives; the one who seeks finds; and to the one who knocks, the door will be opened." (Luk 11)
Copyright Rev Cheryl Rondeau-Bassett
"7Cleanse me with hyssop, and I will be clean; wash me, and I will be whiter than snow. 8Let me hear joy and gladness; let the bones you have crushed rejoice." (Psa 51:7-8)
Many birds come around in the summer to enjoy my waterfalls, cooling off and spending time washing. I caught this blue jay splashing and preening himself in the water. Afterward they sit in a nearby tree to fluff themselves and sing. I'm sure I could hear joy and gladness coming from him afterwards, refreshed from the midafternoon bath.
There were many washing rituals for the Israeli people to observe. The people remember what God has done and meditate on their response to Him. Isaiah tells the people, "16Wash and make yourselves clean. Take your evil deeds out of my sight; stop doing wrong. 17Learn to do right; seek justice. Defend the oppressed. Take up the cause of the fatherless; plead the case of the widow." (1)
Water is an important element used to illustrate how we are refreshed and renewed in Christ. Washing disciples' feet to show servanthood. Use in the flood to remove evil of the world.
We are cleansed of our sins through the waters of baptism. Peter explained "20to those who were disobedient long ago when God waited patiently in the days of Noah while the ark was being built. In it only a few people, eight in all, were saved through water, 21and this water symbolizes baptism that now saves you also--not the removal of dirt from the body but the pledge of a clear conscience toward God. It saves you by the resurrection of Jesus Christ," (3)
In baptismal waters along with God's Words we receive forgiveness of sins and given everlasting life to all who believe. In it we make promised to God to live among God's faithful people; hear the word of God and share in the Lord's Supper, proclaim the good news of Christ, serve others and work form justice and peace in the world. (elca.org)
Paul tells us, "Therefore, since we have these promises, dear friends, let us purify ourselves from everything that contaminates body and spirit, perfecting holiness out of reverence for God." (2Co 7:1)
Then sing with joy and gladness.
Copyright Rev Cheryl Rondeau-Bassett
These are the morning greeters at my house. The front step is filled on both sides and the front door to welcome people to the house. We don't often think of the significance of welcoming people, but it is important work. Scripture has many stories and Luke writes, "5Whatever house you enter, first say, 'Peace to this house!' 6And if anyone is there who shares in peace, your peace will rest on that person; but if not, it will return to you." (10)
Welcoming creates a positive atmosphere to enter your house and denotes peace and friendship. It gives the person a feeling of caring and makes them feel comfortable.
At church we often use the term hospitality, and our greeters are to create this atmosphere of welcoming as we read in Titus: "7Since an overseer manages God's household, he must be blameless--not overbearing, not quick-tempered, not given to drunkenness, not violent, not pursuing dishonest gain. 8Rather, he must be hospitable, one who loves what is good, who is self-controlled, upright, holy and disciplined." (1)
This work in the church is as important as any other part of the service. All are important. Without a welcoming atmosphere, people do not feel comfortable enough to return or are distracted from hearing the word. Peter writes, "8 Above all, love each other deeply, because love covers over a multitude of sins. 9Offer hospitality to one another without grumbling. 10Each of you should use whatever gift you have received to serve others, as faithful stewards of God's grace in its various forms." (4)
Even if you are not the person greeting others who come into the house of the Lord, take time to be friendly with a smile or a greeting. It may be the encouragement needed to feel someone cares for them as "Love does no wrong to a neighbor; therefore, love is the fulfilling of the law." (Rom 13:10)
It's a small act, just as pots of geraniums are an insignificant thing, but creates a cheery entry. For the one who enters, it is a blessing, especially for those who come to worship with us. "3O magnify the LORD with me, and let us exalt his name together." (Psa 34)
Copyright Rev Cheryl Rondeau-Bassett
There is something in the bright sunlight of a new day that creates a sense of awe. To look out and see that ball of light shimmering on the clouds and know there is something bigger and more powerful who created it… and us… watches over us is an amazing feeling.
As Job speaks with his friends, Elihu points to nature to see the majesty of God all around.
"14"Hear this, O Job; stop and consider the wondrous works of God. 15Do you know how God lays his command upon them, and causes the lightning of his cloud to shine? 16Do you know the balancings of the clouds, the wondrous works of the one whose knowledge is perfect, 17you whose garments are hot when the earth is still because of the south wind? 18Can you, like him, spread out the skies, hard as a molten mirror?" (Job 37)
I look at the glisten edges of those clouds and think of passages like this. I feel so blessed to have scriptures to reflect on the grandeur of God, to know God, and to know I am a child of God and received faith through His Spirit.
Faith makes this picture mean more than just another new day with a pretty sunrise but gives me hope in the power of God who controls all things, and loves us.
"5Your steadfast love, O LORD, extends to the heavens, your faithfulness to the clouds. 6Your righteousness is like the mighty mountains, your judgments are like the great deep; you save humans and animals alike, O LORD. 7How precious is your steadfast love, O God! All people may take refuge in the shadow of your wings." (Psa 36)
Looking at this vast morning sky with its shimmering clouds makes me feel humble knowing I am such a small piece in this overwhelming existence. "Yet he commanded the skies above, and opened the doors of heaven;" (Psa 78:23) It also gives me great joy and confidence knowing the God of the universe chose me to be a child of God.
A gift I am most thankful for.
Copyright Rev Cheryl Rondeau-Bassett
I was reminded of one of my favorite verses yesterday while weeding the rose beds: "The grass withers, the flower fades; but the word of our God will stand forever." (Isa 40:8)
This rose bush has the whole gamut from bud to full blossom. Roses are also my favorite among my flowers. According to Learn Religions, roses have several symbolic meanings relating to religion.
""Angels use rose scents as physical signs of their spiritual presence," while praying. For Muslims, it is the "sacredness of people's souls." Buddhists see it as an expression of spiritual joy. It is a reminder for Christians of paradise. It is a symbol of the Virgin Mary, and it is a symbol of God's miraculous love at work in the world." [Hopler, Whitney. "Sacred Roses: The Spiritual Symbolism of Roses." Learn Religions, Aug. 26, 2020, learnreligions.com/sacred-roses-spiritual-symbolism-rose-123989.]
I look at a rose and see delicate layers of a beautiful flower wraps tightly around itself and then gently and miraculously unfolds to show complete loveliness, much like our knowledge of God's love for us.
"Indeed, the word of God is living and active, sharper than any two-edged sword, piercing until it divides soul from spirit, joints from marrow; it is able to judge the thoughts and intentions of the heart." (Heb 4:12)
Our knowledge of God takes time first learning the stories of the Bible as a child, then learning how the stories connect in confirmation. As adults, we begin to see those stories as stories about life to learn from for our own lives.
Because it's a living word, each time I read scripture, I see something new I had not seen before, and I have a new understanding. Just like the rose, knowledge of His love unfolds little by little and we begin to see the awesome beauty of God's love for us.
Paul says it well in Ephesians 3: "18I pray that you may have the power to comprehend, with all the saints, what is the breadth and length and height and depth, 19and to know the love of Christ that surpasses knowledge, so that you may be filled with all the fullness of God."
May the rose, His love, open for you today, to see how beautiful it is.
Copyright Rev Cheryl Rondeau-Bassett
The weatherman says our heat may subside this weekend. So, the thought that crossed my mind this morning was "the cool of the day."
"8They heard the sound of the LORD God walking in the garden at the time of the evening breeze, and the man and his wife hid themselves from the presence of the LORD God among the trees of the garden." (Gen 3:8 NRS)
When the day is as hot as it's been, most get out early or late in the day to walk, or work, or just relax in the cool of the day.
I read an interesting post on www.BibleConcepts.com explaining the Hebrew word for cool means "wind" or "spirit." In the "spirit" they say, is the best way to communicate with God. Sunrise and sunset are also the time of daily worship and goes on to say, "God seeks to cover us at the beginning of our days, and at the end of our days. He seeks to bless us in our going out, and in our coming in. He seeks to bless us in our lying down and in our getting up."
To know that God's spirit is with us in the beginning and the end of our days when we are the most vulnerable, is a comforting thought. The Psalmist tells us, "By day the LORD commands his steadfast love, and at night his song is with me, a prayer to the God of my life." (42:8) and in 118, "6The LORD is with me; I will not be afraid. What can mere mortals do to me."
We forget how God is with us in Spirit all of the time. Paul reminds us saying, "But anyone united to the Lord becomes one spirit with him." (1Co 6:17) That's not just at the beginning and ending of our life, but all of the time.
Jesus expressed this praying for His disciples, praying for you and me saying, "20"I ask not only on behalf of these, but also on behalf of those who will believe in me through their word, 21that they may all be one. As you, Father, are in me and I am in you, may they also be in us, so that the world may believe that you have sent me." (Joh 17)
It is to be united with God much like you are united with family whom you love and trust. Just as Jesus loved and trusted God to be obedient all the way to the cross, Jesus loves us and wants us to love each other. When we do, then we are united in Christ with one spirit.
Copyright Rev Cheryl Rondeau-Bassett
Fellowship is so important for Christian people as Hebrews tells us, "13But encourage one another daily, as long as it is called "Today," so that none of you may be hardened by sin's deceitfulness." (3)
Psychology tells us that having friends is important for all people at all ages and stages of life. Being in fellowship with Christian friends encourages a bond between people who have the same focus on doing Gods will.
Whether you are working on a sewing quilts goal, fund raising, or increasing your Biblical knowledge, doing so in fellowship with other believers provides a positive and fun atmosphere in the work of God for yourself and those you are working with. No one wants to let the other person down.
Without Christian friends, you can be influenced to do and think contrary to Christian teaching as Paul writes to the Thessalonians, "14Take special note of anyone who does not obey our instruction in this letter. Do not associate with them, in order that they may feel ashamed. 15Yet do not regard them as an enemy, but warn them as you would a fellow believer. (2Th 3:14-15)
When we pray and commune together, it builds a sense of trust and compassion for those we sit with during worship. We find hope in knowing how God has worked in their lives. It gives us strength to turn from evil and continue in the light of the world, as we read in Galatians, "1Brothers and sisters, if someone is caught in a sin, you who live by the Spirit should restore that person gently. But watch yourselves, or you also may be tempted. 2Carry each other's burdens, and in this way you will fulfill the law of Christ. 3If anyone thinks they are something when they are not, they deceive themselves." (6)
When in fellowship with other believers, you feel the love of Christ through them. "16Let the message of Christ dwell among you richly as you teach and admonish one another with all wisdom through psalms, hymns, and songs from the Spirit, singing to God with gratitude in your hearts." (Col 3)
Today, enjoy a cup of coffee and encourage one another in Christian fellowship.
Copyright Rev Cheryl Rondeau-Bassett
While driving yesterday I spotted these wild roses along the road and remembered the number of times I'd go out and pick wildflowers out of the ditch and from the tree line.
Isaiah 45 says, "3I will give you hidden treasures, riches stored in secret places, so that you may know that I am the LORD, the God of Israel, who summons you by name.
Hidden among the grasses and the weeds along the ditches where we drive past without seeing them are these little treasures. And even in the midst of a drought when the ground is cracked and dry, they spring open to show they lovely little faces.
Martin Luther wrote, "God writes the gospel not in the Bible alone, but on trees and flowers and clouds an stars."
I certainly agree with Luther as many times just getting outside among my flowers reminds me how powerful God is in creating something so delicate as a flower with it's many petals formed perfectly to unfold at just the right time to create this awesome beauty.
There is so much we don't know or understand but we can look to God's marvelous creation and see how awesome He is. We can enjoy each new bud of a rose bush and wonder how all of this can work and remember that it is a mystery, "the mystery that has been kept hidden for ages and generations," (Col 1:26)
Nature shows us this mystery, but we are unable to understand it in our humanness. Paul continues saying, "27To them God has chosen to make known among the Gentiles the glorious riches of this mystery, which is Christ in you, the hope of glory. 28He is the one we proclaim, admonishing and teaching everyone with all wisdom, so that we may present everyone fully mature in Christ." (1)
Just as the grasses along the ditch hold hidden treasures to find when we take the time to look, God holds hidden treasures for us with the gift of faith. James writes, "5Listen, my dear brothers and sisters: Has not God chosen those who are poor in the eyes of the world to be rich in faith and to inherit the kingdom he promised those who love him?" (2)
So let us take the time to find it, to have the ability to see and a desire for it. "For we live by faith, not by sight." (2Co 5:7)
Copyright Rev Cheryl Rondeau-Bassett
Ah! the coolness of the air this morning is like silk across my skin, and a reprieve after these long hot days. "This is my comfort in my distress, that your promise gives me life" (Psa 119:50)
What a wonderful feeling to have after the intense heat which bears down on a person and wears a you out. It gives a renewed sense of energy and strength which reminds me of Ezekiel in the valley of dry bones when God ask him to prophesy to them and make them come alive again.
"I will put my spirit within you, and you shall live, and I will place you on your own soil; then you shall know that I, the LORD, have spoken and will act, says the LORD." (Eze 37:14)
That wonderful story tells us how God will breathe new life into our dry bones after our death, giving us a glorified body tissue by tissue, bone by bone to rebuild our bodies as a new creation and then, breathe the breath of life back into us as we receive our heavenly home.
We may feel defeated at times. In illness or the struggles we have in this would, this story gives us hope for what is to come and we can be confident that God has the power to revive our dead bodies and give us life once more.
"7Though I walk in the midst of trouble, you preserve me against the wrath of my enemies; you stretch out your hand, and your right hand delivers me. 8The LORD will fulfill his purpose for me; your steadfast love, O LORD, endures forever. Do not forsake the work of your hands." (Psa 138)
After his conversion, knowing these words and the story of dry bones, perhaps Paul was influenced by these writings when he said, "Just as we have borne the image of the man of dust, we will also bear the image of the man of heaven." (1Co 15:49) and telling us not to lose heart as our outer self is wasting away in 2nd Corinthians.
That gives me comfort and hope knowing my dry bones will one day be revived with renewed energy and vitality, refreshed like the clean cool air of a new day after a welcome rain.
Copyright Rev Cheryl Rondeau-Bassett
This morning there is a strange color to the morning sky with those bubbly churning clouds overhead. A storm is about to hit. As the sky turns dark, I wonder how serve it will be, praying for rain without damage, as I know God is in control.
"12But God made the earth by his power; he founded the world by his wisdom and stretched out the heavens by his understanding. 13When he thunders, the waters in the heavens roar; he makes clouds rise from the ends of the earth. He sends lightning with the rain and brings out the wind from his storehouses." (Jer 10:12-13)
Storms are powerful. We live in awe as they pass over. When strong winds blow trees down, we once again see the results of the mighty power of God even though we can not see the wind, only feel it. When we do, we are humbled and feel small knowing we have no control.
That feeling is similar to the realization of our mortality. We can go from day to day and even hour to hour thinking of what we will do tomorrow, how we will build this up or how we will travel here or there. But the fact is we have no control of tomorrow, today, and even this hour could be our last.
Just as a storm comes up around us and we can do nothing to send it in another direction or stop it, we can not send our demise to another day or stop it from coming.
There is only one certainty in life, as Paul write of in Philippians 3, "13But one thing I do: Forgetting what is behind and straining toward what is ahead, 14I press on toward the goal to win the prize for which God has called me heavenward in Christ Jesus."
We must press on doing God's will knowing the all-powerful God can make the wind cease or blow, and be confident He can give us new life, when our last breath is from us.
For everything, there is a season. When the storm will come. When the damaging wind will blow. When the breath of life is removed.
"11He has made everything suitable for its time; moreover he has put a sense of past and future into their minds, yet they cannot find out what God has done from the beginning to the end." (Ecc 3)
We only have control over who our God is and where we put our heart.
Copyright Rev Cheryl Rondeau-Bassett
I was reading a story this morning about a man who could not sleep during the pandemic because he was so anxious about what was going to happen to him and his daughter.
How sad to be so afraid of what lies ahead you cannot sleep or enjoy God's beautiful world around you. As a Christian, we do not have to live like that as Psalm 4 says, "8In peace I will lie down and sleep, for you alone, LORD, make me dwell in safety."
Of course, we all have fears and anxiety at times but with faith in God, we know we do not have to live in unmanageable fear. All things can be turned over to God and His will for our lives when we trust in God as Paul write in Romans, "28And we know that in all things God works for the good of those who love him, who have been called according to his purpose. 29For those God foreknew he also predestined to be conformed to the image of his Son, that he might be the firstborn among many brothers and sisters. 30And those he predestined, he also called; those he called, he also justified; those he justified, he also glorified." (8)
Still, it's not easy when in our eyesight there is hurt, pain, or suffering or we experience it. And there will be since sin came into the world and Satan wants to destroy our faith.
Our focus must be on what lies ahead, the knowledge we are already saved and have a glorious home in our future. When we do, we can live each day in the here and now as if we already live with the Lord in paradise, because we know we already do.
Paul gives us an example of this in his many writings as in Philippians 4: "I have learned to be content whatever the circumstances. 12I know what it is to be in need, and I know what it is to have plenty. I have learned the secret of being content in any and every situation, whether well fed or hungry, whether living in plenty or in want. 13I can do all this through him who gives me strength."
When we are weak, when we are tired and need rest from the evils of this world, let God be your strength for, "1Truly my soul finds rest in God; my salvation comes from him." (Psa 62)
Copyright Rev Cheryl Rondeau-Bassett
There has been a great deal of building going on in my neighborhood and I hear it is the same everywhere. A house is barely complete when the people move in. For-sale signs are not even up and the house is sold.
"Unless the LORD builds the house, the builders labor in vain." (Psa 127:1)
God wants us to build a house but the house He speaks of is not a house built with wood and 2 x 4's. We are to build up the church. We are to build up each other. Paul writes to the Corinthians about this using the various members of the body that are all different but need each other to be a body as an example to show how we, the members of the church are all different but need each other to be the body of Christ.
Not one person or small group can do all the work of the church for the Word of God to be spread and those who already know the Word to be encouraged when they are struggling with Satan's temptations.
To the Ephesians, Paul explains, "11So Christ himself gave the apostles, the prophets, the evangelists, the pastors and teachers, 12to equip his people for works of service, so that the body of Christ may be built up 13until we all reach unity in the faith and in the knowledge of the Son of God and become mature, attaining to the whole measure of the fullness of Christ. 14Then we will no longer be infants, tossed back and forth by the waves, and blown here and there by every wind of teaching and by the cunning and craftiness of people in their deceitful scheming. 15Instead, speaking the truth in love, we will grow to become in every respect the mature body of him who is the head, that is, Christ. 16From him the whole body, joined and held together by every supporting ligament, grows and builds itself up in love, as each part does its work." (4)
This tells us how we all must share in the responsibilities and work of the church. It does not say there will be a time we retire from helping. It is not the responsibility of someone else. Pastors and teacher are to equip the people, all of them, but not do all the work.
Meditate today on how you can join in the work of the church as God designed.
Copyright Rev Cheryl Rondeau-Bassett
Compassion, according to bing.com it is "feeling or showing sympathy and concern for other. Pitying, sympathetic, empathetic."
Paul describes it in Colossians 3 as "12Therefore, as God's chosen people, holy and dearly loved, clothe yourselves with compassion, kindness, humility, gentleness and patience. 13Bear with each other and forgive one another if any of you has a grievance against someone. Forgive as the Lord forgave you."
What makes us feel compassion towards some people and not others? Why do we automatically sympathize with one and others we just listen and wonder why they don't pick themselves up and get on with it?
Often it comes from our personal bias that developed when we were young, handed down to us, or even experienced dealings with one person. We assume a person is a certain way because of those bias thoughts.
When we treat others or react to someone because of those inner bias's, we are judging. Each person is an individual and just because you had a negative experienced with one, does not mean another will be the same.
Jesus speaks very clearly about such things in Matthew 7: 1-5, "1"Do not judge, or you too will be judged. 2For in the same way you judge others, you will be judged, and with the measure you use, it will be measured to you. 3"Why do you look at the speck of sawdust in your brother's eye and pay no attention to the plank in your own eye? 4How can you say to your brother, 'Let me take the speck out of your eye,' when all the time there is a plank in your own eye? 5You hypocrite, first take the plank out of your own eye, and then you will see clearly to remove the speck from your brother's eye."
Take time to know a person's story, where their life has taken them and why they feel as they do. It will be totally different than the experience you had that caused your bias. Forgive the person that caused you those negative bias in the first place, and then take the plank out of your eye.
You'll find it is so much easier to see the bright and beautiful world God has given us when you do.
Copyright Rev Cheryl Rondeau-Bassett
During Jesus short ministry on earth, He changed many things from the old Mosaic laws that kept people safe and living in good order such as food restrictions, strict cleansing rituals, sacrifices and worship requirements.
The law was given specifically to the people of Israel but good for all people. Jesus fulfilled the law when He died on the cross for our sins. Through His teachings, we learn to live no longer under the law, but through faith.
One teaching is the inclusion of all people into the promise of salvation.
Paul speaks of this in Galatians "Scripture foresaw that God would justify the Gentiles by faith, and announced the gospel in advance to Abraham: "All nations will be blessed through you." (3:8)
Paul continues to write to the people of Galicia saying "26So in Christ Jesus you are all children of God through faith, 27for all of you who were baptized into Christ have clothed yourselves with Christ. 28There is neither Jew nor Gentile, neither slave nor free, nor is there male and female, for you are all one in Christ Jesus." (3)
We struggle with being inclusive. Our personal biases get in our way and holds us back. One thing we can learn to do is to listen to others about their lives, their story. We do this to understand how they see things in life and why they believe as they do.
Some who have suffered discrimination hold back/stand back from others because they do not want to experience the pain of intolerance again. You may see it as dislike or disapproval. Without hearing their story, you don't know the reasons and assume wrong motives.
Jesus tells us to love our neighbor… and we read in Revelations, "After this I looked, and there before me was a great multitude that no one could count, from every nation, tribe, people and language, standing before the throne and before the Lamb." (7:9)
From every nation, tribe, people and language. God is inclusive.
Jesus' life on earth was an example of inclusion: the weak, oppressed, hated, sinner, vulnerable, and all people.
Today, take time to think how we can learn to do likewise.
Copyright Rev Cheryl Rondeau-Bassett
One week ago we were dealing with frost and freezing and this week it is intense heat. What is God trying to tell us I wonder. Have you even thought that?
It could be that we should take better care of the earth. It could be we are to fear the Lord our God. Or is it a warning, reminding us our all-powerful God, is a jealous God.
In James 1:11 we read such a warning, "For the sun rises with scorching heat and withers the plant; its blossom falls and its beauty is destroyed. In the same way, the rich will fade away even while they go about their business."
Each time we pick up our scriptures, there are warmings through out the Bible and as we come together each week in worship, we are reminded of how we are to put our trust and hope in God, above all things… For when other "things" get in the way, they can become our idols, and we sin against the first commandment.
Job questions things difficult to understand as he complains about the violence of the people on the earth, saying, "As heat and drought snatch away the melted snow, so the grave snatches away those who have sinned." (24:19)
We are not to live in fear when the uncontrollable threatens us or works against us in our daily lives. We learn from scriptures and are given confidence hearing His words such as Hosea telling you, "I cared for you in the wilderness, in the land of burning heat." (13:5) God cares for you and over and over as He waits for you and has mercy on you giving you salvation through the actions of His Son Jesus.
So when things heat, whether it is the weather or life in general, trust in God and wait for His timing, His will, and His purpose as James goes on to say, "Blessed is the one who perseveres under trial because, having stood the test, that person will receive the crown of life that the Lord has promised to those who love him." (12)
In due season, the rains will come, the earth will cool, and we will rejoice once more.
Copyright Rev Cheryl Rondeau-Bassett
I enjoy growing a vegetable garden each year even though I have enough canned and frozen to last a few years. The garden has gotten smaller from the time when six kids were growing up AND I've gotten a tiller to help with weeding.
With the tiller, I plant the rows far enough apart to get it through a couple times after the plants get started so just the rows need weeding. I also plant two things per row.
So, in my peas I plant carrots. The peas help the carrots break through the ground to start. The peas are done early so I pull them out and the carrots can finish the season. I put beets in the beans rows and double the onions offsetting them. I get a lot out of my garden.
Still there are weeds that need to be pulled.
Jesus told a story about weeds growing with a crop in Matthew 13: 24-30. Only the wheat was sown but in the night an enemy came and planted weeds there. When all the seeds grew and the workers found both, the owners said to leave the weeds until the harvest because pulling the weeds might uproot the good plants. Then at the harvest, the weeds would be collected and burned, while the wheat saved.
Jesus explains, "43Then the righteous will shine like the sun in the kingdom of their Father. Whoever has ears, let them hear."
We are not able to tell the weeds around us as easily as looking at a row in the garden to know which are weeds and we are not to judge. Only God can see into the heart. We are to let them grow together and let God do the weeding.
He says instead, "44But I tell you, love your enemies and pray for those who persecute you, 45that you may be children of your Father in heaven. He causes his sun to rise on the evil and the good, and sends rain on the righteous and the unrighteous." (Mat 5)
Matthew 20:1-16 explains allowing the weeds to remain gives opportunity to be saved even to the last minute. And Ezekiel 18 says, "27But if a wicked person turns away from the wickedness they have committed and does what is just and right, they will save their life."
Pray for the wicked and love your enemies as your actions may be the influence that turns them to God.
Copyright Rev Cheryl Rondeau-Bassett
There are so many stories on the news each day, how do you know what to believe or who to listen to. Even in our own communities there are conversations about others without facts. It's gossip and a dangerous thing.
Many don't understand that talking about another person is a sin. But Proverbs tells us, "12Whoever derides their neighbor has no sense, but the one who has understanding holds their tongue. 13A gossip betrays a confidence, but a trustworthy person keeps a secret." (11)
If you have ever experienced a close friend telling others about a conversation you had you understand the pain that such an action causes. The mistrust seldom can be restored.
But a wagging tongue is serious as Paul speaks of in Romans saying "29They have become filled with every kind of wickedness, evil, greed and depravity. They are full of envy, murder, strife, deceit and malice. They are gossips, 30slanderers, God-haters, insolent, arrogant and boastful; they invent ways of doing evil; they disobey their parents; 31they have no understanding, no fidelity, no love, no mercy." (1)
In What's Wrong With Gossip? on www.victorious.org, Dale A. Robbins notes "gossip is a close cousin to slander which origin comes from the word Devil and the person who does this is being used as his agent." comparing this to other dangerous crimes as in 1 Peter, "If you suffer, it should not be as a murderer or thief or any other kind of criminal, or even as a meddler." (4:15)
When we are in a group freely talking, the conversation can easily turn from care and concern into a critical judgement and crosses the line. When that happens Proverbs tells us, "32"If you play the fool and exalt yourself, or if you plan evil, clap your hand over your mouth! 33For as churning cream produces butter, and as twisting the nose produces blood, so stirring up anger produces strife." (30)
Before you speak of another, Paul says, "Do not let any unwholesome talk come out of your mouths, but only what is helpful for building others up according to their needs, that it may benefit those who listen." (Eph 4:29)
Don't be a churning cream.
Copyright Rev Cheryl Rondeau
I remember young Dorothy saying over and over, "there's no place like home" in the movie the Wizard of Oz and most of us feel that way. Even though it's nice to have a vacation and get away, it's good to be home again.
Isaiah writes "My people will live in peaceful dwelling places, in secure homes, in undisturbed places of rest." (32:18)
For most, that the feeling we have about home. It is a peaceful dwelling place where you feel secure and confidence. A place of rest from our work and our worries. That is what God wants for us, His children. Proverbs 24 tells us, "3By wisdom a house is built, and through understanding it is established; 4through knowledge its rooms are filled with rare and beautiful treasures."
Jesus wants for you these pleasant feeling when you consider your heavenly home as He says in John 14, " 2My Father's house has many rooms; if that were not so, would I have told you that I am going there to prepare a place for you? 3And if I go and prepare a place for you, I will come back and take you to be with me that you also may be where I am."
The homeless do not have that rare and beautiful treasure. In fact they live with a feeling of insecurity and fear not knowing where to find a safe place to rest or be at peace. Much like a place of Hades where eternal life is isolation from everyone and every good thing. In Luke 9, after Jesus had begun his ministry and sent the twelve out to do so as well, He said, ""58Foxes have dens and birds have nests, but the Son of Man has no place to lay his head." as Herod the tetrarch began to be concerned about His activities. Jesus knew homelessness and being without a safe place to rest.
Our home is a blessing from God. The security and peace we find there is a very small example of the magnificent home we will have in in heaven. It will be a peaceful dwelling place of undisturbed rest, secure in the arms of Christ Jesus. It will be filled with rare and beautiful treasures. And best of all, it is a place already prepared that Jesus Himself will come and take us to.
Copyright Rev. Cheryl Rondeau-Bassett
"13From heaven the LORD looks down and sees all mankind; 14from his dwelling place he watches all who live on earth-- 15he who forms the hearts of all, who considers everything they do." (Psa 33)
From heaven the Lord looks down is so much more real when I'm flying above all the clouds and see the ground below. The roads look like spiderwebs. The snow makes the trees looks like ants on a white rock. Everything is so small from above.
What kind of a view does God have of us? We must look smaller than an ant to Him and yet, He sees us.
"Who can hide in secret places so that I cannot see them?" declares the LORD. "Do not I fill heaven and earth?" declares the LORD." (Jer 23:24)
Our Lord does fill the heaven and the earth and sees every speck of dirt and yet, we do not understand how or in what way. It is beyond our imagination that He can hear the prayers and the cries and the praise of everyone all at one time. But He can.
In fact, Jesus tells us He see the hairs on your head saying, "29Are not two sparrows sold for a penny? Yet not one of them will fall to the ground outside your Father's care. 30And even the very hairs of your head are all numbered. 31So don't be afraid; you are worth more than many sparrows." (Mat 10:29-31 NIV)
God sees and hears in a different way that humans do. We hear the voices around us but not all the voices of a crowded arena. We see the crowd but not the hearts.
We think in human terms as He says in Hebrews 4,"12For the word of God is alive and active. Sharper than any double-edged sword, it penetrates even to dividing soul and spirit, joints and marrow; it judges the thoughts and attitudes of the heart. 13Nothing in all creation is hidden from God's sight. Everything is uncovered and laid bare before the eyes of him to whom we must give account."
For some, that may cause concern to know God sees us from this lofty place and the inward most places of our heart. But not for those who have faith, it is nothing to fear. "For the eyes of the LORD range throughout the earth to strengthen those whose hearts are fully committed to him." (2Ch 16:9)
So let us be seen so we can be strengthened.
Copyright Rev. Cheryl Rondeau-Bassett
"More majestic than the thunders of mighty waters, more majestic than the waves of the sea, majestic on high is the LORD!" (Psa 93:4)
Mountains and oceans are reminders of how powerful our creator God is. But waterfalls and mountain streams give us pause to reflect on how God's love is ever flowing, intertwining in every speck of our lives.
In the pool below the waterfalls, God's love goes to the depths of our inner being. In the streams of water flowing over the rocks, we see how God's strength flows through and around all barriers that get in the way of a relationship with us.
Jesus said in John 7 ""37Let anyone who is thirsty come to me, 38and let the one who believes in me drink… 'Out of the believer's heart shall flow rivers of living water.'"
With living water flowing through us, our hearts want to share with others like the flow of water rushing down a mountain side, our desire is to give water to others as quickly as we can.
When we are filled with living water, we know when we take our troubles to God, He will carry them for us like a leaf floating downstream, calmly, and peacefully.
Our trouble comes when we forget God and look to ourselves as Jeremiah 2 says, "13for my people have committed two evils: they have forsaken me, the fountain of living water, and dug out cisterns for themselves, cracked cisterns that can hold no water."
When we allow cracks in our faith, it runs out when we need it most and we find only dry barren walls around us.
But for those who turn to the Lord and trust His promises, the flowing water is our lifeline. It is our strength. It is our promise as Revelations 21 says, "6He said to me: "It is done. I am the Alpha and the Omega, the Beginning and the End. To the thirsty I will give water without cost from the spring of the water of life.
That water comes from Jesus as He told the woman at the well in John 4, "13Everyone who drinks this water will be thirsty again, 14but whoever drinks the water I give them will never thirst. Indeed, the water I give them will become in them a spring of water welling up to eternal life."
Come to the water, all who are thirsty. (Isaiah 55:1)
Copyright Rev Cheryl Rondeau-Bassett
"Before the mountains were born or you brought forth the whole world, from everlasting to everlasting you are God." (Psa 90:2)
It's hard to imagine the world as void and formless as Genesis 1 describes it. When you are out of your normal routine and in the world whether by the mountains or next to the ocean, or even out in the prairie away from homes and cities… you notice something special. The overwhelming awesomeness of this world we live in.
When you do take time for such things, hopefully it will help you understand "…the LORD your God is God of gods and Lord of lords, the great God, mighty and awesome, who shows no partiality and accepts no bribes." (Deu 10:17)
With that understanding, add in the knowledge that He created the plants and animals, the bird and sea life, all insects and creepy crawly things… and He create you from the dust of the ground. That's when I feel the awesomeness of the Lord and am humbled.
"5Then I said: "LORD, the God of heaven, the great and awesome God, who keeps his covenant of love with those who love him and keep his commandments, 6let your ear be attentive and your eyes open to hear the prayer your servant is praying before you day and night for your servants, the people of Israel. I confess the sins we Israelites, including myself and my father's family, have committed against you. (Neh 1)
In humbleness, we pray for our lives to be obedient to God and faithful to our Savior Jesus and His teachings. In humble meditation, let us remember that, "5 I am the LORD, and there is no other; apart from me there is no God. I will strengthen you, though you have not acknowledged me, 6so that from the rising of the sun to the place of its setting people may know there is none besides me. I am the LORD, and there is no other. 7I form the light and create darkness, I bring prosperity and create disaster; I, the LORD, do all these things. (Isa 45:5-7)
Today, we worship the almighty Lord.
Copyright Rev. Cheryl Rondeau-Bassett
"He replied, "Because you have so little faith. Truly I tell you, if you have faith as small as a mustard seed, you can say to this mountain, 'Move from here to there,' and it will move. Nothing will be impossible for you."" (Mat 17:20)
Can you imagine that?
It is also written in Mark, ""Truly I tell you, if anyone says to this mountain, 'Go, throw yourself into the sea,' and does not doubt in their heart but believes that what they say will happen, it will be done for them." (11:23)
Why is it we do not have strong faith like that? What gives some the trust needed to believe that strongly and others not?
Hebrews tells us, "1Now faith is confidence in what we hope for and assurance about what we do not see. 2This is what the ancients were commended for. 3By faith we understand that the universe was formed at God's command, so that what is seen was not made out of what was visible." (11) It goes on to speak of the faith of Abraham, Noah, Moses, Joseph and many others. They were all sinful humans and yet they had faith to go where God asked and do what God required of them.
Knowing these stories helps strengthen our faith as we learn about our powerful God. Being in prayer through Jesus builds a relationship with God to learn to trust, opening our hearts to the Holy Spirit, who gives us faith.
"1Therefore, since we are surrounded by such a great cloud of witnesses, let us throw off everything that hinders and the sin that so easily entangles. And let us run with perseverance the race marked out for us, 2fixing our eyes on Jesus, the pioneer and perfecter of faith." (Heb 12)
Hebrews goes on to say, "the Lord disciplines the one he loves, and he chastens everyone he accepts as his son. "Endure hardship as discipline; God is treating you as his children. For what children are not disciplined by their father?" (12)
We don't want to hear that as no one likes discipline. But "God disciplines us for our good, in order that we may share in his holiness." (12:10) so "Therefore, strengthen your feeble arms and weak knees." (12:12) for it produces a benefit for our well-being.
The benefit of strong faith to endure suffering and live in trust.
Copyright Rev. Cheryl Rondeau-Bassett
"Though the mountains be shaken and the hills be removed, yet my unfailing love for you will not be shaken nor my covenant of peace be removed," says the LORD, who has compassion on you." (Isa 54:10)
Flying over clouds gives you a different perspective on the world but there is nothing like the sunrise or sunset over the mountains from an airplane. The brilliance is spectacular as the glow covers the earth. I wasn't able to get a picture of the beautiful pink clouds colored from the reflection of this view.
The majesty of such a view reminds me of the unfailing, unconditional, overwhelming love of the Lord and how awesome He is. It goes on and on past the horizon and being in the glow of His love is a spectacular feeling.
"The heavens declare the glory of God; the skies proclaim the work of his hands.
Day after day they pour forth speech; night after night they reveal knowledge." (Psa 19:1-2)
We are often told to stop and smell the roses, but I think a spectacular sunset is even more overwhelming and inspiring because it shows the height and depth and breadth of God's creative authority. It reminds me once again, there is no God like our God.
"He who made the Pleiades and Orion, (groupings of stars) who turns midnight into dawn and darkens day into night, who calls for the waters of the sea and pours them out over the face of the land-- the LORD is his name." (Amo 5:8)
Knowing this of our God, we are told to take everything to Him in prayer, trusting He will hear it and like a good Father, give us every good gift.
Today, what is on your heart? Lift it up to the omniscient all-powerful God who create the world and everything in it, who loves you more that you can even imagine.
Copyright Rev Cheryl Rondeau-Bassett
Where do we go from here?
Imagine if you had been training for an important assignment and when it was done, given a ticket to an unknown destination. Then when you got there, there were no directions on what you were to do next or where you were to go. You get off the plane and go into the terminal and again, nothing. It seems to be the end of the trip.
What do you do next if there was no way to call back to the one who sent you? You would certainly question what was next based on what you had studied and training for.
The disciples must have asked that question after Jesus had ascended to heaven. The Spirit had not yet been poured into them. They were meeting and praying every day. Jesus had told them, ""Do not leave Jerusalem, but wait for the gift my Father promised, which you have heard me speak about." (Act 1:4)
Someone had to lead. Somehow they must move forward. So they had to review what had happened, what they had been told, and what they knew as their commissioning.
"15In those days Peter stood up among the believers (together the crowd numbered about one hundred twenty persons) and said, 16"Friends, the scripture had to be fulfilled, which the Holy Spirit through David foretold" (Act 1)
Sometimes God's answers are like that, not easy to understand. The directions seem vague. As if everything God commands seemed to be silenced, questioning what it is you are to do in the place you have found yourself.
That's when you pray and study and wait…
Paul tells us in 1 Corinthians 2 "4 My message and my preaching were not with wise and persuasive words, but with a demonstration of the Spirit's power, 5so that your faith might not rest on human wisdom, but on God's power."
When they waited, remembering all Jesus had told them, the Spirit did come to them on the first Pentecost day, and with it they carried the powerful Word of God to the nations.
So don't be afraid when it seems you've reached the end of the trip. Wait there a while. Renew the Spirit within you with study and prayer until the right time comes upon you and God sends you out to do miraculous things.
Copyright Rev. Cheryl Rondeau-Bassett
I'll be flying to Utah to visit family later today. The song, 'Leaving On a Jet Plane' always comes to mind. I remember my first time flying going to N. Ireland to see my Granny. It was the first tower strikes and we flew above New York waiting to land. I was worried thinking I'd miss my flight. The two gentlemen next to me were talking about a moon landing. They worked for NASA and everything was 'roger' this and 'roger' that.
They realized how anxious I was (I kept asking the time). The one said he had a daughter my age and we talked. When we landed, I looked pretty scared. They came over and asked if they could help me get to my next flight. After a short hesitation I got in their limo. drove to another terminal of the airport and one went in, grabbed a porter (gave him money) to get me to the plane just before the door closed.
I tried to send a thankyou note afterwards as they gave me a business card, but it came back. I think of their kindness every time I fly.
God has particular interest in dealing with strangers as He said to Moses, "9You shall not oppress a resident alien; you well know how it feels to be an alien, since you were once aliens yourselves in the land of Egypt." (Exo 23:9)
God was with me opening their hearts to care for a young, scared girl from South Dakota on her first trip overseas. I would never have made my next flight if they had not helped me.
Jeremiah tells us, "3Thus says the LORD: Do what is right and just. Rescue the victims from the hand of their oppressors. Do not wrong or oppress the resident alien, the orphan, or the widow, and do not shed innocent blood in this place. (22:3)
Do no harm. It was a different time and today we look at my story with fear because we know there is so much harm waiting out there. Perhaps it is just that we hear of it more. I want to believe there are still good people who hear God's words and do what is right and just.
Hebrews reminds us, "1Do not neglect hospitality, for through it some have unknowingly entertained angels." (13:2)
God sent angels to sit next to and protect me that day. "The angel of the LORD encamps around those who fear him, and delivers them." (Psa 34:7)
Copyright Rev. Cheryl Rondeau-Bassett
The news is certainly discouraging today. A road rage shooting of a six-year-old, a state allowing untrained and unlicensed carry of handguns, coronavirus raging in other countries, and a rapper named A.C. Carson writes a letter to his Mother in case he becomes one of the many shooting statistics just because he's black. People feel dishearten and without hope.
Micah writes, "1Woe to those who plan iniquity, to those who plot evil on their beds! At morning's light they carry it out because it is in their power to do it. 2They covet fields and seize them, and houses, and take them. They defraud people of their homes, they rob them of their inheritance." (2)
Violence is increasing in astronomical numbers at the same time church attendance is drastically decreasing.
Could there be a correlation?
Job writes, 18"But as a mountain erodes and crumbles and as a rock is moved from its place, 19as water wears away stones and torrents wash away the soil, so you destroy a person's hope. (14)
Evil does destroy hope, for when life is good and we are surrounded with pleasantries, it's easy to look to an enjoyable future.
But when evil hits us, when death suddenly takes a loved one, when violence and hatred surround us, it eats away at our hope for tomorrow.
Without faith, there is no hope. But for those who hear the Word of God and have faith, Paul writes, "13And you also were included in Christ when you heard the message of truth, the gospel of your salvation. When you believed, you were marked in him with a seal, the promised Holy Spirit, (Eph 1)
Through the Word, we are guided by the hope of God, (Psa 25:5) even through dark valleys and shadows of death (23).
We do not know the plans or will of God, so our humanness needs to be reminded, our ways are not His ways. (Isa 55:8)
The Word of God does that as Paul writes to the Romans, 4For everything that was written in the past was written to teach us, so that through the endurance taught in the Scriptures and the encouragement they provide we might have hope. (Rom 15:4)
What a difference it could make if more people had the encouragement provided by scripture.
Copyright Rev. Cheryl Rondeau-Bassett
This morning a few small puddles proved we received a shower in the night. It's difficult waiting for rain when it is powder dry and the ground cracks.
Gardens and flowerpots can be watered but the ground needs rain for trees and grass, meadows and fields.
Our thirsty souls are like that, we can get by with a little tidbit of the Word now and then, but we need more, a complete indwelling of the Spirit to grow and produce fruit as we read, "1Listen, you heavens, and I will speak; hear, you earth, the words of my mouth. 2Let my teaching fall like rain and my words descend like dew, like showers on new grass, like abundant rain on tender plants." (Deu 32)
The stories heard as children give us a taste of God's almighty power and mercy. But without the Spirit, when struggles come, when rain dries up, and we question why, we need faith to see us through.
Job tells us, "7I thought, 'Age should speak; advanced years should teach wisdom.' 8But it is the spirit in a person, the breath of the Almighty, that gives them understanding. (32)
Just as frustrating as it is to wait for the rain as thunderclouds build around and pass by, it is frustrating to see others fall away from the Word of God.
So we wait and continue to pray, seeking the Spirit to fill their hearts, to come across something to cause them to actually hear the Word and believe.
Paul tells us, "17faith comes from hearing the message, and the message is heard through the word about Christ." (Rom 10)
In good times, we do not hear because we do not listen. But in our struggles and unanswered questions, "Whether you turn to the right or to the left, your ears will hear a voice behind you, saying, "This is the way; walk in it." (Isa 30:21)
So as hard as it is, when we see others going through trials and struggle in life, it may be God's exact timing they turn "'Call to me and I will answer you and tell you great and unsearchable things you do not know.'" (Jer 33:3)
Just as a little shower does not provide all we need in drought; we wait for God's good timing knowing, "I will send you rain in its season, and the ground will yield its crops and the trees their fruit." (Lev 26:4)
Copyright Rev. Cheryl Rondeau-Bassett
The lilacs are just in bloom and the smell is always lovely. Lilacs have a long history back to Greek Myths. According to an FTD website By Design the Celtics regarded lilac as "magical" because of the intoxicating smell and during the Victorian Age, lilac was a reminder of an old love, so widows often worn lilac.
For many it represents spring and has been used in many paintings and poems. It's also one of the shortest flowering shrubs only in bloom for three weeks. They have a romantic perfume about them as in the Song of Solomon… "13His cheeks are like beds of spice yielding perfume. His lips are like lilies dripping with myrrh." (5)
Oh the smell… so lovely…perhaps that was what God smelled after the flood to change His mind in Genesis 8:21 "The LORD smelled the pleasing aroma and said in his heart: "Never again will I curse the ground because of humans, even though every inclination of the human heart is evil from childhood. And never again will I destroy all living creatures, as I have done."
Or Paul speaks on in Philippians 4: 18 "I have received full payment and have more than enough. I am amply supplied, now that I have received from Epaphroditus the gifts you sent. They are a fragrant offering, an acceptable sacrifice, pleasing to God."
In the spring lilac are everywhere it seems. They are one of the hardiest and when I was little, every yard and tree strip has lilacs growing in them and you can see them still growing in old homestead even when the buildings have long been gone.
They remind us of the sweetness of Jesus a Ephesians 5 says, "1Follow God's example, therefore, as dearly loved children 2and walk in the way of love, just as Christ loved us and gave himself up for us as a fragrant offering and sacrifice to God."
And we are blessed to be Children of God "For we are to God the pleasing aroma of Christ among those who are being saved and those who are perishing." (2Corinthians 2:15)
Today… take time to smell the lilacs while they last and meditate of the sweetness of Jesus.
Copyright Rev. Cheryl Rondeau-Bassett
I built one of those raised planter boxes yesterday. It's a DIY project that you just put together. I enjoy building things, even if all the hard work is already done. It's like a puzzle, taking the pieces and putting it together piece by piece until the final picture is complete. It's just satisfying.
Paul writes about how we are builders with Christ saying, "9For we are co-workers in God's service; you are God's field, God's building. 10By the grace God has given me, I laid a foundation as a wise builder, and someone else is building on it. But each one should build with care. 11For no one can lay any foundation other than the one already laid, which is Jesus Christ. 12If anyone builds on this foundation using gold, silver, costly stones, wood, hay or straw, 13their work will be shown for what it is, because the Day will bring it to light. It will be revealed with fire, and the fire will test the quality of each person's work. 14If what has been built survives, the builder will receive a reward. 15If it is burned up, the builder will suffer loss but yet will be saved--even though only as one escaping through the flames." (1Co 3)
We build on what God has given us, our gifts, our talents, our skills. We use what we have to building on God's greatest gifts, Jesus Christ using the many and varied gifts we all have been given. Not everyone will preach or teach, but all have their gifts to share whether it is putting together a planter box to plant in or growing vegetables to share for those who can't. We are all builders.
"6For this reason I remind you to fan into flame the gift of God, which is in you through the laying on of my hands. 7For the Spirit God gave us does not make us timid, but gives us power, love and self-discipline. 8So do not be ashamed of the testimony about our Lord." (2Tim 1)
Today, think about your gifts and talents. Don't be timid. Use them to build what will bring glory to God.
Copyright Rev. Cheryl Rondeau-Bassett
There is an old saying, 'The grass is always greener on the other side of the fence.'
Ecclesiastes 6-8 begins with, "1I have seen another evil under the sun, and it weighs heavily on mankind: 2God gives some people wealth, possessions and honor, so that they lack nothing their hearts desire, but God does not grant them the ability to enjoy them, and strangers enjoy them instead. This is meaningless, a grievous evil."
The descriptions continue of evil and righteous living to end saying "12Although a wicked person who commits a hundred crimes may live a long time, I know that it will go better with those who fear God, who are reverent before him." ending with, "17No one can comprehend what goes on under the sun. Despite all their efforts to search it out, no one can discover its meaning. Even if the wise claim they know, they cannot really comprehend it."
In our daily lives, we get caught up in wanting what others has. We think we'll be happier when we achieve a position, buy a bigger house, have fun toys others have and when we get them, we are not happier or more satisfied. Sometimes even more depressed.
Our society is based on that concept to show how much better your life will be when they have their products, travel to this exotic place, or wear their brand. It's taught in marketing and advertising.
Paul could see this evil saying, "11I am not saying this because I am in need, for I have learned to be content whatever the circumstances." (Phil 4)
We must recognize all things are a gift from God and are blessing. It's hard though to see some are overly blessed while other live-in poverty. We must accept there are things we will never understand knowing "24For, "All people are like grass, and all their glory is like the flowers of the field; the grass withers and the flowers fall, 25 but the word of the Lord endures forever." (1Pe 1)
Because this world is not our home, when we fear the Lord and cling to the Word, we are filled with the Spirit who helps us to live in the peace of God's love for us knowing our reward is in heaven. Then we can be content.
Copyright Rev. Cheryl Rondeau-Bassett
Yesterday pastors met on ZOOM to discuss digital worship and the future of the church. It was a short 1-hour meeting with Ryan Panzer, pastor and author of Grace & Gigabytes.
It was truly an interesting topic for those of us who are wondering how we are to be church in the future. Will technology continue to be the focus? Will people come back to church or drift away? What and how do we change?
I know for some that word is terrifying – change. But it shouldn't be. Scripture is all about change since God called Abraham to leave his home, his family, and his life behind and go where God directed him. (Genesis 12: 1)
Hebrews speaks of this, "8By faith Abraham, when called to go to a place he would later receive as his inheritance, obeyed and went, even though he did not know where he was going. 9By faith he made his home in the promised land like a stranger in a foreign country; he lived in tents, as did Isaac and Jacob, who were heirs with him of the same promise. 10For he was looking forward to the city with foundations, whose architect and builder is God." (11)
He looked forward is a key point.
I sometimes think we look backward too much. I know it's easier. I do it myself when I'm out of steam. But there are times when we must look forward and make changes.
Paul writes, "Do not conform to the pattern of this world, but be transformed by the renewing of your mind. Then you will be able to test and approve what God's will is--his good, pleasing and perfect will." (Rom 12:2)
For the church, it is time for the renewal of your mind.
I don't believe the church of the future will be by ZOOM, as people are relationship creatures. But change is coming, and our call is to look forward rather than back. To hear God's call for the future with trust, allowing Him to guide us as He guided Abraham.
As we begin to find the vision of Grace Lutheran, look forward with hope and "5Trust in the LORD with all your heart and lean not on your own understanding; 6in all your ways submit to him, and he will make your paths straight." (Prov 3)
For He is our rock. He will go before us. He does not change. And His promises are always true.
Copyright Rev. Cheryl Rondeau-Bassett

In the morning news I saw people running into the old city of Jerusalem and held my breath. Just two years ago I was there walking down those steps. Oh how I wish the fighting and bombing would stop. No more innocent people killed. No sacred places destroyed.
Jesus responds to the disciples on wars and rumors of wars saying, "6You will hear of wars and rumors of wars, but see to it that you are not alarmed. Such things must happen, but the end is still to come. 7Nation will rise against nation, and kingdom against kingdom. There will be famines and earthquakes in various places." (Mat 24)
As a young girl, I heard people discuss this verse during Vietnam and the end times. I remember mom saying they discussed it during air strikes in WWII when taking shelter as sirens sounded.
Oh how we never learn.
Not only about war but about our fear of the end times.
I sometimes have a different perspective on the eschaton. No one wants their life to end and the end of time will be a horrific time of war and violence. But wouldn't it be nice to live in paradise where there is no war, no violence, no hate, no sickness, only love and happiness, peace, and care?
Scripture tells us: There will be good things to eat (calorie free I'm sure) "… On each side of the river stood the tree of life, bearing twelve crops of fruit, yielding its fruit every month." (Rev 22:2) "There will be no more night. They will not need the light of a lamp or the light of the sun, for the Lord God will give them light." (Rev 22:5)
Things to do: "For physical training is of some value, but godliness has value for all things, holding promise for both the present life and the life to come." (1Ti 4:8)
And God will be there: "And I heard a loud voice saying, "Look! God's dwelling place is now among the people, 'He will wipe every tear from. There will be no more death' or mourning or crying or pain, for the old order of things has passed away." (Rev 21:3-4)
I look around at this beautiful creation God has already given us and realize how much more it will be there, and I am thankful I am a Child of God and will someday have the blessing of eternal salvation in paradise.
Copyright Rev. Cheryl Rondeau-Bassett
We have had some beautiful evenings. People out walking, no bugs to bug you. No cold to discourage you. No wind to distract you.
One of the instructions of Deuteronomy 6 says, "6These commandments that I give you today are to be on your hearts. 7Impress them on your children. Talk about them when you sit at home and when you walk along the road, when you lie down and when you get up."
An evening walk is an excellent way to use scripture as your talking point, especially with a child or a neighbor who has little knowledge of the Bible. For the scriptures are words to live by and we should find ways to approach the subject as often as we can.
Paul says in Colossians 2: 6, "Therefore, as you received Christ Jesus the Lord, so walk in him," A literal walk can be a fruitful way to walk in His ways sharing God's message of love and faithfulness.
The stories of scripture are often about nature. The agricultural descriptions were made for the people of Jesus day to easily understand but are transferrable to our day. The activity could become a great blessing to you not only in exercise but to your fellow walker for, "Blessed is the one who does not walk in step with the wicked or stand in the way that sinners take or sit in the company of mockers," (Psalm 1:1)
Walking with Jesus, as the two on the road to Emmaus found themselves, opened their eyes to scriptures (Luke 24: 13-35) and that is something you may do for another.
First John also tells us "But whoever keeps his word, in him truly the love of God is perfected. By this we may know that we are in him: whoever says he abides in him ought to walk in the same way in which he walked." (2: 5-6) To walk in the same way, is to share the good news of Christ and scriptures with others.
It is not too much to ask of us to teach the scriptures to others when possible, knowing all that Jesus has done for our sake. "8He has shown you, O mortal, what is good. And what does the LORD require of you? To act justly and to love mercy and to walk humbly with your God." (Micah 6:8)
To walk humbly with God… can be just as simply as taking a walk.
Copyright Rev. Cheryl Rondeau-Bassett
In Hebrews 9 we read a correlation of a priest taking the sacrifices of the people into the temple year after year to the sacrifice of Jesus for our sin saying,
"24For Christ did not enter a sanctuary made by human hands, a mere copy of the true one, but he entered into heaven itself, now to appear in the presence of God on our behalf.
25Nor was it to offer himself again and again, as the high priest enters the Holy Place year after year with blood that is not his own;
26for then he would have had to suffer again and again since the foundation of the world. But as it is, he has appeared once for all at the end of the age to remove sin by the sacrifice of himself.
27And just as it is appointed for mortals to die once, and after that the judgment,
28so Christ, having been offered once to bear the sins of many, will appear a second time, not to deal with sin, but to save those who are eagerly waiting for him."
The image of a cross reminds us of the sacrifice of Christ for us. If He had not we would still be taking our lambs and turtle doves to the temple for sacrifice. Or maybe it would be a semi of grain or small herd of cattle as a cost of living adjustment.
But Jesus made it so easy that "9If we confess our sins, he who is faithful and just will forgive us our sins and cleanse us from all unrighteousness." (1John 1:9)
Paul writes in Galatians "13Christ redeemed us from the curse of the law by becoming a curse for us-- for it is written, "Cursed is everyone who hangs on a tree"-- (3)
I think how easy it is for us and how horrific it was for Jesus. I wonder if we really had to sacrifice, would we respond differently knowing "23the wages of sin is death," (Romans 6:23)
Oh wait… we already teach that.
Has Satan twisted God's Word again to make it seem we can ignore it with no recourse?
21"Not everyone who says to me, 'Lord, Lord,' will enter the kingdom of heaven, but only the one who does the will of my Father in heaven.
23Then I will declare to them, 'I never knew you; go away from me, you evildoers.' (Matthew 7)
Copyright Rev. Cheryl Rondeau-Bassett
Before Jesus death, He prayed for His disciples and for the followers to come saying, "9I am asking on their behalf; I am not asking on behalf of the world, but on behalf of those whom you gave me, because they are yours." (John 17)
It was such a beautiful prayer, compassionate and loving, filled with concern for the people He loved.
Paul tells us in Romans Jesus prays for us right now, "34 Who then is the one who condemns? No one. Christ Jesus who died--more than that, who was raised to life--is at the right hand of God and is also interceding for us." (8:34 NIV)
Hebrews says, "25Therefore he is able to save completely those who come to God through him, because he always lives to intercede for them." (7)
Prayer for another is a powerful thing. We see prayers answered every day, in many ways where we have no control over the situation. The health of a newborn; an unexplained healing; the unscathed survivor of a totaled car accident; the right person at the right moment to save another.
Paul tells us, "16 Rejoice always, 17pray continually, 18give thanks in all circumstances; for this is God's will for you in Christ Jesus." (1Thessalonians 5)
Prayer is so important, even as Jesus hung on the cross, He prayed for those who put him there saying, "Father, forgive them, for they do not know what they are doing." (Luke 23:34)
Such incredible amazing love, full of compassion and concern even for those who did not love Him.
That is the love He has for you, as He prayed, "20 "My prayer is not for them alone. I pray also for those who will believe in me through their message, 21that all of them may be one, Father, just as you are in me and I am in you. May they also be in us so that the world may believe that you have sent me." (John 17)
Know today, Jesus is praying for you.
Copyright Rev. Cheryl Rondeau-Bassett
Thunderheads rolled past yesterday. The sound of thunder could be heard but only a few sprinkles came. Up north received 2" of rain. Some think it a sign of favor. Those who received inches of hail, not so much.
In the Sermon on the Mount, Jesus teaches "44But I tell you, love your enemies and pray for those who persecute you, 45that you may be children of your Father in heaven. He causes his sun to rise on the evil and the good, and sends rain on the righteous and the unrighteous." (Mat 5)
Sunshine and rain were signs of great blessings sent by God as are His mercies. It is not for us to know who is good or evil, or what is just or unjust, because we cannot know the heart.
Many experience drought as in Jeremiah, "3The nobles send their servants for water; they go to the cisterns but find no water. They return with their jars unfilled; dismayed and despairing, they cover their heads. 4The ground is cracked because there is no rain in the land; the farmers are dismayed and cover their heads." (14)
Matthew Henry Commentary says, "The gifts of God's bounty to wicked men that are in rebellion against him, teach us to do good to those that hate us; especially considering, that though there is in us a carnal mind which is enmity to God, yet we share in his bounty." (BibleWorks)
In a drought, we must continue to trust God will provide and pray without understanding.
Our prayer may be more than for water as King David prayed, "1You, God, are my God, earnestly I seek you; I thirst for you, my whole being longs for you, in a dry and parched land where there is no water." (Psa63)
There are times we thirst for the Lord. Our souls feel empty, and the challenges of life cause us to question, why Lord? What have I done to deserve this? Why can't you forgive me? The rains go around us, our lives seem dried up and without life.
We must have faith and wait for the Lord who comes as He promises, "3I will pour water on the thirsty land, and streams on the dry ground; I will pour out my Spirit on your offspring, and my blessing on your descendants." (Isaiah 44)
Trust in the Lord, for He has chosen you, loves you and wants no harm to come to you.
Copyright Rev. Cheryl Rondeau-Bassett
The fruit trees are blossoming, a sure sign spring has come, and summer will soon be here. God gives us signs of things to comes so often, we forget to notice it seems.
In Numbers, a controversary had arisen over who would be the head of the tribes. God directed Moses to take a rod (a dry wooden staff or walking stick) from each of the twelve tribes and put them in the tabernacle saying, "5The staff belonging to the man I choose will sprout, (shall blossom) and I will rid myself of this constant grumbling against you by the Israelites." (17)
God would search the hearts of the twelve and give them a sign as to who was true to the Lord, preventing bloodshed.
"8The next day Moses entered the tent and saw that Aaron's staff, which represented the tribe of Levi, had not only sprouted but had budded, blossomed and produced almonds."
The other dry wooden staff remained as dry wooden staff, but the rod of Aaron miraculously continued to have a bud, blossom, and fruit all at once. To have all three at one time is miraculous.
This was a sign for those who remain faithful would flourish, as we read in Psalm 92, "12The righteous will flourish like a palm tree, they will grow like a cedar of Lebanon; 13planted in the house of the LORD, they will flourish in the courts of our God. 14They will still bear fruit in old age, they will stay fresh and green,"
Jesus himself told us in John 15:16 "You did not choose me, but I chose you and appointed you so that you might go and bear fruit--fruit that will last."
This is a sign for us that even though we die, for those who live in Christ, life remains within us and we miraculously will live again.
The fruit trees are blossoming, the hills are turning green with new grass, the geese nesting, and the days are getting longer. All around us are signs given to us by God of what is to come. We just need to see them, for those who "delight is in the law of the LORD, and who meditates on his law day and night. That person is like a tree planted by streams of water, which yields its fruit in season and whose leaf does not wither." (Psalm 1:2-3)
Copyright Rev. Cheryl Rondeau-Bassett
Hearing John prophesy, Luke speaks of the awakening of those who come to know Jesus as the truth of the gospel saying, "77to give his people the knowledge of salvation through the forgiveness of their sins, 78because of the tender mercy of our God, by which the rising sun will come to us from heaven 79to shine on those living in darkness and in the shadow of death, to guide our feet into the path of peace." (1)
The brilliant light of the rising sun is like new life found in coming to faith. When the word is truly heard within your heart, it's like a new day, brighter than any day has ever been because now you live in the hope of life eternal. The understanding clears away clouds of fear through faith that shines through the darkness.
As Paul writes, "17Therefore, if anyone is in Christ, the new creation has come: The old has gone, the new is here!" (2 Corinthians 5)
Living in the light means we clearly see the outrageous love of Jesus to voluntarily give up His life for us and we want to put aside our sinful self. But when we do, we are often attacked by Satan who wants desperately to wear us down and pull us back into the ways of the world.
After the brilliance of coming to faith, when you are feeling the most hopeful, is often a time when Satan attacks. In the struggle, Paul reminds us, "12The night is nearly over; the day is almost here. So let us put aside the deeds of darkness and put on the armor of light." (Rom 13)
Putting on the armor of light is to be strengthened by Jesus abundant love and teachings. God's Word were the source of Jesus strength in the wilderness when tempted. Through prayer and knowing Jesus, we also have the armor needed to resist temptation.
"For God, who said, "Let light shine out of darkness," made his light shine in our hearts to give us the light of the knowledge of God's glory displayed in the face of Christ." (2Corinthians 4:6)
That is the tender mercy of a loving God who awakens us and gives us a peace beyond our understanding, Today, let us give thanks to God for chosen to shine on us, His tender mercy.
Copyright Rev. Cheryl Rondeau-Bassett
Driving through the Coteau Des Prairie you can't help but see the many windmills. From a distance they don't look that large, but close up they are huge. It takes a powerful wind to turn them.
The wind can be a powerful force. In the flood, as the rains stopped, "God remembered Noah and all the wild animals and the livestock that were with him in the ark, and he sent a wind over the earth, and the waters receded." (Gen 8:1)
In the crossing of the Red Sea, Moses stretched out his hand, "and all that night the LORD drove the sea back with a strong east wind and turned it into dry land." (Exo 14:21)
We know the power seeing effects of trees and buildings pushed down from it.
The wind is also an invisible force, as is God the Holy Spirit causing faith in those who hear the Word of God.
Jesus sends the Spirit through this invisible force to "12equip his people for works of service, so that the body of Christ may be built up… 14Then we will no longer be infants, tossed back and forth by the waves, and blown here and there by every wind of teaching and by the cunning and craftiness of people in their deceitful scheming. 15Instead, speaking the truth in love, we will grow to become in every respect the mature body of him who is the head, that is, Christ." (Ephesians 4)
In these days, we worry about our church. We pray for a revival. We are promised, the church will remain. So we must continue to pray for the church and those who have not yet come to true faith. "6But when you ask, you must believe and not doubt, because the one who doubts is like a wave of the sea, blown and tossed by the wind." (James 1)
This powerful force, like the wind sent out from God, can change the church and those you pray for as Ezekiel prophesy over the dry bones and brought them back to life, "Come, breath, from the four winds and breathe into these slain, that they may live.'" (37:9)
It will take a powerful force, but pray for the church, for a revival to come and breath life back into it. For this powerful force, the Spirit of God, to cause the people to return to Him, hear His Word, and believe.
Copyright Rev. Cheryl Rondeau-Bassett
I had a visitor enjoying the sunshine. There are several neighborhood cats that visit and always welcome, to just visit. I'm against cats, we have plenty at the farm. I'm just gone too much.
These unexpected visitors are fun to watch chasing birds, sleeping in my swing, and even climbing a ladder on cold winter days to lay in sunshine on the roof. They need little attention or hospitality.
Jesus told about a neighbor who comes in the middle of the night in need of food for a guest who came unexpectedly in Luke 11: 5-10. Our lives are full of unexpected guest and unexpected needs. Jesus told the disciples to help them understand a good neighbor will open his door and help a friend in need. The parable also shows God wants us to come to Him with our needs no matter what time or situation.
We of course should be prepared but unexpected things happen. We should not be ashamed that we find ourselves in need.
Isaiah also talks about the unexpected visitor saying, "7Is it not to share your food with the hungry and to provide the poor wanderer with shelter-- when you see the naked, to clothe them, and not to turn away from your own flesh and blood?" (58)
When the tables are turned, and we are the one who can provide hospitality, we should do so without fear. Paul writes in Romans 12:13 "Share with the Lord's people who are in need. Practice hospitality."
I remember a time I was traveling with some youth. I wanted to be sure they were safe. In a fast-food place, a man came up to them asking for money. I jumped into action sending him away. I have regretted that ever since because in that moment another adult jumped up and bought the man a meal then sending him away.
"Why didn't I do that," I have always wondered, but I was afraid. Afraid to trust in God. Afraid to respond in grace and mercy. I could have taken advantage of a wonderful teaching moment for these young people. Instead, the teaching moment was on me and how I was not prepared for the unexpected visitor.
"Do not forget to show hospitality to strangers, for by so doing some people have shown hospitality to angels without knowing it." (Hebrews 13:2)
I failed but I learned a lesson.
Copyright Rev. Cheryl Rondeau-Bassett
I've always liked waterfalls. I love watching the water flow over the rocks, the sound, and making them. It's been a long time since I built this one. One of my most enjoyable and relaxing places to be is sitting outside by the fireplace listening to my waterfall.
Jesus desires for us to have a place of quiet and rest speaking to His disciples in Mark 6:31 "Then, because so many people were coming and going that they did not even have a chance to eat, he said to them, "Come with me by yourselves to a quiet place and get some rest.""
Rest is important to revive our body, but we also need a place of quiet to renew the soul spending time in the hope and peace of Christ promises. For, "1Truly my soul finds rest in God; my salvation comes from him. 2Truly he is my rock and my salvation; he is my fortress, I will never be shaken" (Psalm 62)
Taking time on the Sabbath to attend worship and hear the Word is important but a little time each day for quiet meditation in a peaceful place to reflect on its joys and blessings provides a hopefulness to live in a troubled world.
The world is so full of distractions that take us away from that quiet time with God, much to Satan's pleasure. But even in ancient times Isaiah spoke of it saying, "17The fruit of that righteousness will be peace; its effect will be quietness and confidence forever. 18My people will live in peaceful dwelling places, in secure homes, in undisturbed places of rest." (32)
Our world is not so peaceful with shootings, riots, violent crimes, intense opposition with no compromise and hatred. Some feel we are previewing Hades as Revelations describes, "11And the smoke of their torment will rise for ever and ever. There will be no rest day or night for those who worship the beast and its image, or for anyone who receives the mark of its name." (14)
But Jesus wants life to be different for those who follow Him saying, "27Peace I leave with you; my peace I give you. I do not give to you as the world gives. Do not let your hearts be troubled and do not be afraid." (John 14)
Today, find that waterfall to sit next to and enjoy a quiet time resting in God.
Copyright Rev. Cheryl Rondeau-Bassett
This is my grandma's rocking chair. If I remember right, her mother gave it to her making it well over 100 as she would have had it when my dad was a baby, and he was born in 1916. I have a few other things I cherish from my grandmother. A little plant stand she said she bought from the gypsy's when they came through. It's made of painted twigs and is very wobbly. It might have cost a quarter or even less, but grandma and grandpa bought it because they figured the people were in need.
Today is Mother's Day and a day set aside to think about your mothers. Mine, at 94, lives next door to me and recently learned to drive a golf cart. It took her a little bit to get used to, but safer than driving the car, I think.
The Bible talks about Mother's in Proverbs 31. It's a wonderful text about what a Godly woman should be about. I'm not sure I know anyone who is up to that standard, but it is an example to strive for. Solomon says in Proverbs 1, "8My son, give ear to the training of your father, and do not give up the teaching of your mother: 9For they will be a crown of grace for your head, and chain-ornaments about your neck."
Moms and grand moms are so important in the life of a child. They create memories, teach us, and pray over children constantly. They also give us an example of the love of God as Isaiah 66 speaks of, "13As a mother comforts her child, so will I comfort you;"
I remember my grandmother teaching me to pray at nap time as a little girl. That memory has stayed with me throughout my live and the peaceful feeling I get when I think of it. There is something powerful and lasting in faith shared by a grandmother and mother. "5I am reminded of your sincere faith, which first lived in your grandmother Lois and in your mother Eunice and, I am persuaded, now lives in you also." (2Tim 1:5)
It's a faith that comes to you in unconditional love.
Share your faith today with a child or grandchild… and if you don't have one… just reach out and borrow one. There are so many children who live far from their grandparents and even parents… Step in for them, where you are at. They will thank you for it.
Copyright Rev. Cheryl Rondeau-Bassett
Even though we are having abnormally cold spring days, the buds of the trees are pushing out. It doesn't happen often, but there have been times a late frost has set back leaves to full fruition.
There is something special about a bud with references in scripture of its use to decorate 'holy' things as in 1 Kings when Solomon built the temple, he included carving of ornate buds in the 'holy place' "(All the inside of the house was cedar-wood, ornamented with designs of buds and flowers; no stonework was to be seen inside.)" (6:18)
In Exodus 37, Bezalel made the ark of hard wood, "Every branch having three cups made like almond flowers, every cup with a bud and a flower on all the branches;" (19) and "Then he made the support for the lights, all of the best gold; its base and its pillar were of hammered gold; its cups and buds and flowers were all made out of the same metal:" (17)
As God spoke to Moses, He foretold of a special bud, "And the rod of that man who is marked out by me for myself will have buds on it; so I will put a stop to the outcries which the children of Israel make to me against you." (Num 17:5) We hear this in our Christmas song, 'Behold a branch is growing… It springs from Jesse's race' based on Isaiah 11, "1A shoot will come up from the stump of Jesse; from his roots a Branch will bear fruit. 2The Spirit of the LORD will rest on him—"
A bud is like a hope of something to come, it predicts newness, like prophecy of the coming of Christ.
Isaiah tells us, "11For as the earth puts out buds, and as the garden gives growth to the seeds which are planted in it, so the Lord will make righteousness and praise to be flowering before all the nations." (61)
As we see the buds come out, we see hope for the coming leaves and the warmth of summer. Perhaps that is why God chose to design a bud as part of so many special 'holy' places, as a sign of hope of what is to come and the newness of life He offers.
As you see the buds come out, let it remind you once more of the hope you have in the coming of Christ.
Copyright Rev. Cheryl Rondeau-Bassett
This is National Nurses Week between May 6th and 12th. This past year has shown us how important nurses are and given us a deep appreciation for all who take up the profession.
For those who know me, know I am not a nurse type and never a nurse. Looking at wounds on someone else makes my insides hurt and when my kids would come in cut and bleeding, I'd hold their wound under the faucet with a cloth over it. Once I almost passed out when they were taking the stitches "out" of one of their little fingers. I am just not a nurse type person.
The Psalmist had the same appreciation for nurses that I have saying, "1Blessed are those who have regard for the weak; the LORD delivers them in times of trouble. 2The LORD protects and preserves them-- they are counted among the blessed in the land-- he does not give them over to the desire of their foes. 3The LORD sustains them on their sickbed and restores them from their bed of illness." (41)
Jesus taught us to care for those who are the most vulnerable commissioning "7As you go, proclaim the good news, 'The kingdom of heaven has come near.' 8Cure the sick," (Mat 10) and "36I was naked and you gave me clothing, I was sick and you took care of me, I was in prison and you visited me.' (Mat 25)
One of the most well-known stories is Luke 10: 25-37 of the 'Good Samaritan' which speaks about compassion and is an example of love for the other, no matter who they are. Nurses are filled with those two characteristics, helping others in their most dire time of need.
This past year has been a trying one for nurses everywhere. They have been a true picture of what it is to have compassion and love over and above their own self-interest, even leaving family behind to care for others.
"7Beloved, let us love one another, because love is from God; everyone who loves is born of God and knows God." (1John 4:7) It's really no wonder they are called angels of mercy.
Today, say a prayer for our nurses and when you see one, thank them for all they do.
And don't look to me for nursing… unless you want to be dunked under the faucet.
Copyright Rev. Cheryl Rondeau-Bassett
The tulips are blooming, different colors, different sizes, different varieties. Just like these, we are all different.
"38 But God gives it a body as he has chosen, and to each kind of seed its own body. 39Not all flesh is alike, but there is one flesh for human beings, another for animals, another for birds, and another for fish. 40There are both heavenly bodies and earthly bodies, but the glory of the heavenly is one thing, and that of the earthly is another. 41There is one glory of the sun, and another glory of the moon, and another glory of the stars; indeed, star differs from star in glory. 42So it is with the resurrection of the dead. What is sown is perishable, what is raised is imperishable." (1Corinthians 15)
What our heavenly body will be like, we do not know. I'm hoping for one that is skinny and maybe a little taller, although I've learned to be short, so I'd go for just the skinny.
Paul goes on to say "43It is sown in dishonor, it is raised in glory. It is sown in weakness, it is raised in power. 44It is sown a physical body, it is raised a spiritual body. If there is a physical body, there is also a spiritual body."
We are different, but God will change us all to something new and that will be glorious. There will no longer be a color of skin, a style of clothing to tell a cultural difference, a way of dressing to show wealth, or even an image of age. We will no longer be able to find a reason to discriminate.
That's something we are to learn in this world first, to enjoy all the tulips for their beauty and character, and not just specific ones.
For in God's eyes, when you are in Christ Jesus, "26you are all children of God through faith. 27As many of you as were baptized into Christ have clothed yourselves with Christ. 28There is no longer Jew or Greek, there is no longer slave or free, there is no longer male and female; for all of you are one in Christ Jesus." (Galatians 3)
And you are loved… just as you are, tall or not.
Copyright Rev. Cheryl Rondeau-Bassett
"Your steadfast love, O LORD, extends to the heavens, your faithfulness to the clouds." (Psalm 36:5)
This little tulip growing straight up and opened to the heavens is as if it were opening arms to give thanks to God for this beautiful day, as we should. Spring is a busy time of year. We've waited for warm weather The Psalmist also writes, "9I will give thanks to you, O Lord, among the peoples; I will sing praises to you among the nations. 10For your steadfast love is as high as the heavens; your faithfulness extends to the clouds. 11Be exalted, O God, above the heavens. Let your glory be over all the earth." (57:9-11)
There are many ways to give thanks. In our offerings, we give back to God what He has blessed us with. We may that we have worked hard for it on our own, but it is through God's good gifts of talents, skills, knowledge, timing, and grace we are blessed.
We give thanks coming together as the people of God to worship each week. It demonstrated putting God first before all other things. It says I am not ashamed to be a Christian. It makes known we honor God by caring for the "Other" when we join in fellowship. We give thanks in prayer time with words of thankfulness from our hearts as we lift them up to God.
When we take time to look to the heavens, reaching our arms out to God giving Him thanks and praise, we humble ourselves and praise God for what He has done in giving up His son to die for us.
All that is around us is an invisible reminder of how almighty our God is and His abundant love for us, from the little tulip that reaches up to God to the massive awesome galaxy above us.
Paul writes to the Romans saying, "19For what can be known about God is plain to them, because God has shown it to them. 20Ever since the creation of the world his eternal power and divine nature, invisible though they are, have been understood and seen through the things he has made. So they are without excuse;" (1)
Today, see what marvelous things God has made known to you of His steadfast love, open your arms and give thanks.
Copyright Rev. Cheryl Rondeau-Bassett
May the 4th be with you.
Of course, the word is Force and I have to admit, I've never watch Star Wars, but I had a son that did and read the books. As far as I know the story line is about the forces of good versus evil battling it out.
Good versus evil forces. How many stories, comic books, movies, tv series have that storyline? Yes, many. They come from the forces of daily life and the life of humankind since Adam and Eve as the serpent twisted God's words around in Genesis 3, "2The woman said to the serpent, "We may eat of the fruit of the trees in the garden; 3but God said, 'You shall not eat of the fruit of the tree that is in the middle of the garden, nor shall you touch it, or you shall die.'" 4But the serpent said to the woman, "You will not die; 5for God knows that when you eat of it your eyes will be opened, and you will be like God, knowing good and evil."
The eyes of humankind have truly been opened to see that now we do have to die because of our sin, but we still do not seem to know good from evil as the prophet Isaiah speaks of this, "20Ah, you who call evil good and good evil, who put darkness for light and light for darkness, who put bitter for sweet and sweet for bitter! 21Ah, you who are wise in your own eyes, and shrewd in your own sight!" (5)
Humankind has this ongoing battle and will until the second coming of Jesus (John 8:44) when He puts an end to Satan and his evil forces. Throughout time, we have stories to teach us to follow the forces of good but as Proverbs tells us, "2All deeds are right in the sight of the doer, but the LORD weighs the heart." (21)
Because of our human nature, we must turn to scripture and trust in our Savior to guild us. Through His word and teaching, God promises to direct your paths, Psalm 32: 8. It takes effort, but we must learn to "5Trust in the LORD with all your heart, and do not rely on your own insight. 6In all your ways acknowledge him, and he will make straight your paths." (Proverbs 3:5-6)
Even though we die, for those who put their trust in the resurrected Christ, we will live.
Today, May the 4th be with you, Jesus Force that is, who wins in the end.
Copyright Rev. Cheryl Rondeau-Bassett
The Psalmist writes "5 Why are you cast down, O my soul, and why are you disquieted within me? Hope in God; for I shall again praise him, my help." Some days can just be discouraging, when you put so much work into a project or an event and it doesn't work out.
When your planting seeds, sharing the good news of the gospel message, you don't always see the results right away. In fact, you may never see the results of being a Sunday/Wednesday schoolteacher or a VBS planner.
Sharing the message with a friend or co-worker may not result in someone attending church or even becoming a believer. It takes a long time. I read a few years ago on the average you need to invite someone to church eight times before they actually do. Many of us will get discouraged after asking three or four times.
With church attendance down and children not attending, it can be discouraging for teachers and pastors alike. Small churches are struggling with the choice of staying open, sharing a pastor to make ends meet and even if they can find one to lead them.
At times like this, we get discouraged, wondering if the church will last and even if religion will become a thing of the past. Jesus tells us in Matthew 16:18 "And I tell you… I will build my church, and the gates of Hades will not prevail against it."
Be encouraged, the Word of the Lord will stand forever as 1 Peter 1:25 promises, "but the word of the Lord endures forever." That word is the good news that was announced to you."
So, during these times of discouragement, questioning if it's worthwhile to teach or preach, invite or speak to those who have no church family or faith, Paul tells us in 1 Corinthians 15: 58 "Therefore, my beloved, be steadfast, immovable, always excelling in the work of the Lord, because you know that in the Lord your labor is not in vain."
Even if you don't see the results, be encourage that you are doing the Lord's work and that is all that matter. And "May the God of hope fill you with all joy and peace as you trust in him, so that you may overflow with hope by the power of the Holy Spirit." Romans 15: 13.
Copyright Rev. Cheryl Rondeau-Bassett
The gospel today is I am the vine from John 15. There is a verse that says "2He removes every branch in me that bears no fruit. Every branch that bears fruit he prunes to make it bear more fruit." (Joh 15:2)
Visiting my 94-year-old mother the other day, she started talking about the neighbor's apple tree and how it needed to be pruned. I laughed and said that's not up to us. Reading this reminds me of that. The neighbor may not know how to prune the tree or even if it needs it. The dilemma then is, should I go say something to him? Or do I just let it go thinking maybe one day he'll ask. Or maybe he doesn't really care, and the tree will not bear anything and he'll end up cutting it down.
It is the same when we meet someone who does not know Jesus or may not know much about His love. We too often stand back and wonder, should I go and tell him? No he might get offended. Or we think he will ask us when he feels ready. Or maybe he just doesn't care and would walk away.
Jesus commands us to go and tell others of the good news of Christ crucified and risen in the great commission, Matthew 28: 19-20 and Mark 16:15 says to go into all the world with the gospel message. But too often we are afraid.
In Romans 10: 14 Paul ask, "But how are they to call on one in whom they have not believed? And how are they to believe in one of whom they have never heard? And how are they to hear without someone to proclaim him?"
Yet we are afraid. It feels uncomfortable. We worry how the other person will react. Jesus promised in Acts 1: 8 "But you will receive power when the Holy Spirit has come upon you; and you will be my witnesses… to the ends of the earth."
We have nothing to fear but only obey. "15but in your hearts sanctify Christ as Lord. Always be ready to make your defense to anyone who demands from you an accounting for the hope that is in you; 16yet do it with gentleness and reverence." (1Peter 3)
So do not be anxious and question if you should or not as Paul tells us, "6Do not worry about anything, but in everything by prayer and supplication with thanksgiving let your requests be made known to God." (Phi 4)
Copyright Rev. Cheryl Rondeau-Bassett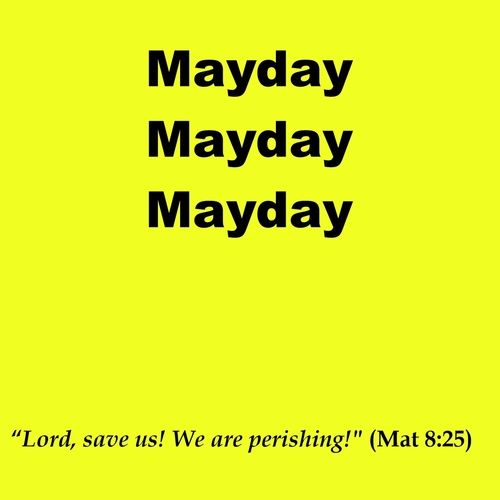 The first day of May is a day many countries celebrate with a springtime festival. It also reminds me of the distress call 'mayday' for ships and airplane in movies of old. I wondered why they would use May Day as a distress call but in looking it up, I read it sounds like a French word that means "help me" and does not mean a day in May at all.
When we are in distress, we have someone we can cry out to, our God. "Call on me in the day of trouble; I will deliver you, and you shall glorify me." (Psalm 50:15)
"Call to me and I will answer you, and will tell you great and hidden things that you have not known." (Jeremiah 33)
"When the righteous cry for help, the LORD hears, and rescues them from all their troubles." (Psa 34:17)
An example of how God rescues His people is the story the story of Moses taking the people of Israel from slavery out of Egypt and as they wandered in the wilderness, crying out for food and water.
Jesus also rescues those who cry out as in Matthew 14 when Peter walked out on the water, became afraid and then sunk.
For me, crying out to God at times has come as an overwhelming reaction to complete surrender or helplessness. When there is nothing you can do and nothing will change the situation, like in the loss of a loved one as John 15: 5 tells us, "…because apart from me you can do nothing." It's when you realize you have no control in this world at all and are complete at the mercy of our Lord and seek Him to get you through it.
That genuine humility is not bad, it brings us closer to God realizing "O LORD, you will hear the desire of the meek; you will strengthen their heart, you will incline your ear." (Psa 10:17)
In humbleness we can look to God and simply put our faith in Him who rescues us, knowing there is nothing we can do on our own to save ourselves in our mayday as we cry out, "Lord, save us! We are perishing!" (Mat 8:25)
Then with faith, we can have complete confidence He hears our cry, "2O LORD my God, I cried to you for help, and you have healed me. 3O LORD, you brought up my soul from Sheol, restored me to life from among those gone down to the Pit." (Psa 30) and we can praise God for His goodness.
Copyright Rev. Cheryl Rondeau-Bassett